paid content
 for
Spare A Square? 4 Reasons To Ditch Toilet Paper (And What To Do Instead)
Image by lazy_bear / istock
May 26, 2021
When it comes to wellness, there's no limit on where we'll try something new... Not even in the most private corners of our house, which is why we're taking a real, honest look at how we go about our "business" and swapping out toilet paper for the Omigo Luxury Bidet.
We know! It's hard to even conceive of a breakup with toilet paper. It's central to our modern lives, the rock of our hygiene routines! ... Or is it? The inconvenient truth: Toilet paper isn't the cleanest option out there or the most eco-friendly. A bidet is actually the future of self-care down there, and we have to warn you: After this article, it might be impossible to disagree.
Advertisement
This ad is displayed using third party content and we do not control its accessibility features.
OK, but what's a bidet?
The Omigo Luxury Bidet is a top-of-the-line toilet seat that's all about washing instead of wiping. This seat-of-sophistication is equipped with precise front and rear nozzles for washing, aerated warm water with varying temperatures, an active carbon filter deodorizer, and a crisp air dryer—all to leave you shower-fresh after every trip to the bathroom. Controlled entirely with a wireless remote, a bidet is the ultimate bathroom experience, without a square of toilet paper used.
Compared to the rest of our hygiene rituals, toilet paper is basically archaic. We wash our bodies, our clothes, our hair—so what's with the wiping? We think that TP is cleaner, but that mindset is a bit like choosing a flip phone when a sparkly iPhone is nearby. The reasons to ditch toilet paper are aplenty:
Advertisement
This ad is displayed using third party content and we do not control its accessibility features.
1. Toilet paper isn't as hygienic as a bidet.
We're using toilet paper to get clean, but a bidet simply does the job better. We can't really argue with the front and rear nozzles on the Omigo, with seven different positions, three spray widths, and three pressure settings, oh my. The nozzles oscillate to cleanse with a back-and-forth motion (and this is the part where our relationship to TP will never be the same). The truth is, in some European, Middle Eastern, and Asian countries, 80% of the population is already using washing as a standard bathroom procedure. Is your behind, behind the times?
2. You can reduce your footprint by ditching the toilet paper.
Any household knows that toilet paper is the hottest commodity—we plow through it faster than anything. Swapping toilet paper for a bidet reduces toilet paper usage 75 to 100%, for starters. And you're right to wonder about the water usage involved with a bidet—but it actually uses nearly 37 times less water than it takes to produce toilet paper. So far, a bidet is both cleaner and greener. Bidet: 2, toilet paper: 0.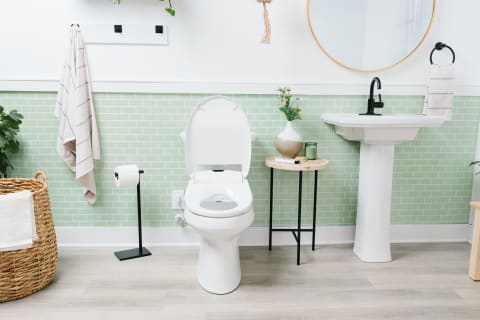 Image by Omigo / Contributor
Advertisement
This ad is displayed using third party content and we do not control its accessibility features.
3. Using a bidet is a comfortable — dare we say? — pleasant experience.
There's nothing about toilet paper that says luxury (the word scratchy comes to mind). Omigo is all luxury—from the built-in warm air dryer to the heated seat. The seat even has a LED night light and an eco-mode that powers down the heated seat after 10 minutes of nonuse. It's common knowledge that the only peace and quiet we ever get is in the bathroom (no one bothers us in there, unless you're a parent). The bathroom is our secret sanctuary, a haven of privacy—why not take it to the next level and treat your tush?
4. Installing a bidet is simple, and using it is hands-free.
Never get stuck on the seat without toilet paper again. Once a bidet is installed, all we have to do is sit back and enjoy. And installing the Omigo is about as easy as it gets (don't worry; no plumber needed). You can get your new bidet toilet seat set up within 15 to 20 minutes of opening the box. And once installed, it's all hands-free hygiene from there.
Toilet paper is already old news.
See what we mean? It's now impossible for us to use toilet paper without dreaming of a warm wash and heated seat. Bidets always felt like a strange concept, but now we're seeing that toilet paper is the real head-scratcher. A bidet is a one-time investment for a lifetime of cleanliness and comfort—and Omigo makes it easy to take the leap with a 90-day trial and payment plans. From sustainability to wellness to making more of the little things in life—a bidet is the only way to go.
Advertisement
This ad is displayed using third party content and we do not control its accessibility features.
Devon Barrow
Branded Content Editor
Devon Barrow is a Branded Content Editor at mindbodygreen. She received her degree from the University of Colorado. When she's away from her desk, Devon is teaching yoga, writing poetry, meditating, and traveling the world. She's based in Boulder, Colorado.
Devon's first book, Earth Women, is coming soon. To learn more, join the mailing list, and receive updates, head to www.devonbarrowwriting.com.