Smoky Kale Salad With Toasted Almonds & Egg
Image by Cameron Whitman / Stocksy
April 4, 2014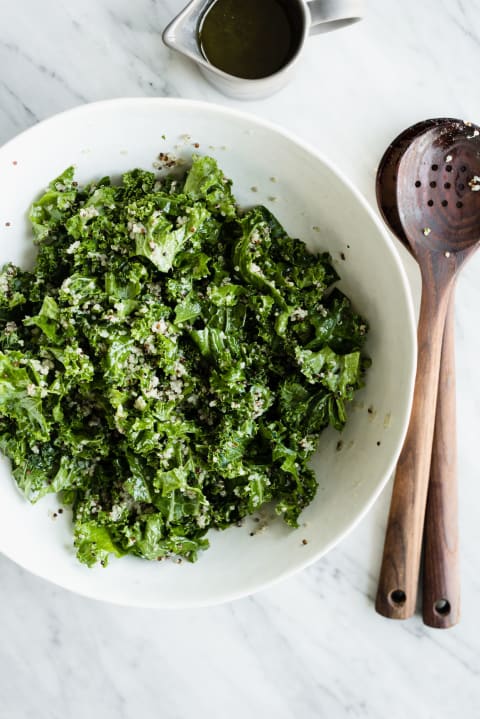 Image by Cameron Whitman / Stocksy
Over the past few years, raw kale salads have become one of my favorite foods, making it difficult to narrow down which recipes to share. One reason I like them so much is because they take well to all kinds of tasty additions, such as fruits (grapes, dates, figs, pomegranate seeds), nuts (pine nuts, walnuts, almonds, pecans), diced avocado, roasted bell pepper, and aged or salty cheese (goat, feta, Parmesan, pecorino).
This salad is particularly straightforward: thinly sliced kale is combined with a Spanish-inspired dressing made from smoked paprika and sherry vinegar and then garnished with chopped egg and toasted almonds.
Advertisement
This ad is displayed using third party content and we do not control its accessibility features.
Serve it alone as a simple lunch, or offer it as a side dish to skewers of garlicky grilled shrimp for supper. For an added, albeit expensive, Spanish touch, use Marcona almonds.
Smoky Kale Salad With Toasted Almonds & Egg
Serves 4
2 large eggs
Kosher salt
1 large bunch kale (12 to 14 ounces), center ribs and tough stems removed, leaves finely shredded
1 tablespoon sherry vinegar
1⁄2 teaspoon smoked paprika (pimentón de la Vera)
1⁄4 teaspoon freshly ground black pepper
3 tablespoons olive oil
1⁄3 cup sliced almonds, toasted (see below)
Put the eggs in a small saucepan with cold water to cover. Place over medium-high heat and bring to a boil. Remove the pan from the heat, cover, and let stand for 10 minutes.
Drain the eggs and then peel them. (You can cook the eggs a day ahead. Keep them covered in the refrigerator.) Chop the hard-boiled eggs into small pieces and toss them with a large pinch of salt.
Put the kale in a salad bowl. In a small bowl, whisk together the vinegar, smoked paprika, 1/4 teaspoon salt, and the pepper.
Add the oil and whisk to combine. Drizzle the dressing over the kale, then, using your fingertips or tongs, toss together the kale and dressing. Spend a few minutes thoroughly working the dressing into the leaves. (At this point, you can cover and refrigerate the salad for up to four hours before serving.)
Add the almonds and eggs and toss once more. Taste and adjust the seasoning with salt and pepper if needed, then serve.
Variation
To keep with the Spanish theme, shave some aged Manchego cheese over the salad.
For a vegan version, omit the egg and add about 2/3 cup roasted red bell pepper strips (jarred is fine; pat them dry) and a few tablespoons golden raisins along with the almonds.
Toasted Nuts
Put the nuts in a small frying pan and toast them over medium-low heat, stirring frequently, for 5 to 10 minutes, until golden brown and fragrant. Or, spread them on a rimmed baking sheet and toast them in a 350°F oven for 5 to 10 minutes. Either way, keep a close eye on the nuts to make sure they don't burn. Toasted nuts will keep in an airtight container at room temperature for several days.
Reprinted with permission from Brassicas by Laura B. Russell (Ten Speed Press, © 2014).
Advertisement
This ad is displayed using third party content and we do not control its accessibility features.
Laura B. Russell
Laura B. Russell is the author of Brassicas, The Gluten-Free Asian Kitchen as well as the blog, Notes from a Gluten-Free Kitchen. Her newspaper column, "Gluten Freedom", appears monthly in the FoodDay section of the Oregonian. Laura frequently contributes articles to many local and national magazines, including Prevention, Living Without, Easy Eats, NW Palate, and Portland's MIX magazine. She is a culinary advisor to The Heart's Kitchen (theheartskitchen.com), an organization collaborating with Oregon Health and Sciences University to improve nutrition of moms-to-be and consequently benefitting the long-term health of their children.