How Tech Can Help You Create A Smarter, More Sustainable Home

Interior Designer
By Laurence Carr
Interior Designer
Laurence Carr is an NYC-based interior designer recognized for her application of wellbeing principles and ancient techniques in high-end residential interior design. She is a graduate of Parsons The New School of Design in New York and a member of the Sustainable Furnishings Council.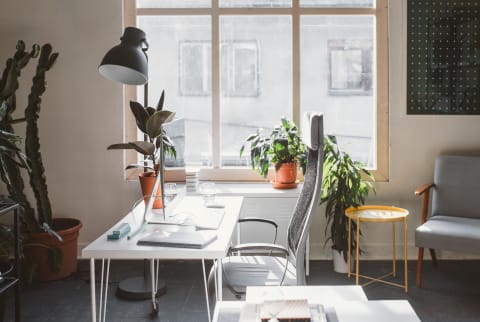 April 19, 2019
As an interior designer living in 2019, I've seen how smart technology can, quite simply, make things way easier at home. To find the right tech for you, you'll want to narrow your focus.
First, spend a week or so looking closely at your home life and the functions you perform daily. Do you often find yourself scrambling to track down your phone so you can make notes or set reminders? Is there a room in your home that gets a ton of sunlight, causing you to run to drop the shades at the same time each day? Do you find that you flip calming music or nature sound on as your work-from-home days get started? Noting even the smallest actions can help you determine your wants and needs.
Advertisement
This ad is displayed using third party content and we do not control its accessibility features.
Then it's time to take a look at your overall budget. Please know, it doesn't take tons of money to integrate smart technology into the home. (Case in point: Amazon's Echo Dot can act as your home's smart hub, and it starts at $49.99.) Plus, many smart home gadgets can be worked into a home or apartment that you rent or own since they're not disruptive to your space's structural integrity.
Here are my top tips for making your home a little smarter and saving yourself a lot of headache in the process.
1. Invest in a quality air filter that connects to your phone.
A smart air filter, though on the pricier side, tops my list for smart home upgrades. Good air quality can revolutionize your health and cut your chances of seasonal illnesses significantly. Molekule is a sleek, modern, portable air purifier designed to filter dust, dander, and toxins. I think it's the best option on the market today—and you can connect it directly to your iPhone or Android to control it remotely.
2. Build your base "hub".
According to a 2011 study in the Journal of Neuroscience1, competing stimuli in the brain, which can come from an overwhelming number of lingering tasks, can lead to burn-out. Installing a smart hub can help you stay on top of your to-do list and stay calm. Tell Alexa on an Amazon Echo to add things to your calendar (and pair it with smart plugs and the ecobee smart thermostat to maintain control over your surroundings with simple voice commands), or ask Google Home to read you a recipe as you're cooking up a storm in the kitchen.
Advertisement
This ad is displayed using third party content and we do not control its accessibility features.
3. Add on smart accessories from there.
Once your "hub" is installed, you can gradually incorporate more smart accessories to your system. One that I love is smart curtains, which are are rising in popularity as a high-tech way to make sure you're getting enough sun during the day (your circadian rhythm will thank you), but blocking light out when necessary. My Smart Blinds offers a holistic jumping-off point, allowing you to pair the tech with shades that fit your decor.
And perhaps the most important tech addition to consider is a smart security device. These deliver peace of mind by providing a window into what's happening in and around your home. With security technology like Nest, Ring, or ADT's smart security system, you can check the perimeter of your home, set or deactivate your alarms, and even speak to someone at your door from your desk or kitchen. These devices are also discreet enough to blend into the flow of the rest of the home, yet effective in the event of an emergency.
4. If you own your home, go with Energy Star appliances.
If you're in a position to buy your own appliances, I always recommend looking for ones that come with an Energy Star certification. These will typically have the best return on investment since you'll save money on your electric bill after installing them.
Smart technology offers us the ability to streamline our living and working environment, allowing us freedom from small, simple stressors that can easily be avoided. With the ability to use voice commands to set reminders to your to-do list, you can clear up more space in your head for the important stuff. Thanks to the ability to set timers on everything from your air purifier to your smart curtains, you'll no longer need to think about your surroundings since they'll modify themselves based on predetermined settings. As we continue to harness exciting, up-to-the-minute, energy-saving tech, we clear space in our minds that ultimately makes room for happiness to take root.
Advertisement
This ad is displayed using third party content and we do not control its accessibility features.