paid content
 for

Shredded Coconut Kale Salad
mbg Food Contributor
By Christina Liva
mbg Food Contributor
Christina Liva is a writer, recipe developer, and former mbg food editor. She founded Yay Lunch and is currently based in Virginia.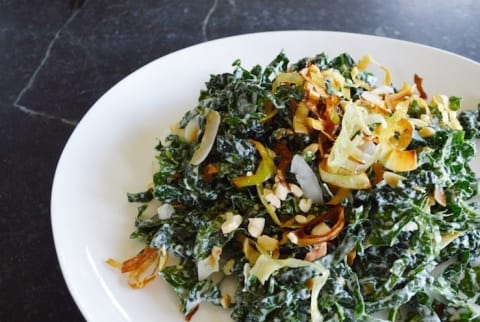 June 19, 2015
This is our ideal summer take on the kale salad. The creamy sweetness of the thick coconut yogurt (we're using siggi's because of its low sugar content) that coats the shredded kale is nudged into the realm of savory with the help of the fish sauce, rice vinegar, and sesame oil with lime juice added for the perfect amount of kick. The unsweetened shredded coconut, crushed cashews and crispy leeks add texture to the kale leaves, softened ahead of time with coconut oil. Serve this salad on its own as a light meal or alongside your protein of choice.
1 bunch lacinato kale, de-stemmed and sliced thin
1 tablespoon coconut oil
¼ cup unsweetened toasted shredded coconut
¼ cup raw cashews, roughly crushed
1 leek, trimmed and sliced
neutral oil like peanut or safflower or light olive oil for pan frying
Ingredients for the dressing
juice of ½ a lime
1 tablespoon rice vinegar
2 heaping tablespoons coconut yogurt (we love siggi's for this recipe)
1 tablespoon fish sauce
2 tablespoons sesame oil (untoasted)
sea salt to taste
1. Place the kale in a large bowl. Add coconut oil and massage into the leaves using your hands.
2. Place a medium sauté pan over medium high heat. Coat the bottom with oil, about ½ an inch deep. Once it's hot enough to lightly sizzle, add the leeks. Cook for a couple of minutes, turning them over occasionally for even cooking, until they begin to brown. Transfer to a towel-lined plate.
3. Make the dressing: combine all ingredients except for oil in a small mixing bowl. Whisk while slowly adding in the oil. Season to taste with sea salt if needed.
4. Add the shredded coconut, the cashews and the leeks to the kale. Pour dressing over top and mix to combine.
Photo courtesy of the author

Christina Liva
mbg Food Contributor
Christina Liva is a writer, recipe developer, and former food editor at mindbodygreen. She received her bachelor's degree in english from Georgetown University, and has also written for Goop and Zagat. Liva is the founder of Yay Lunch, a company based in Virginia that helps provide healthy lunches to kids.