I'm A Marathon Runner & These Headphones Help Me Stay In The Zone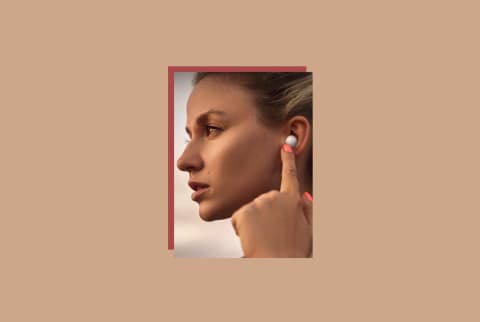 July 28, 2023
We carefully vet all products and services featured on mindbodygreen using our
commerce guidelines.
Our selections are never influenced by the commissions earned from our links.
Whether I'm engrossed in an audiobook or podcast, blasting my latest running playlist, catching up with friends on the phone, or taking a work call, I have headphones in more often than not. Still, I was struggling to find a pair I really loved—so I jumped at the chance to test out Samsung's Galaxy Buds2.
I've had a few common qualms with other (mind you, more expensive) earbuds in the past. Some felt too big or uncomfortable in my ears; others would slide out during long, sweaty runs; and many simply didn't live up to the promised sound or microphone quality. One set even died in the middle of running a marathon on a full overnight charge. (It was a long run.)
Needless to say, I didn't go in with high hopes—especially considering the fact that the Galaxy Buds cost significantly less than leading brands at just $99. But, to my delight, these earbuds solve seemingly every problem I've faced with other models. And the design is so lightweight, I often forget I'm wearing them.
What makes these earbuds special
When I first picked up the box, I was shocked by the weight of these earbuds. The set is just under 6 grams—about the weight of a pencil—and feel noticeably lighter than my AirPods (8 grams).
What's more, the Galaxy Buds come equipped with three sets of flexible silicone tips (small, medium, and large) so you can find your perfect fit. In fact, the Galaxy Wearable app even has a feature that will tell you whether you chose the best size.
As often as I wear headphones, I truly hate the way most feel in my ears. The sleek design of the Samsung Galaxy Buds actually feels comfortable, even through hours of use.
Of course, earbuds can feel and look great, but if they don't sound great, then what's the point? Thankfully, I'm thoroughly impressed with the sound quality, too.
The Galaxy Buds have active noise cancellation (ANC) and ambient sound that works better than any pair I've tested in the past. I wore these on a long car ride with three children under five, and I honestly didn't hear a peep outside of the book I was listening to.
If noise canceling isn't your cup of tea, you can adjust or fully turn off the feature through the app, or by tapping the earbuds themselves. The touch control is a bit finicky at times, but that's surprisingly my only negative feedback about these headphones.
With the ANC turned on, the Galaxy Buds hold a charge for about five hours. If you're not using the noise cancellation, a full charge will last up to seven. This was music to my ears (pun intended), especially considering the battery issues I encountered with other models.
I'll admit I'm not the best when it comes to remembering to charge my earbuds; I've had more than a few occasions when I'm dressed and ready for a run only to find my AirPods out of juice. What's great about the Samsung Galaxy Buds is you can get a full hour of battery life from just five minutes in the charging case—so even when I'm forgetful, my morning routine isn't too thrown off.
Speaking of the charging case, I love how sleek and portable it is. The case holds an extra 15 hours of playing time, so I make sure to have it in my bag at all times.
Most importantly, these earbuds stood up to the sweat-proof test (i.e., my marathon training long run in the 90-degree heat). The buds stayed secure in my ear, no adjustments needed, and the sound quality was not interrupted one bit.
The takeaway
After my previous earbuds ran out of battery smack in the middle of a marathon, I thought I'd never run another race with wireless headphones again. That is, until I tested the Samsung Galaxy Buds2. These sleek, lightweight earbuds have an extensive battery life, immersive sound quality, and stay put in my ears no matter how much I sweat. At just $99, they're a total no-brainer for anyone who wears headphones throughout the day.

Carleigh Ferrante
mbg Commerce Editor
Carleigh Ferrante is the Commerce Editor at mindbodygreen. She is a certified Health & Nutrition Coach and a born and raised New Yorker with a B.A. in Creative Writing and Psychology. Her work has appeared in Bustle, The Zoe Report, PureWow, The Everygirl, and more, covering topics such as fitness, travel, home, fashion, beauty, and dating, sex, and relationships. When she's not testing and reviewing products and services, you can find Carleigh training for her next World Major marathon, planning her next vacation, or interviewing experts on her dating podcast, Mostly Balanced.