Roasted Corn & Heirloom Tomato Salad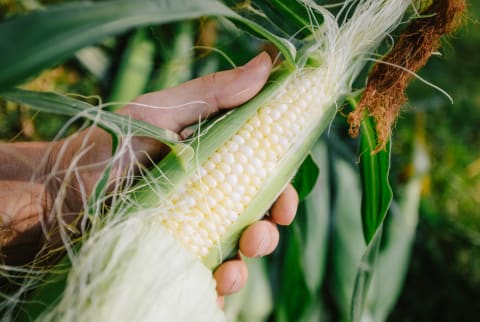 Image by Justin Mullet / Stocksy
August 22, 2014
There is something wonderfully nostalgic about roasted corn. Whether you grew up going to barbecues on the beach, or picked yourself those fresh ears right from the farm — corn on the cob is a sweet and filling treat, especially in the height of summer.
In this recipe, the kernels are shaved fresh from the cob and into a delicious summertime salad. Sweet, fresh goodness — it's so good to eat clean.
Roasted Corn and Heirloom Tomato Salad
2 1/2 Tbsp. extra-virgin olive oil, divided
1/4 tsp. sea salt
2 ears corn, roasted and shaved
1 cup grape or cherry tomatoes, halved
1/4 cup fresh basil leaves
1/4 red onion, thinly sliced
2-3 Tbsp. lemon juice
To roast the corn, drizzle a small amount of extra-virgin olive oil and sea salt on to each ear of corn. Place over a medium open flame for 1–2 minutes on each side, turning using tongs.
Roast all sides evenly until slightly charred. Cool the corn. On a clean cutting board, shave off the kernels using a sharp knife.
In a medium mixing bowl, add the roasted corn kernels, sliced tomatoes, basil, and red onion. Toss gently to combine. Add in the lemon juice and remaining olive oil and gently toss until well combined. Serve immediately.

Candice Kumai
Candice Kumai, quoted by Elle Magazine as "the golden girl of the wellness world", is a classically trained chef, wellness journalist and best-selling author of Clean Green Eats, Clean Green Drinks, Pretty Delicious, Cook Yourself Sexy and Cook Yourself Thin. She is a regular contributor on E! News and The Dr. Oz Show and has appeared as a regular judge on Iron Chef America and Beat Bobby Flay. She contributes to lifestyle publications such as Cosmopolitan, Shape, Yoga Journal, Men's Health, Clean Eating and Prevention and volunteers at dozens of charitable organizations. She is a Top Chef alumni, and is obsessed with avocados, yoga, bar method, coconut and her cat, Sisi. She lives in New York City.