Close Banner
Advertisement
This ad is displayed using third party content and we do not control its accessibility features.
The Rise Of The Facial Bar: Are These $30 Facials Worth The Hype?
Assistant Beauty & Health Editor
By Hannah Frye
Assistant Beauty & Health Editor
Hannah Frye is the Assistant Beauty Editor at mindbodygreen. She has a B.S. in journalism and a minor in women's, gender, and queer studies from California Polytechnic State University, San Luis Obispo. Hannah has written across lifestyle sections including health, wellness, sustainability, personal development, and more.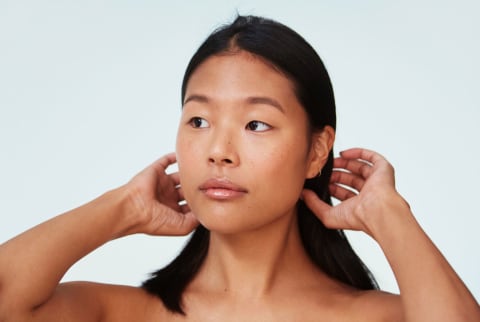 Image by OHLAMOUR STUDIO / Stocksy
We carefully vet all products and services featured on mindbodygreen using our
commerce guidelines.
Our selections are never influenced by the commissions earned from our links.
When I was a young girl, my mother always brought me to her facial appointments. I remember entering the dimly lit room, hearing the gentle birdsong and soothing waterfall sounds play overhead, picking up on lavender and eucalyptus aromas, and sitting in the cozy corner chair her esthetician had set up for me.
At the time, it felt like these appointments were three hours long, even though they were probably 45 to 60 minutes at most. I remember watching her esthetician perform extractions with a bright, magnified light in hand, strategically massaging my mother's cheeks, and layering what seemed like 100 different masks and serums.
The vibes were curated to a T, so much so that even I would leave the room feeling more relaxed and refreshed. Of course, my mother's skin was glowing every time. I knew it was a special occasion because my mom only went every other month and always reminded me that it was something I'd get the chance to do when I was older (but not quite yet).
Growing up, I had the idea that facials were two things: expensive and luxurious. Fast forward to today, and you can understand why I'm somewhat skeptical about $30 facials that last half an hour.
These speedy facial bars have become increasingly popular—and not just in urban jungles like New York City. You can find them in shopping malls and even satellite locations in many secluded suburbs.
With more and more express facial bars opening every day, it's worth asking: Are these $30 (or so) facials really top tier? To come, what you should know about these quick and budget-friendly treatments, plus how to vet a high-quality facial bar.
What is a facial bar?
A facial bar is a spa with multiple lounges and estheticians working in one open space—kind of like a hair salon. Most of the time, facial bars are designed with an open-concept layout, meaning that the massage table is not in a private space. They also tend to be chains rather than stand-alone spas.
Most brands will offer a membership program that includes one facial each month for an even lower cost, or you can purchase services à la carte. Many memberships come with discounted skin care products sold at the location, too.
Some popular facial bars include Heyday, Glowbar, Silver Mirror, and Face Foundrie, just to name a few. Each facial bar has a unique approach, but they all have a similar goal: to make facials more affordable and accessible for the busy, budget-conscious skin care fans out there.
Monthly membership fees range greatly from spa to spa, some starting at $55 and others just over $100. You'll generally have the opportunity to opt in to upgraded treatments like microcurrent, LED light therapy, chemical peels, dermaplaning, etc.
Some facial bars will include extractions with each visit, while others make it an additional price. The same goes for facial massage, cryotherapy, and so on.
Glowbar, a facial bar chain based in New York City, even has a sink up front where you wash your own face before the facial, keeping your 30-minute experience all about the treatments. You get the idea here—it's all about efficiency.
While some facial bars have been around for quite some time (Heyday opening in 2015), others have popped up just in the past few years.
It's no wonder these facial bars are getting more popular, given the plentiful positive reviews on social media platforms like TikTok—where users share their positive experiences and report newfound appreciation for quick and affordable facials.
How facial bars are evolving
Don't mistake their efficiency for simplicity, though, because many facial bars elevate their spa menus to go above and beyond the basic facial.
For example, Face Foundrie recently decided to upgrade its offerings to include more luxurious, lengthy, and expensive options for those who want to invest.
One of their new services, known as the Royal Treatment (priced at $230), includes enhanced skin treatments like microcurrent, radio-frequency, hydradermabrasion, etc., making it quite comparable to private facials on paper. "This is a service that you see celebrities and influencers getting in NYC and LA, but we are bringing it to everyone in our various locations across the country," founder and CEO of Face Foundrie ​​Michele Henry tells mbg.
While it may be the same price as some private facials, it could be easier to book, given the facial bar has a range of estheticians available for appointments throughout the day. Plus, many facial bars are open on the weekends, while private facialists often work Monday to Friday.
Facial bars vs. private facials
Now, these facial bars offer a very different experience than private facials, and there's certainly still value in visiting an esthetician one-on-one when you can.
Unlike facial bars, private estheticians tend to offer highly effective and exclusive skin care brands, such as the legendary Biologique Recherche. Plus, seeing the same facialist each time does add value, as they'll get to know your skin on a deeper level the more time they spend treating it.
Seasoned celebrity esthetician and founder of Rescue Spa, Danuta Mieloch, tells mindbodygreen that many private facialists may undergo more extensive training as well. Of course, I've met some facial bar estheticians with just a few weeks of experience and others with years of it—so it's not so black and white. That said, some companies like Heyday insist on their estheticians clocking 100 or more hours of additional training to ensure they're delivering the best possible service.
While private facials are normally pricey, they also often come with many of the "add-ons" that facial bars include in their extra fees. For example, you may book a $300 facial with a private esthetician and receive extractions, a light chemical peel, red light therapy, microcurrent, and facial massage. At a facial bar, the total price may end up being similar, or just under, for the same services. But you get the option to pick a budget-friendly experience, should that be something you prefer.
Beyond in-suite skin tools, private facials often have a different goal in mind: total and ultimate relaxation. Many spas pull out all the stops, from aromatherapy to warmed massage tables to relaxing music and beyond. At facial bars, you may hear people chatting here and there, and you probably won't be in a dimly lit room given that clients next to you also receive a facial simultaneously.
But here's the thing: Not everyone wants to pay for the elevated, private experience. Some folks prefer to get in and out without the extras. Still not sure which experience you should pick? Keep reading.
Are 30-minute facials worth it?
Well, it ultimately depends on your skin care goals and the chain you visit. It's important to note that many private estheticians may have more experience with certain skin conditions and may be able to offer unique, more advanced treatments that may take a bit longer than an express facials would.
On the flip-side, you may only need some basic extractions, a quick mask, and some facial massage for your complexion to look and feel refreshed. It's all about knowing what you want out of your appointment.
A word to the wise: Make sure to do your research before booking with any facialist, be it at a facial bar or with a private esthetician. If you have skin concerns like acne, sensitivity, rosacea, etc., make sure they have experience in treating similar clients, or better yet, chat with your dermatologist first.
If you do book an express facial, make sure you're getting something out of it that you either can't or wouldn't prefer to do yourself with an at-home facial. Also, keep an eye out for overpromising advertisements.
"Be wary if a treatment or product promises a complete change or elimination of a skin concern with just one appointment; skin care is a journey, and there are so many factors involved in getting you to your skin goal, and it often takes time," senior director of skin care at Heyday Shea Amiruddin suggests.
At the end of the day, a 30-minute facial may be worthwhile, but it's important to do your research before booking your appointment. Your skin is your largest organ, after all, and should be treated with care, even if it's only for half an hour.
Which one is right for you?
There are many factors to consider when booking your next facial. Below, a few ways to decide which is best for you:
Price: The most obvious allure of facial bars is the affordable price. As mentioned above, most of the prices listed in advertisements will get you a basic facial, so make sure to consider the price of add-ons should you want them.
Location: Where you're located will certainly impact your choices as well. If you're unsure what you should be looking for, do some online research to see if there are any facial bars or private facialists near you. You may also want to read the reviews before booking.
Skin concerns or goals: If you want general skin maintenance, facial bars may be able to check that box. However, if you have acne or other more serious skin concerns, you should be extra careful when scheduling facials. Consider visiting an experienced esthetician who specializes in that area, even if that means going less often to offset the price.
Experience: Everyone wants something different out of their facial experience. If you want to leave feeling like you're walking on a cloud, then consider booking with a private esthetician so you have the benefit of peace, quiet, and time on your side. Not every private facialist focuses on the vibe, so do some research beforehand if you know this is important to you.
Consider both: If you love the ritual of a monthly facial but you can't afford private treatments every time, then consider booking with a facial bar and investing in an upgraded treatment every once in a while.
Also, there's no harm in trying something new. If you have a facial bar in mind you've been wanting to try, ask them if you can book one facial without signing up for a membership to see how you like it. Then you'll be able to make your decision based on your experience.
A final reminder
Whether you get a $500 facial or a $20 facial, one thing remains the same: Your at-home care will make the biggest difference in your skin. So keep up with your regimen if you want to see lasting results, and consider visiting a dermatologist if you have skin concerns like acne, rosacea, sensitivity, etc. This way, they can help you decide which treatments will be beneficial and which ones to skip.
The takeaway
Facial bars have gained significant popularity and prestige in recent years, but that doesn't mean private facials are out. If you're looking for a quick and affordable treatment, facial bars have you covered. For those seeking pure bliss post-facial or attention to specific skin concerns, you may want to book a private facial instead. Here, a few different kinds of facials to get familiar with.
Hannah Frye
Assistant Beauty & Health Editor
Hannah Frye is the Assistant Beauty & Health Editor at mindbodygreen. She has a B.S. in journalism and a minor in women's, gender, and queer studies from California Polytechnic State University, San Luis Obispo. Hannah has written across lifestyle sections including skin care, women's health, mental health, sustainability, social media trends, and more. She previously interned for Almost 30, a top-rated health and wellness podcast. In her current role, Hannah reports on the latest beauty trends and innovations, women's health research, brain health news, and plenty more.