Concrete May Soon Be Recyclable, Thanks To New Research
mbg Editorial Assistant
By Eliza Sullivan
mbg Editorial Assistant
Eliza Sullivan is an editorial assistant at mindbodygreen. She received a B.S. journalism and a B.A. in english literature from Boston University.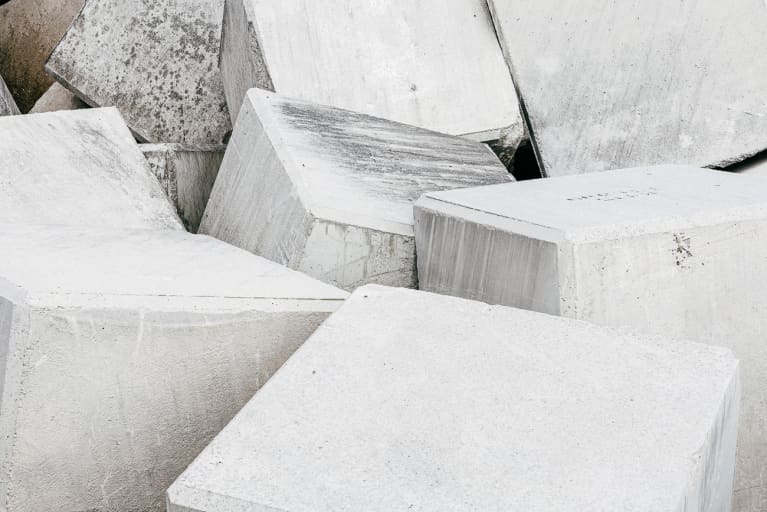 February 21, 2020 — 0:41 AM
Apparently, the concrete industry is going green. First, scientists brought the material to life (seriously) as a part of efforts to make it more sustainable. And now, researchers at The University of Tokyo are working on making concrete recyclable.
One of the most common materials on earth, concrete—and the production of it—has increasingly come under the microscope for its significant carbon footprint. A whopping 6% of global CO2 emissions come from its production, and society has been using the same process for making concrete for about 100 years.
It's about time that science took a crack at improving this everyday material.
How do we make concrete already recyclable?
When concrete is made, the process involves "aggregate" (pebbles and crushed rocks) and cement. While aggregate may be recyclable, it's not the part of the process that's hurting the environment. "Just reusing the aggregate from old concrete is unsustainable," said Li Liang, the study's first author, "because it is the production of new cement that is driving climate change emissions."
Using a new process, the researchers were able to create a product that uses old materials to make something new—and apparently, better. "Most of the recycled products we made exhibited better bending strength than that of ordinary concrete," said senior author Yuya Sakai, Ph.D.
While bending may not be a word you'd necessarily associate with "good" for concrete, it will allow structures to move and renders it less likely to crack. They also made the substance stronger with increased pressure and temperature during production, so it'd still work like concrete.
The new material was made by adjusting the mixture and adding a resource that doesn't need to be synthesized: wood. They even used recycled wood to further limit the environmental impact of the new process. The way it's made also may render the material biodegradable in the right conditions, thanks to the wood component.
What impact will this have on the industry?
Greener buildings are already being built, but advances in concrete technology will make one of our most frequently used materials less damaging so that buildings can continue getting greener.
"These findings can promote a move toward a greener, more economical construction industry that not only reduces the stores of waste concrete and wood but also helps address the issue of climate change," said Sakai.
The researchers also believe that the process they used to start recycling concrete may lead to further breakthroughs, like the ability to make all new concrete from a mixture of plants, sand, and gravel.
While we won't exactly be able to (or necessarily need to) worry about recycling concrete ourselves, we should all make sure we're recycling what we can the right way and that we're trying to reduce and reuse things as much as we can.