4 Relationship Tips French Women Swear By
mbg Contributor
By Leigh Weingus
mbg Contributor
Leigh Weingus is a New York City based freelance journalist writing about health, wellness, feminism, entertainment, personal finance, and more. She received her bachelor's in English and Communication from the University of California, Davis.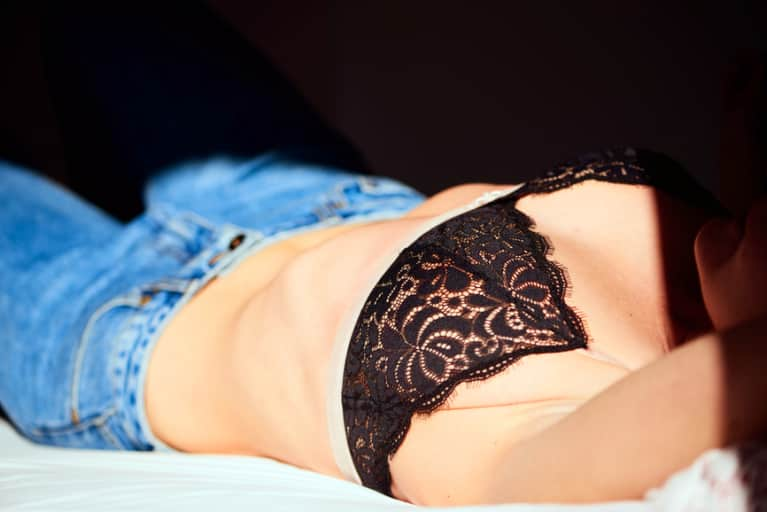 Our editors have independently chosen the products listed on this page. If you purchase something mentioned in this article, we may
earn a small commission
.
While there are a number of factors that go into the overall health of a relationship, there's no question that one of those things is an active sex life. But once work stress, a laundry list of errands, and cooking the kids dinner are thrown into the mix, keeping the spark alive isn't an easy feat for a lot of couples.
A large study published in 2015 found that having sex at least once per week is important to the overall happiness of most couples. But what's the key to achieving that magic number? We reached out to four women who are immersed in the wellness world in France, one of whom wishes to remain anonymous. Here are their tips:
"I've been married for 15 years, and I think the spark of any relationship can become a thing of the past quite easily when one gets drowned in the minutiae of daily life (household errands, carpooling children, etc.). Plus, when a couple is lacking the time to focus on each other because of demands coming from everywhere—work, children, friends, family—the answer for me is to escape together, whether that means going away for a weekend and escaping everyday life or going out for a date once a week with just my husband. If you can't focus on each other, you can't keep the spark alive. I'm a firm believer that my relationship with my husband is a priority over all else in our family—otherwise nothing falls into place, and everyone loses out. Keeping the spark alive is key to a great family life."
—Rebeca Plantier, founder of Fit to Inspire and author of Lessons from France: Eating, Fitness, Family, a guide to the healthy habits of the French, including tips and recipes
"There is no harm in daydreaming and fantasizing about other people when you are in a long-term relationship. We are human, after all, and it's a real pleasure to be able to meet people you are attracted to, even if you are in a monogamous relationship. To me, that keeps the spark alive!"
—50-year-old French woman who wishes to remain anonymous
3. Take advantage of those vacation days.
"Going away on a trip just the two of you is always the best idea when you feel like your relationship needs a 'spark.' Of course it is easier for the French couples who get easily seven weeks off per year! But jokes aside, nothing is as effective as three days without the children somewhere other than home (Lisbon? Copenhagen? New Orleans?). Suddenly, you might remember why you are together.
—Florence Mars, co-author of Say Bonjour to the Lady: Parenting from Paris to New York
4. Don't be afraid to bust out the lingerie.
"Taking weekend excursions to escape the city and explore the French countryside or the coast helps. This time away from the constant bustle of the city is essential for maintaining that special connection with your partner and keeping the romantic spark alive. It's so easy to travel around France—either by car or by train—so planning a romantic weekend away is easy to do. Some of my favorite places include the Burgundy region, Loire Valley, small beach towns in Normandy, small villages in Provence, or the small cities along the Calanques near Marseille. The beautiful surroundings make it easy to enjoy nature, delicious wine and food, and most importantly, that special person.
One of the things my boyfriend and I love to do is cook together. We will spend the afternoon shopping at the market, picking the best fish and the perfect wine. We'll take hours in the kitchen to prepare the perfect meal just for us. And then we'll enjoy every bite, taking our time, talking, laughing, planning vacations, etc. These evenings are truly my favorite!
Another point, which is quite stereotypical, is owning nice undergarments. It doesn't have to be super-fancy lingerie, but a nice matching set of lace underwear and bra go a long way. While my boyfriend doesn't care much, he is always pleasantly surprised when I have something special waiting under my casual clothes. He notices every time. In general, I think French women are more intentional about their personal care, including what they wear underneath their clothes, and this is definitely appreciated by French men. And women should do it for themselves, too!"
—Elissa Goldenberg, Paris-based holistic health coach
Inspired by the French way of doing things? Here's what a French woman eats in a day.