paid content
 for
Reasons To Make This Soothing THC Topical Gel Your New Daily Ritual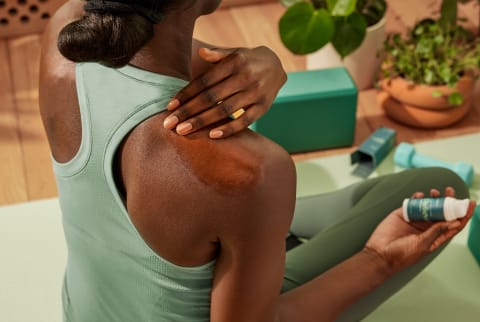 Image by Curaleaf / Contributor
June 5, 2023
For use only by adults 21 years of age and older; 18+ for medical states. Keep out of reach of children. Do not operate a vehicle or machinery while under the influence of this drug. Laws governing the legality, availability and use of marijuana vary by state.
A busy day juggling work, fitness, errands, and family can be fulfilling—but it can also leave our bodies exhausted (and desperately seeking a massage). Essential oils, meditation, and hot showers all have their role to play, but when it comes to daily recovery—having a go-to THC topical in your arsenal is a great way to add extra calm and relaxation to your routine.
Now more than ever, minor cannabinoids and marijuana have a voice in the way we understand and cultivate well-being—and THC topical gels are a part of that. But if you've ever shopped for one, you know there's no shortage of choices…. It's hard to know which product best aligns with your well-being, but Curaleaf's Plant Precision Relieve Topical Gel is one-of-a-kind.... And we'll prove it to you!
But what is a THC topical gel?
Topicals are all about localized action—meaning, they're used on a specific area of the body for intended results. THC topicals are meant to help relieve aches, pains, and the like. The Plant Precision Relieve Topical Gel is designed to rapidly deliver comfort where you need it most. (And with a soothing lemongrass scent!)
So, what happens once the active ingredient, THC, interacts with the skin and eventually hits the bloodstream? According to the research1, cannabinoids like THC interact with cannabinoid receptors as part of the extensive endocannabinoid system in our body. This helps regulate the signaling pathways throughout our body—including those responsible for balancing pain and inflammation. Individuals and some academic studies have reported that THC has helped users mitigate joint discomfort.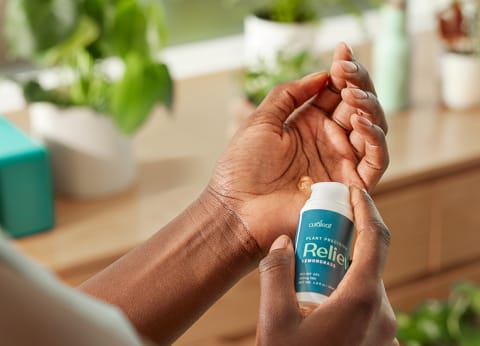 Image by Curaleaf / Contributor
The benefits of a topical gel
To better understand the reasons for adopting a THC topical in our wellness routine, we connected with Jessie Kater, senior vice president of innovation, research, and development at Curaleaf. "Topicals can be a good alternative route of administration for some people that may be less inclined to inhale or ingest cannabis. The Plant Precision Relieve Topical Gel is a great choice for those looking for some localized relief, and as some of it gets absorbed into the bloodstream, it can also help provide systemic relief and relaxation, making it a great multifunctional option."
Another benefit of Plant Precision Relieve Topical Gel is that it's lightweight on your skin, whereas many THC topicals out there feel heavy. THC is a highly lipophilic compound, meaning it has an affinity for lipid environments and dissolves more easily in fat than it does water. Because of this, many gels have a hard time permeating beyond the watery layers of our skin. But according to Kater, the Plant Precision Relieve Topical Gel includes food-grade ethanol and permeation enhancers. In-house proprietary research indicates that these enhancers assist in carrying cannabinoids across the layers of skin into deeper tissue and blood vessels where it is then circulated systemically. This doesn't just imply a lighter gel, it also means you'll start to feel a calming "body high" tingle.
Your new daily ritual
Life comes with its aches and pains—sometimes literally. Wellness is made up of the daily rituals that support our unique needs, and knowing which products to lean on for that extra support is important. Whether it's the Plant Precision Relieve Topical Gel as your new daily ritual or the new cannabis Plant Precision gummies, designed to target the many roles of our endocannabinoid system (from sleep to mood), Plant Precision is a new line that's encouraging us to understand cannabis in a new way. We know life is complex enough already—but the way you slow down and support your body can be simple!
If you're considering taking a medicinal or recreational cannabis product, please consult and follow the legal restrictions for controlled substances in your state. Consult with your doctor before starting any cannabis routine. Keep out of reach of children. Consumers should consult with their physician before using this product if they are pregnant, breastfeeding, or taking any medications.
Devon Barrow
Branded Content Editor
Devon Barrow is a Branded Content Editor at mindbodygreen. She received her degree from the University of Colorado. When she's away from her desk, Devon is teaching yoga, writing poetry, meditating, and traveling the world. She's based in Boulder, Colorado.
Devon's first book, Earth Women, is coming soon. To learn more, join the mailing list, and receive updates, head to www.devonbarrowwriting.com.