paid content
 for

The Realities of Being A Mom That No One Talks About
By Leah Goldglantz
mbg Contributor
Leah Goldglantz is a health enthusiast, wife, mother, and founder of the wellness blog Leah's Plate.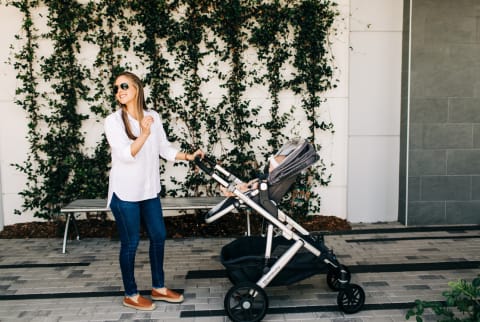 Photo by @christinacraddockphotography
October 4, 2018
When I found out I was pregnant with my first child, I was immediately filled with excitement and happiness. I had visions of a sweet little baby sleeping on my chest and long, relaxing stroller walks to lunch. At the time, I didn't worry about being exhausted or any of the other stresses that come with parenting.
From the moment Emma was born, I was madly in love with her. I exclusively breastfed from the beginning, which was extremely rewarding. It allowed us to create a special bond, and now that she's two and a half, I miss those special moments.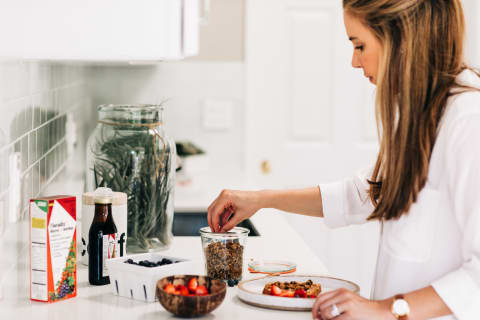 Photo: @christinacraddockphotography
However, the reality quickly set in that I was sleep-deprived and not feeling like myself. As the days went on, I noticed I had less and less energy. Even as my little one started sleeping through the night, I felt sluggish and tired on a daily basis. I expected to not get much sleep at night, but I soon realized that my vision of long stroller walks and taking her out to lunch wouldn't be as easy as I had imagined. I'd often set out on our morning stroller walk only to have Emma cry five minutes in.
I didn't feel like my normal, energetic, pre-baby self anymore.
Fast-forward two and a half more years, and I welcomed my second beautiful daughter into this world. If I thought I was sleep-deprived and exhausted with just one child, I had a wakeup call: my energy was completely zapped when my second child came along.
I didn't feel like my normal, energetic, pre-baby self anymore; I even felt like I was losing my sense of self. It upset me that I couldn't give my girls my "all" because I was constantly exhausted. I wanted to have the energy to take my toddler to the park and chase after her. I also needed the energy to endure those all-nighters breastfeeding my newborn. Not to mention, I wanted to get back into the fitness routine I had before my girls were born. Every time I tried to work out, I felt sluggish and weak.
Even when I did get the random good night of sleep, I didn't feel any better. So I started researching why I was feeling so low-energy.
That's when I realized I could be iron deficient. After all, 26 percent of reproductive aged women are. Iron is an essential element for our body to function, and when it's low, our energy levels decrease pretty drastically.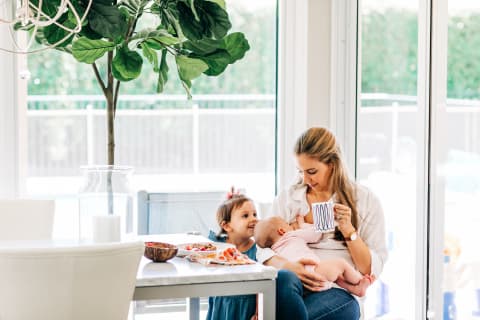 Photo: @christinacraddockphotography
I was so thankful when I discovered Floradix Iron + Herbs and made it a part of my regular routine. Floradix is a natural liquid iron supplement that helps fight iron deficiency by promoting the formation of healthy red blood cells. It's formulated for easy absorption and assimilation and is gentle on the digestive tract. I only choose supplements that are non-GMO and free of alcohol, artificial additives and synthetic preservatives, so this one was perfect for me. And I love that it's packaged in an environmentally friendly glass bottle. Flora Health launched a new version called Ferritin+, and it is now available for purchase.
Within days of taking Floradix, I felt more energetic and less fatigued. Having my energy back made me feel like I could really be there for my daughters. It was almost impossible to have two children to take care of all day and not feel myself and always be exhausted. Now I'm ready to tackle each and every day of being a mom. It also feels really nice to throw in an occasional kickboxing or spinning class.
Leah Goldglantz
Leah Goldglantz is a health enthusiast, wife, mother, and founder of the wellness blog Leah's Plate. She lives in South Florida with her husband and daughter. Goldglantz started her wellness blog in 2015 because healthy living and eating wholesome, real food is such a passion of hers, and she wanted to share that with others. She inspires others to nourish their bodies with whole foods in order to live a healthier life. She creates recipes that are quick and easy to make proving that eating healthy doesn't have to be complicated. When Goldglantz isn't in the kitchen, she can be found at a yoga, spinning, or kickboxing class.