paid content
 for

Reactive Skin? Here's A Gentle Skin Care Routine With Powerful Results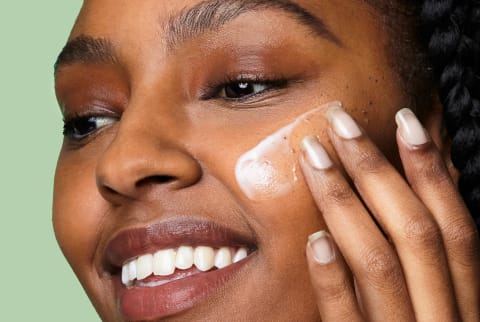 Image by Tata Harper Skincare / Contributor
May 5, 2021
Between environmental stressors and the inevitable demands of life, it can be tough out there—and our skin often pays the price. Many of us share the frustrations of reactive skin: inflammation, breakouts, and dryness, plus overly simple or synthetic solutions. Reactive skin is tricky, and more and more of us deal with it these days—60 to 70% of women and 50 to 60% of men report having sensitive skin.1
How can we take care of reactive skin?
For so long, those of us with reactive skin have mostly had uninspiring skin care routines to turn to. All-natural alternatives have been nearly impossible to come by, leaving us with synthetic cosmetic solutions, the most common trigger for sensitive skin2. But with the launch of Tata Harper's new Superkind skin care line, that's no longer the case. Created specifically for reactive skin, this line was inspired by real conversations with people craving a powerful and natural solution. As Founder Tata Harper describes:
"Superkind was inspired by friends and people I met who were frustrated with their lack of options for real skin care for reactive skin. So, it became our challenge to create products that their skin could tolerate and that could also give them the results they're looking for. We took a very comprehensive look at potential skin triggers and eliminated over 80 of them to create completely stress-free formulas. We also discovered 36 new active ingredients from around the world."
Stress-free formulas are what we're all about. And the fact that the entire Superkind line has been SkinSAFE certified, meaning it's passed through an intensive review process to ensure that it's gentle on skin, excludes irritants, and includes only the purest of ingredients. Better SkinSAFE than sorry.
Reactive skin simply requires a greater degree of care — here's what to keep in mind:
1. Cleanse constructively.
Because the underlying cause of reactive skin is a compromised skin barrier, it's critical to look for a cleanser that repairs and regenerates the skin barrier instead of breaking it down. The Superkind Softening Cleanser uses 18 high-performance natural ingredients to do exactly that. With a foaming botanical blend that cleanses away impurities, this formula features the antioxidant flavonoids of calendula juice to soothe stressed skin while rebuilding it with maracuja oil, known for its regenerative properties. We need a cleanser that does more than cleanse our skin—we need it to repair our skin.
2. Exfoliate, but gently.
With irritable skin, sometimes exfoliation feels a bit risky. But reactive skin still needs a routine for shedding dead skin cells dulling its shine—what matters is that only the gentlest ingredients are used. The Superkind Radiance Mask uses a unique combination of phytic and lactic acid for exfoliation that doesn't impair skin barrier function. In fact, this mask only further restores it—reactive skin can be radiant, too! The secret is in the unique sugar-derived prebiotic that stimulates skin ecoflora, balances the skin's microbiome, and deeply hydrates to reinforce the skin barrier. New York dermatologist Cybele Fishman, M.D., describes the importance of this:
"There is more and more data coming out that just like the digestive system, the skin microbiome is complex, and a disruption of the microbiome can lead to skin disease. An example is the relationship between rosacea and SIBO (small intestine bacterial overgrowth). The Radiance Mask contains both prebiotics, which serve as food for probiotics, which it also contains. Having a healthy skin microbiome can improve skin barrier function, as well as prevent the overgrowth of bad bacteria and yeasts."
3. Moisture powerfully.
What we often don't realize is that moisture is a key component of maintaining our skin barrier4. More than keeping our skin soft, moisture strengthens skin against our modern environment. Studies have linked dry skin to impaired skin barrier function4, and other more serious skin conditions, so we have to moisturize like we mean it. For that, we can turn to the Superkind Fortifying Moisturizer, formulated with extremophile technology—meaning, plants that have adapted in nature to withstand extreme environments. The anti-aging mulberry leaf complex in this formula offers a retinol-like effect to firm, smooth, and brighten, sans irritation. With tri-action moisturizing and anti-aging technology, this moisturizer really does it all.
Real skin care for reactive skin.
The reality is that reactive skin calls for real skin care. And that means choosing the products our skin can tolerate to cultivate the moisture, plumpness, and radiance we've always dreamed of. Tata Harper skin care has always been expert in harnessing the best ingredients and green technology, but the Superkind line takes things to the next level with gentle ingredients and powerful results. Reactive skin friends—time to trade in the boring ritual for a solution that's luxurious, effective, and clean. We know what you're thinking: Finally!
Want to learn more? Check out our Clean Beauty School podcast episode featuring Tata Harper. Plus, this month, mbg readers: Get $20 off your first order of $100 or more with code MBG20*.
*Receive $20 off any domestic or U.S. Territory purchase of $100 or more (excluding shipping, handling, and taxes) exclusively at
www.tataharperskincare.com
. Offer is only valid on first purchase from
www.tataharperskincare.com
. Offer is valid from 12 a.m. EDT 4/26/2021 to 11:59 p.m. EDT 5/31/2021. To redeem, use code MBG20 at checkout. Offer is not valid on previous orders, sets, bundles, in-home spa accessories, gift cards, or toward a subscription order. Offer has no cash value, is not redeemable for cash, and is subject to change without notice. Limited one offer per customer and household and may not be used in combination with any other offer or discount. We reserve the right to cancel any order due to unauthorized, altered, or ineligible use of offer and to modify or cancel this promotion due to system errors or unforeseen problems. All purchases are subject to bank authorization prior to processing. Only authorized purchases will be processed and shipped.
Devon Barrow
Branded Content Editor
Devon Barrow is a Branded Content Editor at mindbodygreen. She received her degree from the University of Colorado. When she's away from her desk, Devon is teaching yoga, writing poetry, meditating, and traveling the world. She's based in Boulder, Colorado.
Devon's first book, Earth Women, is coming soon. To learn more, join the mailing list, and receive updates, head to www.devonbarrowwriting.com.