Antoni From 'Queer Eye' Shares His Top 5 Favorite Ways To Use Avocado In Everything

Contributing Food Editor
By Liz Moody
Contributing Food Editor
Liz Moody is a food editor, recipe developer and green smoothie enthusiast. She received her creative writing and psychology degree from The University of California, Berkeley. Moody is the author of two cookbooks: Healthier Together and Glow Pops and the host of the Healthier Together podcast.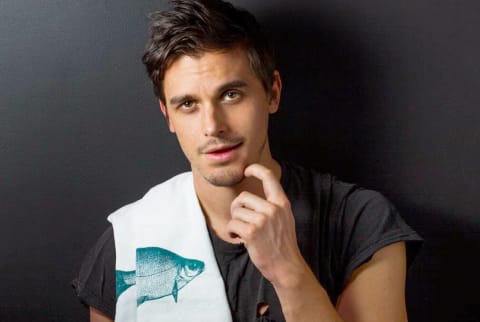 May 17, 2018
Antoni Porowski is one of the breakout stars of Netflix's Queer Eye reboot, winning over hearts and minds with his unabashed love for reading and eagerness to teach people how to cook. He has, however, caught a bit of slack for his avocado worship, with internet users bashing his frequent use of the fatty fruit, which he used as a star ingredient in two of the episodes. Antoni takes the hate in stride—"If the person needs avocados, then I'm not going to deny them avocados because some troll decided I use avocados too much," he told People—but we wanted to applaud his avocado love. We caught up with him in NYC's Union Square recently, where he'd partnered with Silk, the plant-based beverage brand, to give commuters coffee, his signature smoothie, and free bikes as part of their Progress Is Perfection campaign. We chatted a bit about his diet—"I eat steak and cheese on the weekend," he confessed, "but during the week, I'm fairly healthy, eating mostly plant-based with a bit of fish"—before asking Antoni to share his more creative uses for avocado:
1. Lebanese Smoothie
This deliciously exotic smoothie is based on the Lebanese food Antoni grew familiar with while growing up surrounded by Lebanese communities in Montreal. "You throw avocado into a smoothie with some dates, some yogurt or labneh, fresh mint, and some berries," he said.
2. Halved, With Vinaigrette
One of Antoni's favorite childhood snacks—yes, his avocado love runs that deep—was an avocado filled with salad dressing. "I normally like to make my own vinaigrette," he shared, "but we always had Ken's Steak House Raspberry Walnut growing up; it's really tangy and raspberry and nutty. I'd cut open the avocado half and pour the dressing into the center and eat it with a spoon."
3. Grilled With Seaweed, Pepitas & Pickled Jalapeños
This feast for the senses pairs grilled avocado with a slew of crunchy, salty, sour, and umami toppings. "I like to grill an avocado—not too much, or it'll turn dry, but enough to give it a bit of char on the outside," he explained. "Then I top it with ponzu, nori, or some kind of crispy seaweed, pepitas tossed in a bit of chili powder or something to give it a smokiness, and pickled jalapeños, so it has salt, a bit of a spice kick, and a bit of acidity."
4. Avocado & Pea Soup
Antoni loves blending avocado into a simple pea base and then chilling it to make a perfect summer soup.
5. In Dessert
"Avocado is really nice in desserts," Antoni shared. "In Middle Eastern cooking, they do these insane crepes with all different kinds of fruit, and these insane sundaes that are very fruit-driven, and you can use avocado in that." May we also recommend a simple avocado mousse?