paid content
 for

The Ultimate Eco-Entrepreneur's Advice For Taking Action
April 19, 2017
A career in luxury hospitality doesn't exactly scream sustainable. Think about it: With every overnight guest, there are towels to wash, sheets to launder, and lots of food to deliver—usually with excess packaging to boot. And yet Barry Sternlicht, the founder, chairman, and CEO of Starwood Capital Group, is proving that hotels can be catalysts for change with his new hotel "brand," 1 Hotels.
Founded on the idea that we share just "one" world, 1 Hotels aims to engage guests with design and amenities that are comfortable, luxurious, and sustainable. Sternlicht hopes that by planting ideas and sparking conversation in his properties across Manhattan, Brooklyn, and Miami, he will inspire new habits for his travelers that last far beyond checkout time.
You're going to want to hear what the innovative eco-entrepreneur has to say on meaningful consumer action, the inherent value of nature, and why we're talking about climate change all wrong.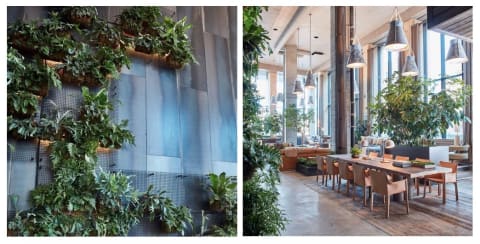 What inspired the concept behind 1 Hotels? How does it compare to your other hotels?
On a trip to Asia in my 30s, I saw hotels that were trendy hangout spots with bustling lobbies. Over in the United States, we'd dumbed down the lobby to try to get guests in and out quickly. I created W Hotels to make the hotel fun again. Our lobbies became living rooms.
Later, during my travels to Europe, I noticed how ahead of the curve these countries are in terms of sustainability. At the same time, my kids were studying environmental sciences in school and that formed the basis of an idea for a new brand in the United States. This was also around when An Inconvenient Truth first came out and Americans finally began to realize the extent to which the planet was warming. By then, I already knew how to make hotels stylish, inviting places to gather. But for my next project, I wanted to make a hotel that was cause-oriented. I wanted to use a hotel as a platform to teach people how to live a green life and live well, while still having a luxury experience.
What do you hope guests walk away saying after staying in 1 Hotel?
I want people to realize that in today's world of gadgets and gizmos, nature is the greatest luxury of all. It's the most beautiful thing that we have. It should be revered. And we all have a role in protecting that one world. What we want people to realize with this hotel is that tiny changes do add up. It's all about small steps, whether you're eating organic food, shopping local, recycling, taking shorter showers, etc., and you don't have to sacrifice your luxury aspirations in the process. Last Earth Day, we surveyed 50,000 guests, asking them a bunch of questions, including, "Has staying in 1 Hotel influenced your life at home?" Forty-eight percent of them said yes.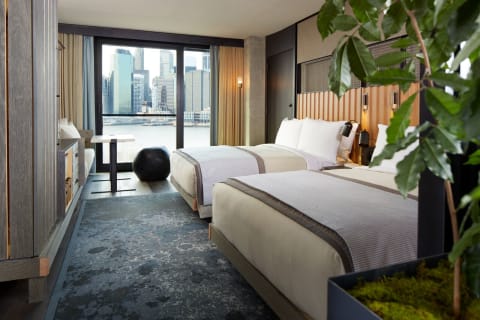 That's amazing—how can a brief hotel stay really shape someone's habits?
We painstakingly think about every detail, from the scent that hits you when you walk in the door to the reclaimed, recyclable wood key card you use to enter your room, to the pillow, sheets, and mattress you sleep on. We want to make those experiences luxurious and sustainable at the same time, while layering in what we call "educational moments." For example, the hangers in our rooms are made out of recycled paper. Instead of marking them with a recycling symbol, they say, "This is made out of love letters" or "This is made out of homework." We create emotional stories around sustainability.
When people travel, they don't want to be beat over the head or made to feel bad. But if you can cause an emotional connection that makes them reflect, "Oh, I never thought about it that way" or, "Oh, isn't that cute," they'll listen.
What advice do you have for anyone looking to make a sustainable difference?
Get involved locally. Organize a beach cleanup, start a recycling program. Get active and get your hands dirty. On top of that, stay aware that the decisions that you make affect other people. The name 1 Hotel comes from the idea that we share one world. The actions you take today don't just affect you—they're for your neighbors and your kids and your kids' kids and your nieces and nephews and your friends around the world. There's exponential power in reminding yourself of that.
What do you think about the current discourse surrounding climate change in this country? Does the way we talk about the issue need to change?
I definitely think it needs to change. I like to say that you don't get people to follow you with hate; you get them to follow you with love. We can't fight fire with fire, especially with our current administration. The real way to mobilize people is to educate and inspire them.
We've been telling people for 25 years that the tides are rising and the coral reefs are dying. We're hitting them with facts and numbers that are too heavy and too hard to grasp. Instead, let's remind each other of the beauty that surrounds all of us and hope that will inspire action and lasting change in protecting our environment.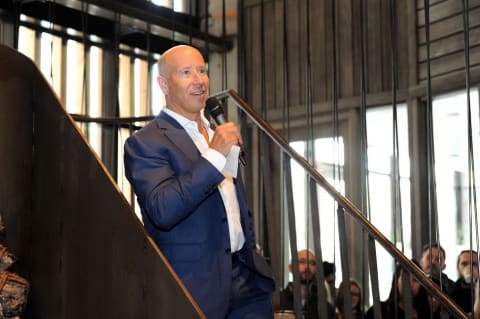 How do you celebrate nature in your own life? What is your favorite place to escape?
My favorite place is my home in Nantucket. It's a modest cottage but it has has a pond in the backyard, dunes and grasses to the west, and the ocean at its front door. It's serene. Nature really is my biggest design inspiration. I believe a close-up photo of nature is one of the most beautiful images you'll ever see. Plants, flowers, and branches from fallen trees are the sculptures in my eyes.
Working to solve environmental issues can easily get disheartening. How do you deal when disappointment arises?
I focus on what I can do today. Instead of getting depressed by negative thinking, I try to use it as motivation. A problem is a project. When I see that something isn't working, it's one more piece of information that I can use to inspire creative solutions. I don't have a doomsday outlook because I really believe that at the end of the day, people are good. Their intentions are right. They want to make the right choice. We just have to educate them on what the right choice is.
Tune in to mbg's Facebook Live on Earth Day to hear Barry and other eco experts share their advice and knowledge!