Does The Noom Diet Work? Here's What You Need To Know
mindbodygreen Editorial Assistant
By Sarah Regan
mindbodygreen Editorial Assistant
Sarah Regan is a writer, registered yoga instructor, and Editorial Assistant at mindbodygreen. She received her bachelor's in broadcasting and mass communication from SUNY Oswego, and lives in Brooklyn, New York.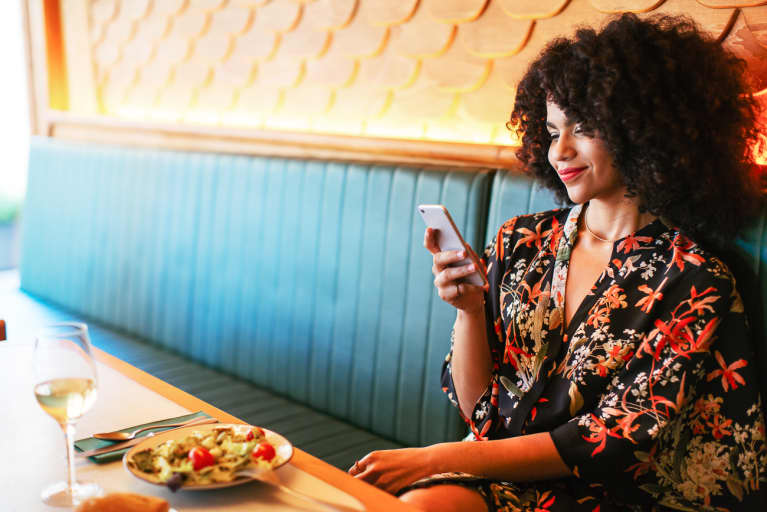 January 2, 2020 — 2:33 AM
One of the most searched diets of 2019 isn't just a diet. It's called Noom, and it's an app that uses psychology over an eight-week course to help you unlearn bad habits and adopt new, healthier ones.
The website claims users who get the app and make healthy lifestyle changes can expect to lose 1 to 2 pounds every week, so we were curious to find out more about this unique approach to dieting.
Here's everything you need to know if you're thinking about paying for the app.
The idea behind Noom is to look at weight loss from a mind-body perspective. When you first sign up, they, of course, ask questions about your height and weight, health history, and where you live. But they also ask about your goals, dieting history, and any life events that may have caused weight gain, to come up with a customized plan for you.
Then, over the course of the eight weeks, the app has you look at things like your "food demons" and triggers and how to develop healthier habits like managing stress, so you can learn how to keep the weight off when the program is said and done.
Through coaching and personalized meal and/or workout plans, the app also claims to help you adopt healthier patterns faster.
One 2016 study of almost 36,000 Noom users found 78% of them had sustained their weight loss over nine months.
A functional doctor's perspective.
Wendie Trubow, M.D., a functional medicine doctor who focuses on not just physical health but chemical, emotional, social, and spiritual well-being as well, had good things to say about the app.
"This is a nice way to increase accountability and focus on eating whole, unprocessed foods," she says. "If the price of the app works for you, then it may be a graceful way to improve sustainable habits."
The two-month program is $99 before sales tax. When you sign up, the cost of the first two weeks may be reduced, but the reality is, this may not be an option within everyone's budget.
It's one of the only diet trends that tackles the psychology behind struggling to lose weight and how to overcome it to transform your lifestyle.
If it is within your budget, the bottom line is the app uses a unique approach to help people make long-term changes for sustained weight loss, and studies show it's effective.
So, if the Noom app has caught your attention, it may be a good option if you're looking to make positive changes to your diet and overall health.