A 3-Minute Practice For Moving Through Anxiety & Quieting The Mind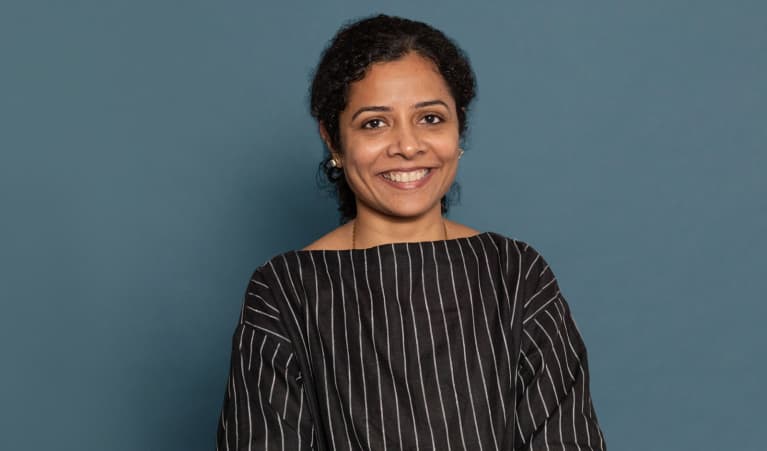 Our editors have independently chosen the products listed on this page. If you purchase something mentioned in this article, we may
earn a small commission
.
Preethaji was 8 years old when she realized she was different—she could tap into what others around her were feeling and experience their pain, pleasure, and longing as her own. Over the span of decades, the spiritual leader has used this unique sense of connection to help millions of people tap into their own consciousness and overcome suffering.
"When you feel the other, you have a great capacity to heal the heart," she tells mbg. Along with her husband Krishnaji, Preethaji now shares her teachings primarily at OO Academy, a philosophy and meditation school in India.
Krishnaji and Preethaji believe that all suffering on Earth exists because of "an obsession with oneself," and the key to moving through pain is to look outside of yourself and tap into the collective consciousness. Easier said than done! But on today's podcast episode, Preethaji, who also earned a master's degree in business and has a special way of translating complicated spiritual philosophies into digestible, accessible language, shared one quick routine to get us started.
Preethaji's 3-minute Serene Mind practice.
The Serene Mind practice is a tool to help us analyze emotions like anxiety, sadness, and frustration so we can begin to slowly make our way out of them and quiet the mind.
So let's say you're suffering from anxiety, which Preethaji defines as "a state in which you are constantly projecting a painful future." One way to begin breaking down these projections is recognizing they don't have to exist in the first place.
"When you are in a suffering state, there is so much noise within yourself. There is an inner claustrophobia. There is clutter," Preethaji explains. "And from that state, you're probably making decisions because you're habituated to making those decisions. There is no clear intelligence that is available for you." The antidote? A quiet mind, from which you can make more logical and heart-based decisions. Here is Preethaji's step-by-step routine for silencing the mind whenever you feel inner clutter piling up:
Recognize where you are. What exactly is it that you're feeling at this point in time? Put words to it as best you can.
Recognize the movement of your mind. Begin to observe emotions as they arise and spread in the brain. How is your mind moving today?
Ask yourself whether the emotions arising are connecting you with others or leading you inward and further separating you from your surroundings.
Imagine a light moving from the middle of your forehead to the middle of your brain. The reasoning behind this step is Preethaji believes that we as a civilization live too much in our prefrontal cortex, the logical part of our brain that is activated by education and reason. "But it is time for us to activate yet another region of our brain," she says, referring to the medial prefrontal cortex, which is responsible for deep connection and located closer to the middle of the brain.
"The serene mind practice is something that anybody can start doing," she says. "It doesn't take more than three minutes, but it is immensely powerful in helping you to get back to a place of calm."
You can find more of Preethaji's rich teachings in her new book The Four Sacred Secrets and in today's podcast episode, which touches on everything from how to find purpose in life to how to raise the next generation of spiritual kids (good news: They're way easier to teach than adults!).
And do you want to turn your passion for wellbeing into a fulfilling career? Become a Certified Health Coach! Learn more here.