Hanging Monsteras & A 45-Year-Old Cactus Make This Urban Jungle One Of A Kind
Bernd Reichler doesn't have any room for holiday decorations in his Munich, Germany, home, because every nook and cranny is filled with plants. Talk about problems we wouldn't mind having. Today on Holistic Home Tours, we're touring Reichler's green oasis in search of top tips for turning an ordinary apartment into a nurturing jungle.
How do you describe your design philosophy at home?
I would say plants, boho, and Oriental décor.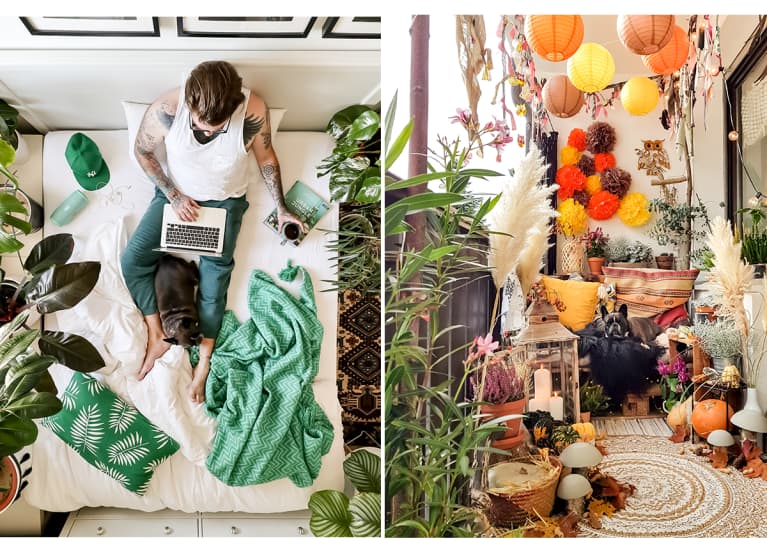 What's the oldest thing in your home? Newest?
I have a lot of thrifted stuff in my home. My oldest thing is probably a 45-year-old cactus, and my newest things are three pillowcases I got from a friend who visited Morocco.
What noises can be heard in your home? What smells are there?
I live near the woods, so I can hear a lot of birds chirping in the morning. Some of my prayer plants can be heard when they lift their leaves in the morning too. And in the evening, you can hear my dog Emma's snoring!
The day after I water my plants, there's the smell of soil in the air. In summer, all my doors and windows are open, so there's a lot of fresh air in the apartment. I love to light up incense every now and then too.
What's the most sentimental thing hanging on your walls and what's the story behind it?
It's a drawing I made at the beginning of 2019. In my free time, I draw portraits with charcoal, and I made this one after I was reunited with a friend after a long time apart.
What's your favorite room in the house, and how do you use it?
My living room! I love to hang out in there, listen to music, have friends over for drinks. It's also where I draw and work since I work from home.
Does your home change at all with the seasons? Are you doing any special decorating around the holidays?
I love to decorate my balcony since it's the only space where I can put up seasonal decorations. All of my other rooms are full with plants, so there's no space left!
How does your home promote your health and wellness?
To me, a plant-filled home is comfortable and cozy after a long day of work. Taking care of my plants helps me relax easier and calm down. Having lots of plants also increases the humidity in my home, which I believe to be good for my skin and overall health.
What's your favorite part about coming home?
It depends on how long I was away. When it is longer than one week, I love to check on my plants and see if they grew any new leaves. If it was just for a day, my favorite part is getting in some clothes and having a cup of tea on my balcony or on the sofa.