Is This The Key To Stopping Transepidermal Water Loss?
mbg Beauty Director
By Alexandra Engler
mbg Beauty Director
Alexandra Engler is the Beauty Director. Previously she worked at Harper's Bazaar, Marie Claire, SELF, and Cosmopolitan; her byline has appeared in Esquire, Sports Illustrated, and Allure.com.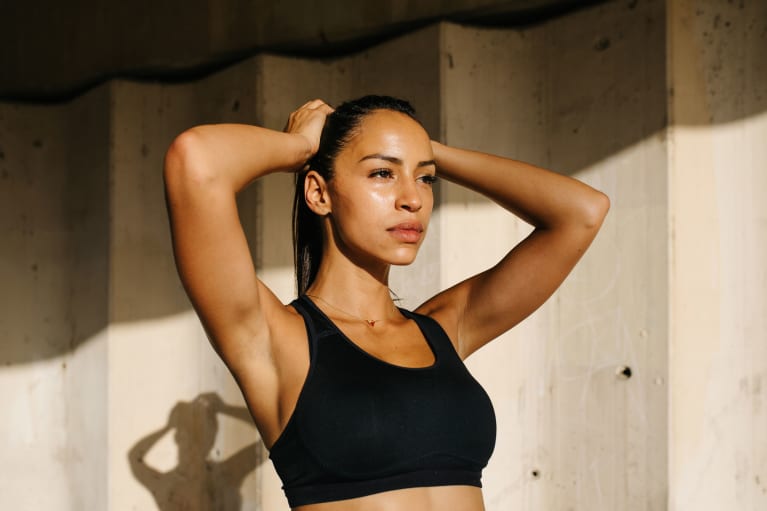 This article was produced to support the mindbodygreen supplements+ line. Our supplements adhere to the highest standards of ingredients and quality. We hope you enjoy these products, for more information
click here
.
The key to keeping your skin supple and hydrated is keeping water trapped in the skin. In fact, keeping water in—and environmental stressors out—is one of the skin's primary responsibilities. When your skin doesn't, or when the barrier is compromised, something called transepidermal water loss happens. It's a mouthful, but essentially what's happening is the water in your epidermis evaporates into the air around you, leaving your skin dry, irritated, and angry. And it might be happening to you—especially given we're in the throes of winter—if you're not protecting your skin well enough.
So, yeah, transepidermal water loss doesn't sound great, but how exactly do you prevent it from happening? Well, ceramides do the trick—in fact, your body's natural barrier from water loss. And you can support your internal ceramide levels with a skin care supplement.
The key to stopping transepidermal water loss: ceramides.
Ceramides are a natural part of our skin structure. Specifically, they are polar lipids that make up the barrier between the outside environment and our body, locking in the good stuff and protecting our skin from external damage. These lipids are also what keep your body from leaking out water into the environment around you (yeah, they're pretty important!). As you can imagine, as these are damaged or depleted, transepidermal water loss becomes more likely—and skin issues arise.
So the most effective way of keeping this from happening is to make sure your skin has adequate ceramide levels. There are two ways to do this: The first is using topicals, which can act as a superficial barrier. The second is with supplements, which help your body incorporate them naturally into the barrier.
"Research shows that when you take these things by mouth—and you don't need many milligrams of them—your body actually incorporates them into the skin," says Rountree.* In fact, science shows that ingesting them orally can offer those same skin-healing benefits as a prescription topical.* In another study, participants with clinically dry skin who took a phytoceramide-rich wheat extract oil for three months saw up to a 35% improvement in skin hydration.* And finally, another notes that participants saw improved skin hydration after just 15 days.*
Think of it this way: With supplements, you can provide a more continuous stream of ceramides, naturally supporting reserves from the inside out.* And then? You don't have to worry as much about topicals (although you should still always use a face moisturizer to keep your skin hydrated).
Transepidermal water loss may sound science-y and scary, but it's a very real thing that's probably happening to you every single day. You can support your skin, and ideally prevent this from happening, with ceramides. And while topicals are a safe bet—supplements tend to be more effective.*