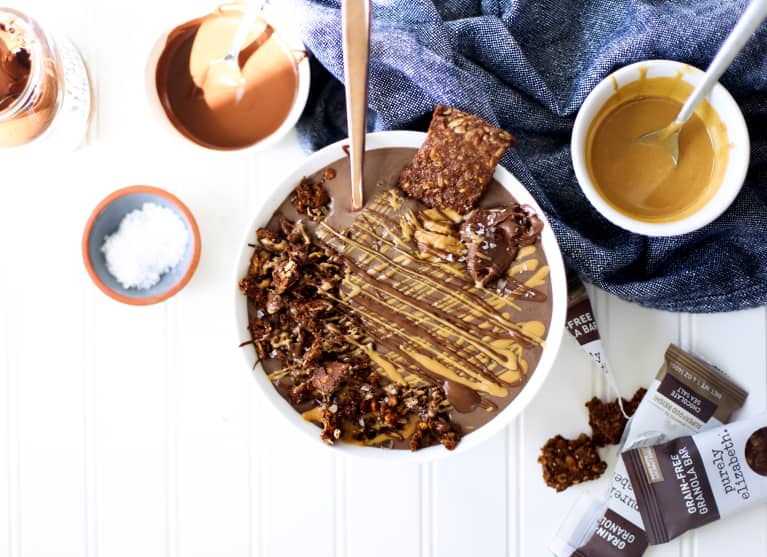 It feels like everyone is more stressed these days, whether it's the rather intense news blaring from televisions and newspapers, balancing work and life, or just the struggle of everyday. This might account for the recent rise of adaptogens, of which one takes the cake for stress-relief: Reishi. The magical mushroom (not magical in THAT way; there won't be any hallucinogenic side effects here) is a potent stress-reliever and blood sugar balancer. It's been shown in studies to help with anxiety and to help improve sleep length and quality (and you don't need us to tell you that if you're not sleeping well, you're far more likely to be stressed out).
Beyond that, explains, Will Cole, D.C., a mbg Collective member and functional medicine practitioner, "A staggering 50 percent of America is either prediabetic or diabetic, and that number will most likely grow if we continue to progress the way we have been. Studies have shown that the polysaccharides and triterpenes in reishi extracts decreased excessive fat storage seen in people struggling with weight gain and lower blood sugars in diabetics. Reishi is able to down-regulate alpha-glucosidase, the enzyme responsible for breaking down starches into sugars. This magic mushroom was also shown to help with kidney problems and wound healing in diabetics." Stabilizing your blood sugar will further help anxiety and stress-levels, according to Ellen Vora, M.D., a holistic psychiatrist in New York City, who believes that much of anxiety is mis-attributed blood sugar dips. By controlling blood sugar, you can avoid those dips and that spark of anxiety.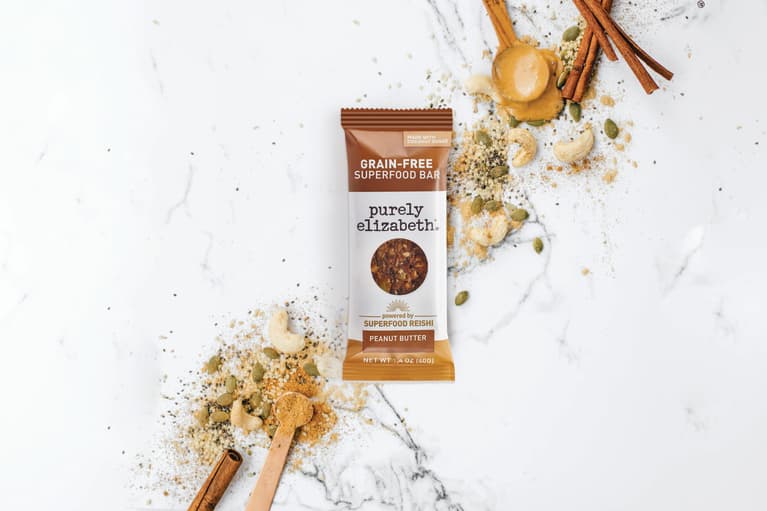 The only problem? It can difficult to include reishi in your daily life. That's where Purely Elizabeth comes in. Everyone's favorite granola brand has recently debuted a line of reishi-spiked bars that are changing the game. In addition to including reishi, they're grain-free, certified gluten-free, non GMO, and vegan, and they're made with nutrient-rich ingredients like cashew butter, coconut oil, hemp seeds, cashews, pumpkin seeds, almonds, and chia seeds, all of which contain healthy fats and proteins that help further stabilize your blood sugar, which helps keep that stress at bay (plus, they have 2-3 times less sugar than most other bars on the market!).
There are four flavors: The Banana Nut Butter tastes like a fresh, fragrant loaf of banana bread; the Chocolate Sea Salt will satisfy any dessert craving; the Coconut Cashew is warm and a bit sweet; while the Peanut Butter is rich and reminiscent of childhood—throw some jelly on top and soak in the recess memories! We love stashing one in our bag to eat around our 2 PM slump, when blood sugar is dipping, attention is waning, and stress is rising. It's the perfect way to get excited about getting through the rest of the day. Want to try them for yourself? There's an exclusive sampler pack available now on PurelyElizabeth.com.
In addition to the bars, make sure you're eating meals with a good amount of healthy fat and protein so that you're not riding that stress-exacerbating blood sugar rollercoaster all day long—and include that extra stress-relieving boost of adaptogens like reishi whenever you can!