paid content
 for
The Only Nutrition App I've Tried That Makes Food Tracking Feel Good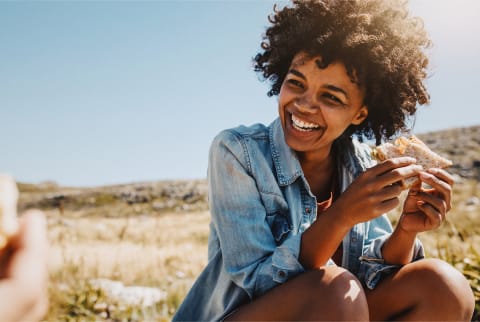 Image by Lifesum / Contributor
August 14, 2023
There's no getting between me and my love for food. Not just because of taste and the occasional flaky pastry but because food provides me fuel to do what I love. It's a language of celebration with loved ones, a way to connect to the earth, and a means of showing my body gratitude. Food is powerful, and I believe it should always feel good.
At the same time, cultivating a positive relationship with food has been a long road. It has taken years of trial and error to figure out what healthy eating means to me—and really, that's ongoing. But what I know for sure is that healthy eating is easily the most important aspect of feeling my best. Nutrition is the key to energy, inspiration, mood, and so much more… But that doesn't make it easy, amiright?
The nutrition app that actually feels good to use
I know I'm not the only one here with an overcommitted lifestyle. When staying hydrated, getting enough protein, and simply finding nutritious food options started to slip, I turned to the Lifesum app. I wasn't willing to compromise on nutrition, but also, I was struggling to meet healthy eating goals alone. In transparency, I was wary—food tracking can be triggering, and I don't like being told what to eat or not eat. But when I learned that Lifesum is designed to inspire empowerment and mindfulness surrounding food, I went in with an open mind.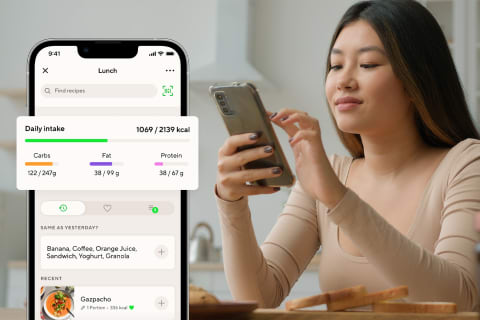 Image by Lifesum / Contributor
First impressions
Everyone's health journey looks a little different, and Lifesum accommodates for that. Instead of pushing diets and calorie counting, the app provides people with the tools they need to understand their personal nutrition needs. And things got pretty personal from the moment I signed up.
After creating an account, I was prompted to take the Life Score test. Anyone who loves a good quiz, you're in for a treat. The test inquired about my current lifestyle—eating patterns, hydration, exercise, that kind of thing. Afterward, I received my Life Score alongside simple ways to improve it (good news for me, that was eating more fruit).
The daily diary for my healthy eating goals
Once I had my Life Score, it was time to start tracking. Food tracking has always made me nervous—I'm a big fan of just following my body's hunger cues. But instead of feeling restrictive, Lifesum's diary feature feels more like a friendly breakdown of my nutrition throughout each day. It shows how my protein, fat, and carb intake stacks up against my goals—the first moment of empowerment for me. With this information, I can make a more informed choice about what my body needs.
Plus, the diary provides a space to track exercise and most importantly, water. It's the little things—and the one-tap water tracker does it for me.
Inspirational recipes and meal plans
Healthy eating is a day-to-day endeavor. Before I started using Lifesum, I looked for healthy items but paid zero attention to nutritional breakdown. I wasn't drinking enough water. I didn't account for how exercise might change my caloric needs. The Lifesum food diary has become an actual mindfulness practice surrounding what goes into my body.
In this sense, the app has been the accountability I didn't know I needed. But it's also been a muse of sorts. Lifesum offers seven-day meal plans across a variety of lifestyles. I gravitated toward the "Clean Eating" plan and was thrilled by the recipes offered—a breakfast salad, salmon and coconut bowl, say no more! These recipes were flavor-forward but also deeply satiating. For example, the chia pudding features cardamom for flavor intrigue but also blends tofu for protein. Following this plan, I've felt light, energized, nourished—clean eating at its best.
And in case I get curious about other lifestyles, like fasting or sustainable eating? There are other plans easily available. (Not if, but when!)
Healthy eating simplified
I figured that working with a nutrition app would lend insight, and Lifesum goes above and beyond in that regard. What surprised me was that this app is a spark of joy. I had fun figuring out my Life Score, striving toward my nutrition goals, and choosing a custom meal plan. Because of that, the app fits right into my ethos that food should always feel good. By making healthy eating more simple, I've even found myself more passionate about food. And trust me, I did not think that was possible!
Devon Barrow
Branded Content Editor
Devon Barrow is a Branded Content Editor at mindbodygreen. She received her degree from the University of Colorado. When she's away from her desk, Devon is teaching yoga, writing poetry, meditating, and traveling the world. She's based in Boulder, Colorado.
Devon's first book, Earth Women, is coming soon. To learn more, join the mailing list, and receive updates, head to www.devonbarrowwriting.com.