6 Non-Latex Condoms To Try & Who They're Best For, From Experts
By Farrah Daniel
mbg Contributor
Farrah Daniel is a freelance writer based in Colorado. She has a bachelor's degree in Digital Media Studies from the University of South Florida St. Petersburg. Her work has been published at The Penny Hoarder, The Write Life, and elsewhere.

Medical review by
Wendie Trubow, M.D., MBA
Functional Medicine Gynecologist
Wendie Trubow is a functional medicine gynecologist with almost 10 years of training in the field. She received her M.D. from Tufts University.
February 12, 2022
Our editors have independently chosen the products listed on this page. If you purchase something mentioned in this article, we may
earn a small commission
.
Latex versus non-latex condoms: What's your preference?
If you're unsure because you've never tried non-latex condom options, you're in the right place! With the help of expert guidance, we're breaking down what you need to know about these contraceptives, including the right lube to use and which condom is best, based on efficacy.
Advertisement
This ad is displayed using third party content and we do not control its accessibility features.
What are non-latex condoms made from?
Most condoms on the market today are made from latex rubber, which is a plant-based material sourced from the Pará rubber tree. Some people are allergic to the plant proteins found in natural latex, though until the 1990s, there weren't many latex-free options for people with sensitivities. Now, there are several non-latex alternatives that are usually made from plastic, synthetic rubber, or other natural products.
Here are some common materials used to create non-latex condoms:
Polyurethane. Made of thin plastic instead of rubber, polyurethane condoms offer similar levels of pregnancy and STD protection, but they may not fit as tightly as latex condoms.
Polyisoprene. Polyisoprene is a synthetic form of rubber. Compared with latex condoms, polyisoprene condoms tend to be softer and stretchier, plus they don't contain the same proteins that cause an allergic reaction.
Lambskin. Lambskin condoms are made of a natural animal product—lamb intestines—so they don't contain any of the proteins that prompt latex allergies. While lambskin condoms are effective against pregnancy, they don't protect against STIs and HIV1.
Advertisement
This ad is displayed using third party content and we do not control its accessibility features.
Who non-latex condoms are best for.
People with allergies
Whether you have a latex allergy or simply don't like the smell or feel of it, latex-free contraceptives are easily one of the best ways for you to enjoy sex more safely—aka, with a reduced risk for infections, pregnancy, and allergy symptoms.
To know if you're allergic or sensitive to latex condoms, Doctor of Public Health ​​Linsey Grove, DrPH, MPH, CPH, suggests getting a skin test from a dermatologist or allergist to find out. Sexologist and sex educator Goody Howard, MSW, MPH, says you can also test latex out on your own skin too: "Rub the latex on a part of your skin to see if you get a rash or some skin irritation." A severe reaction can look like hives, redness, swelling, or itching.
Pro-tip: Howard notes that you'll likely notice a latex allergy through previous contact with gloves, rubber bands, shoes, and more. If you're experiencing discomfort or allergy symptoms from what seems like the condom you're using but don't have problems with other latex items, she says to consider other culprits, such as the lubricant or spermicide on the condom.
Advertisement
This ad is displayed using third party content and we do not control its accessibility features.
People who prefer the smell and feel of non-latex options
Non-latex condoms can also work for anyone who has insertive sex. "You don't have to have an aversion to latex to use non-latex condoms," Howard reminds. "They even work great on dildos and insertive sex toys!"
According to Howard, the main benefits of non-latex condoms are their strength and thinness. Because of their lack of latex, she says they won't dry out your body and lubricant as rubber condoms may for some people. "They also don't have that pungent rubber smell."
Non-latex condoms are also typically more smooth, often feeling velvety to the touch, shares Marla Renee Stewart, M.A., sexologist for Lovers sexual wellness brand and retailer. Plus, non-latex condoms may "adjust to your body temperature faster, making them feel more skin-like as well," Grove tells mbg.
People who don't know their partner's (or their own) allergies
Non-latex and rubber condoms are similar in that they're best for any situation that calls for safer sex measures, but latex-free options can be helpful in situations when you're going into a casual sex situation and don't know if they're allergic to latex, Stewart points out. Heck, sometimes we don't even know our own allergies.
Advertisement
This ad is displayed using third party content and we do not control its accessibility features.
What lube to use with non-latex condoms.
Our experts agree that water- and silicone-based lubricants are the best options for both rubber and non-latex condoms. "You always want to go with silicone- or water-based lube with polyisoprene condoms," says Stewart.
It's a hard no for oils though, says Jenni Skyler, Ph.D., LMFT, CST, sexologist and director of The Intimacy Institute for Sex & Relationship Therapy. There are mixed reports on whether non-latex condoms can support oil, she notes. For latex condoms, research shows that just 60 seconds of exposure to oil can degrade the quality of latex2, making it likelier to tear during sex. Because polyisoprene and latex are so chemically similar, these non-latex condoms can also experience latex erosion from mineral, coconut, or olive oils. "I prefer to steer clear of oil-based lubes with any condoms," she says.
There may be at least a few exceptions to that rule though.
Polyurethane condoms are made out of plastic materials, so your favorite oil-based lube probably won't corrode them. Howard and Stewart both say lambskin condoms are also likely fine to use with oil-based lubes. Also known as natural membrane condoms, lambskin condoms are made from the intestines of a lamb, Howard explains, so it's biological material. "If anything," she says, "oil would only moisturize a lambskin condom."
If you're ever unsure, check the condom manufacturer's instructions or website. Or go with Skyler's advice and err on the side of caution—avoid the oil-based lubes and stick to water- or silicone-based options.
Best non-latex condoms to try.
1. Skyn Elite
Stewart says this "nice and soft," vegan-friendly condom is perfect for anyone who breaks out easily, has sensitive skin, or has a sensitive vagina. "The length is great, too, for dildos or penises under 8 inches."
Skyn condoms are also Goody's favorite brand because of how stretchy yet thin they are. (The Elite version is 20% thinner than the original!) Plus, she says, you can feel the warmth from your partner's body through the condom. "I've never had one break on me, and I've been using them for [more than] a decade."
Looking for something larger? Stewart recommends the Skyn Large, which goes up to 8.62 inches in length and 2.12 inches in girth.
Skyn Elite 10 Pack, $11.50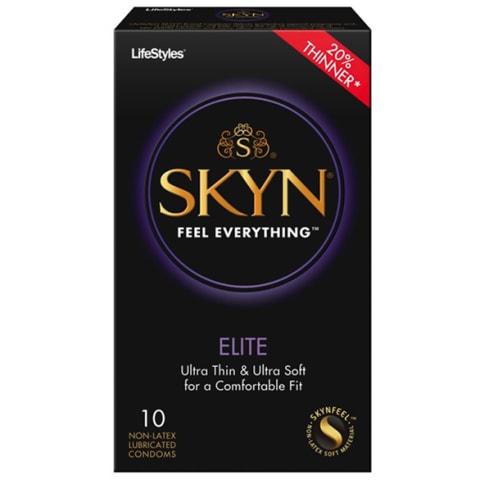 Skyn Elite / Skyn Elite
Advertisement
This ad is displayed using third party content and we do not control its accessibility features.
2. Trojan Bareskin Supra™
Trojan has many popular latex options, so Skyler suggests checking out its non-latex lines, like the Bareskin Supra, which the brand says is 40% thinner and odor-free. Made from transparent polyurethane, this non-latex condom is all about sensitivity and durability, so you likely won't need to worry about breakage or missing out on the sensations you crave. It was designed to transmit body heat, plus it's well-lubricated and even has a reservoir tip that holds more sperm for extra protection.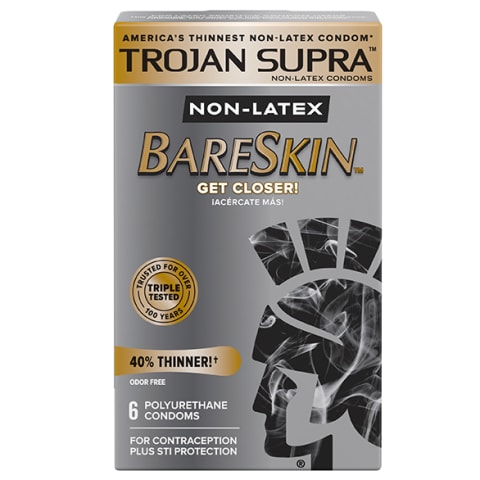 Trojan BareSkin / Trojan BareSkin
3. Durex RealFeel
Grove loves Durex condoms because of their thorough lubrication, and the non-latex version is no different. Besides having the right amount of moisture, RealFeel condoms are ultrafine and provide the skin-on-skin feeling you're looking for without compromising any safety. This condom is flexible and was designed to be easier to put on and feel more comfortable to wear. Plus, any latex-sensitive people can wear these knowing there's minimal potential for induced hypersensitivity.
Durex / Durex
4. Trojan Naturalamb™
For an animal-skin, non-latex condom, Stewart recommends Trojan Naturalamb as a worthy option. It features a water-based lubricant and even a band to help you hold the condom in place. In the past, when lambskin condoms weren't as effective, Stewart says they developed a bad rep. Now, they're known to have the same pregnancy efficacy rate as latex and polyisoprene condoms, plus she says they're much more biodegradable. However, keep in mind that sheepskin condoms don't prevent STIs, so these are ideal for monogamous or very communicative open partners.
Trojan / Trojan
5. FC2 Internal Condom®
The FC2 nonhormonal, latex-free internal condom has everything you'd want from a contraceptive—including pregnancy and STI/HIV protection. Internal condoms (sometimes called female condoms) are flexible and soft condoms inserted directly into the vagina before sex. The FC2 is made from a strong and flexible nitrile sheath with a polyurethane internal ring and coated with a silicone lubricant. Simply squeeze the inner ring to insert it inside your vagina. You can choose to insert it long before you start having sex or right before. Once there, you'll get to enjoy extra stimulation from the way this heat-sensitive condom warms up when exposed to friction. Bonus: The brand says you can use oil-based lubricants with these!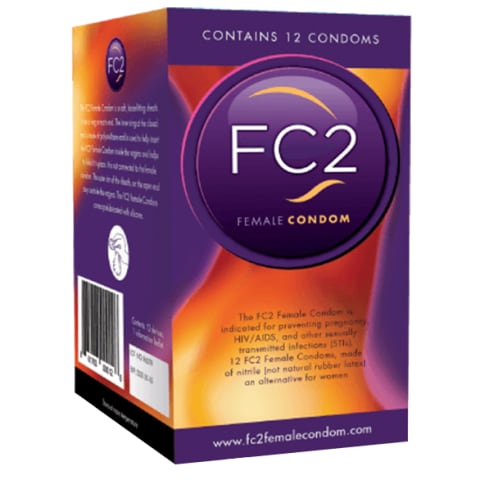 FC2 Female Condom / FC2 Female Condom
6. Unique Condoms
Made from polyethylene synthetic resin, these non-latex condoms are both hypoallergenic and vegan. The brand claims it's the thinnest condom in the world (!) but also three times as strong as the standard latex. It comes in three different sizes to accommodate anyone, plus they're odorless and create plenty of heat transferring sensations.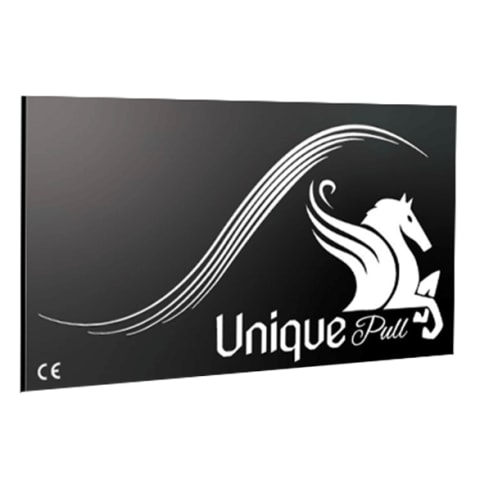 Unique Pull / Unique Pull
Tips to keep in mind.
To help you optimize your (safe) pleasure with non-latex condoms, here are a few expert tips to keep in mind:
If you're having sex with multiple partners, Grove doesn't recommend animal skin condoms because of their porous nature. "It allows for STIs like HIV to be transmitted through tiny holes in the material."
Having vaginal or anal intercourse? Grove recommends silicone-based lubricants for these activities, though be careful not to use silicone-based lubes with silicone toys or condoms as they can break each other down.
Make it a "sexy event," suggests Skyler, by playing music, making steamy eye contact, using sexually suggestive words, or using your mouth to help your partner put the condom on.
Communication is key! Skyler says her best expert tip is to talk about condom use long before getting to the bedroom—that way, everyone's on the same page about what works best.
The bottom line.
Sex is all about pleasure, and it's difficult to experience it when you don't feel safe. Talk openly with your partner about your sexual preferences, especially when it comes to contraceptives.
If you're new to non-latex condoms, have fun with the process—and if something doesn't work, try another option.
Farrah Daniel
Farrah Daniel is a freelance writer based in Colorado. She has a bachelor's degree in Digital Media Studies from the University of South Florida St. Petersburg. Her work has been published at The Penny Hoarder, The Write Life, and elsewhere. Daniel manages and creates content for small businesses, nonprofits, and lifestyle publications. With five years of professional writing under her belt, her diverse portfolio includes topics such as wellness, personal finance, sales and marketing, shared micromobility and equity, and more.