Close Banner
Advertisement
This ad is displayed using third party content and we do not control its accessibility features.
paid content
 for

Meet The New Vitamix Attachment That Will Help You Level Up Your Cooking Game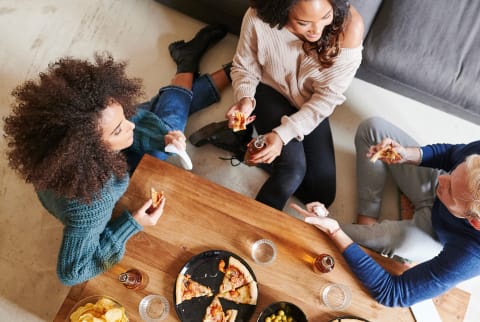 Image by Ivan Gener / Stocksy
Even the most dedicated at-home cooks have spent a lot more time in their kitchen in 2020. We've found solace in sourdough, bonding in banana bread, and pride in our dinner plates. Along the way, many of us have discovered that our evolving skills demand a few evolutions in the appliances department. After all, a chef really is only as good as their tools.
Thankfully, a major level-up in the cooking department doesn't require a complete kitchen overhaul. In fact, for many at-home cooks, a food processor is a one-appliance upgrade that takes your meals to new brag-worthy heights and cuts down on time spent on the more mundane kitchen tasks like chopping, mincing, slicing, and cleaning.
Blenders versus food processors.
We're pretty confident that if you're a mindbodygreen regular, you consider your blender a kitchen essential. From smoothies to soups to sauces, a good-quality blender makes healthy eating simple and ensures we can pack as many micronutrients into our meals as possible.
Up to a certain point, a high-powered blender like a Vitamix is all you need, In addition to blending, it can grind, coarse-chop, and mix in a pinch. But when it comes to more precise techniques, a blender alone may not get the job done properly, meaning you have to go old school with knives and more minutes than the majority of modern-day jugglers have on their hands.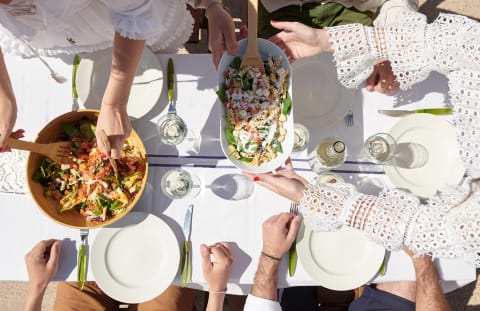 Image by Guille Faingold / Stocksy
Still confused? As a general rule of thumb, if you're looking for silky smooth (for example, soups, smoothies, or sauces), go with a blender. If you're seeking more precisely textured chops (for example, grating or slicing veggies), a food processor may help you get the job done more easily.
Introducing the Vitamix Food Processor Attachment.
Vitamix has solved all our blender-versus-food-processor problems with the new Vitamix 12-Cup Food Processor Attachment. Compatible with Vitamix Ascent® and Venturist® motor bases, this precise, multifunctional add-on means that you can save space in your kitchen by using the blender base you already own rather than investing in (and finding storage space for) a whole new appliance.
It comes with multiple blades and discs, including the Multi-Use Blade, Small Shred & Thin Slice Disc, Large Shred, and Thick Slice Disc. It's powerful and precise, as you've come to expect from the Vitamix brand, and is dishwasher safe (except for the SELF DETECT® base!).
Shop this story:
5 ways healthy cooks use their food processor.
Not sure where to start? Here are a handful of ways healthy cooks use their food processor attachment to get the best possible results in the least possible time. And remember, this is really just the tip of the iceberg; once you're in the groove with the new attachment, you'll quickly find yourself asking how you ever lived without a food processor.
Image by Nataša Mandić / Stocksy
Making dough: Whether it's pizza night or you're still on that homemade bread kick, the food processor takes the grunt work out of kneading your dough—and it works even faster than a stand mixer. Remember: There's no shame in the fast-knead game.
Shredding and slicing: If you've ever wondered how your favorite healthy cooks on Instagram manage to whip up an elaborate chopped salad to serve a group in less than 20 minutes, it could be because they're utilizing their food processor. Use the Small Shred, Large Shred, and Thin Slice discs to chop up your veg, throw them in a bowl, dress it up, and serve. No more knives, chopping boards, and precious minutes wasted as you uniformly chop ingredients.
Grinding meat: Store-bought ground meat often has unnecessary flavors and additives that we just don't really need or want. With a food processor, you can buy a whole cut of organic and grass-fed meat and grind it up yourself. Add your favorite herbs and spices, and say hello to better-for-you homemade hamburgers.
No-Bake Treats: Grab your dates, nuts, and cacao because the Vitamix Food Processor Attachment will quickly become the MVP of your bliss ballgame. Throw everything in and blend away with the Multi-Use Blade to get a smooth, but textured, consistency that makes for more-ish bliss balls.
Pie Crust: If you've ever made your own pie crust, you'll know cutting in the butter is time-consuming and annoying enough to send you running to the freezer section of your local grocery store. The Food Processor Attachment makes all that a thing of the past. Pie crust can be made in minutes, meaning you can control the ingredients to experiment with variations that make sense for your body.

Chloe Schneider
mbg Brand and Integrated Marketing
Chloe Schneider is the VP of Brand and Integrated Marketing at mindbodygreen. She received her degree from the University of South Wales. She has worked at many top publications and brands including Mashable and RESCU. She lives in Brooklyn, NY.