This Easy Keto-Friendly Ramen Recipe Is The Perfect At-Home Date Idea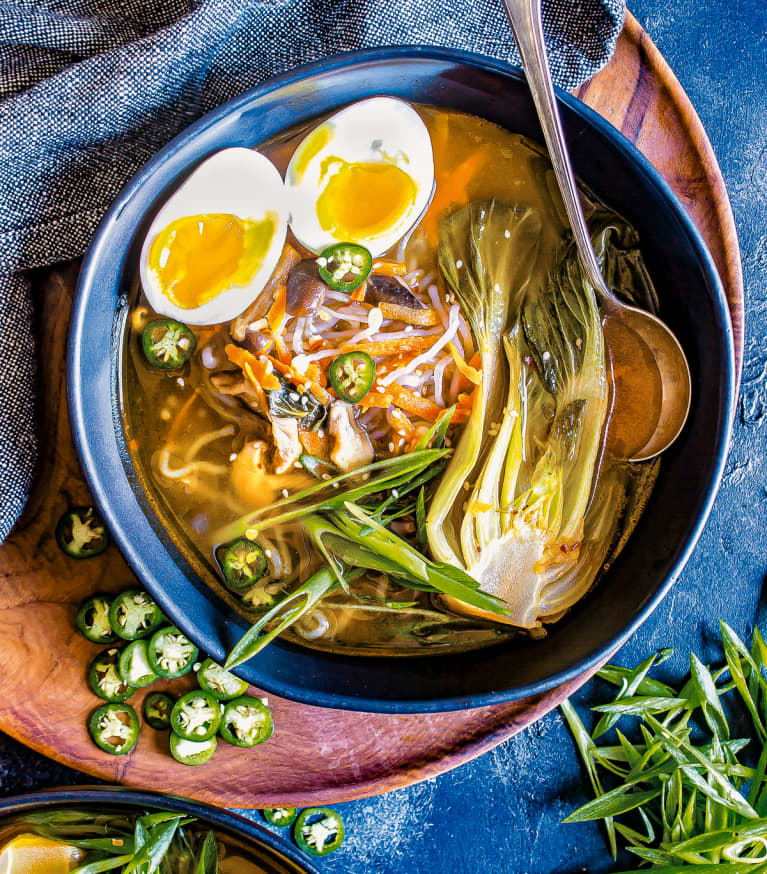 Our editors have independently chosen the products listed on this page. If you purchase something mentioned in this article, we may
earn a small commission
.
On the list of foods on your regular recipe roster at home, ramen may not make the cut. But this one-pot recipe brings restaurant-quality ramen within reach. Plus, it's the perfect start for a wonderful at-home date night—especially because of the limited cleanup.
From the new cookbook Cast-Iron Keto, the obviously keto-friendly recipe takes only one pan to make it: your trusty cast-iron pan. According to Alex and Lauren Lester, the couple behind the cookbook and the blog by the same name, "A well-seasoned cast-iron pan is as irreplaceable in the kitchen as a sharp knife or a hot oven." Their reason is threefold: These skillets are the "Swiss army knife" of the kitchen, they make a good investment, and they are nontoxic.
Again, ramen may not be the first recipe that comes to mind when you think of cast-iron cooking, but let the Lesters' recipe convince you that this vegetarian-keto ramen is the perfect thing to make. But how can ramen, a dish largely based on noodles, be keto? It's thanks to shirataki noodles, also known as "miracle noodles." The traditional Japanese noodles are made from glucomannan, which is a type of starch. The dish can also easily be made vegan by skipping the soft-boiled egg on top.
2 tbsp. avocado oil
1 tsp. toasted sesame oil
2 cloves garlic, minced
2 tsp. ginger paste
½ tsp. red pepper flakes
1 small baby bok choy, halved
¼ cup shredded carrots
½ cup shiitake mushrooms, thinly sliced
4 cups vegetable broth
1 tbsp. rice wine vinegar
3 tbsp. low-sodium tamari
1 tbsp. sugar-free Sriracha, or to taste
1 7-oz. package shirataki noodles, rinsed
¼ cup sliced scallions
1 medium serrano pepper, thinly sliced
1 tsp. sesame seeds
2 large soft-boiled eggs, halved (optional)
Sugar-free Sriracha (optional)
To make the ramen, heat the avocado oil and sesame oil in a 5-quart cast-iron Dutch oven over medium heat.
Add the garlic, ginger paste, and red pepper flakes and cook, stirring constantly, for 30 to 60 seconds, until the mixture is fragrant.
Add the bok choy, carrots, and mushrooms and stir to combine. Add the broth, vinegar, tamari, and Sriracha and bring the soup to a boil. Cook for 5 minutes.
Divide the noodles between 2 bowls, and ladle the soup over the noodles. Top each serving with the scallions, serrano pepper, sesame seeds, eggs, and Sriracha (if using).
And do you want to turn your passion for wellbeing into a fulfilling career? Become a Certified Health Coach! Learn more here.