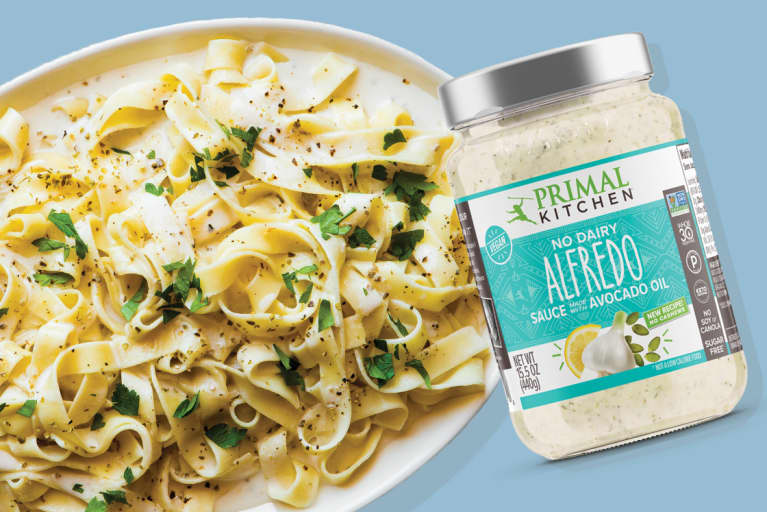 It's the middle of the workweek, you've just made it home, and you're impossibly hungry. What do you do? Figuring out a weeknight dinner that's both delicious and made with real ingredients is nothing short of a riddle, but we've solved it for you!
A weeknight meal should be easy to make while still exciting our taste buds. This savory Alfredo Chicken Bake checks all boxes, but even better: It's made with No-Dairy Alfredo Sauce from Primal Kitchen. Now made with creamy pumpkin seed butter instead of cashew butter, no-dairy deliciousness never tasted so good. With other flavorful ingredients like roasted garlic, onion powder, and a sprinkle of black pepper, this Certified Paleo and Keto Certified sauce is all decadence. Go ahead, end your day with this mouthwatering meal—you've earned it!
Ingredients
1 tablespoon extra-virgin olive oil
3 cloves garlic, minced
2 cups low-sodium chicken or vegetable broth
1 jar (15.5 ounces) Primal Kitchen No Dairy Alfredo sauce
2½ cups uncooked pasta (penne, fusilli, or rotini recommended)
2 cups cooked diced chicken*
2 cups frozen broccoli florets, thawed
1½ cups frozen chopped spinach or kale, thawed and water squeezed out
OPTIONAL: 1 cup shredded Italian blend or mozzarella cheese
1½ tablespoons butter or extra-virgin olive oil
⅔ cup panko bread crumbs
1 teaspoon Italian seasoning
⅓ cup chopped parsley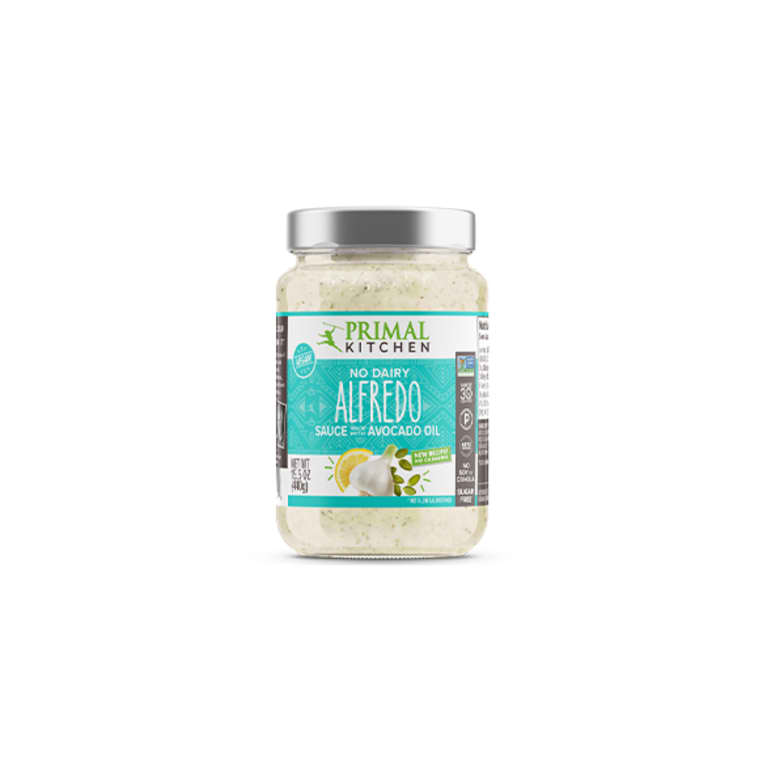 No-Dairy Alfredo Sauce
Say ciao to compromise! Primal Kitchen No-Dairy Alfredo Sauce delivers that same decadent Alfredo sauce taste without dairy (or gluten, soy, or canola oil). Creamy pumpkin seed butter, avocado oil, flavorful roasted garlic, onion powder, and a sprinkle of black pepper make this Certified Paleo and Keto Certified, plant-based sauce a perfect pairing with zoodles, parmesan chicken, and classic fettuccine.
Method:
Preheat oven to 375°F. Coat a baking or casserole dish (9-by-13) with oil cooking spray.
In a large saucepan over medium heat, add oil. Add garlic and cook until fragrant, 30 seconds.
Add the broth and Primal Kitchen Alfredo sauce.
Add the pasta and bring to a low boil. Reduce heat to a gentle simmer and cook for 12 minutes until pasta is very al dente, stirring every 5 minutes or so to prevent sticking and bubbling over.
In a large bowl, add the cooked pasta alfredo mixture. Add the chicken, broccoli, spinach, and optional cheese; mix well.
Pour mixture into the prepared baking dish.
In a microwave-safe bowl, add butter and cook for 30 seconds. Stir and heat in 10-second increments till melted. Add breadcrumbs, Italian seasoning, and mix well. Sprinkle over chicken alfredo mixture.
Bake for 10 minutes until bubbling and golden brown on top.
Garnish with parsley.
*Note: Rotisserie chicken works well here.