Feeling SAD? This Science-Backed Breakfast Will Boost Your Mood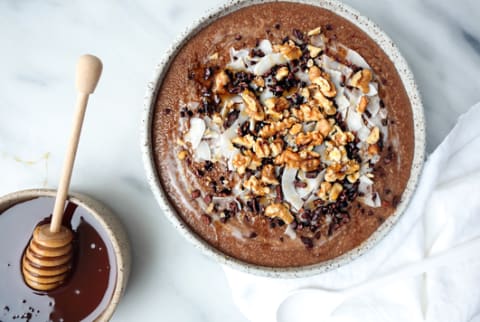 February 23, 2017
The cold, dreary winter months can make even the cheeriest person feel gloomy. Whether our immune systems are in overdrive fighting off a cold or our minds are struggling to stay present and positive, it's always a grind to make it to spring. Lucky for us, there's some beneficial whole foods out there that can naturally help boost our moods all year round. This Mood Boosting Breakfast Bowl is made with amaranth, walnuts, cacao and honey—all powerful brain foods. The carbohydrates in amaranth help raise levels of the brain's feel-good neurotransmitter serotonin, which its vitamin B6, is essential to mental and emotional well being. Walnuts contain one of the highest amounts of omega-3 fats of any nut, which are crucial for brain health and mental stability. Cacao contains the neurotransmitters serotonin, tryptophan and dopamine that stimulate brain activity and are vital in regulating mood, and raw honey is loaded with beneficial compounds like quercetin and kaempferol that help clean up the free radicals and reduce inflammation, which is essential to maintaining healthy brain function.
Plus, it tastes amazing—rich and chocolatey and delicious, which will boost your mood from your first bite! Give it a go, and see how you feel!
Mood-Boosting Breakfast Bowl
1 cup amaranth, soaked for at least 8 hours
2 cups coconut milk
1 Tablespoon raw honey
2 teaspoons cacao powder
1 vanilla bean, seeds scraped out
1/2 teaspoon cardamom
pinch of salt
To garnish: Raw cacao nibs, raw walnuts, extra honey and dried coconut chips
Soak amaranth in filtered water in the refrigerator overnight, or for at least eight hours.
In a small sauce pan, mix together the soaked amaranth, coconut milk, honey, cacao powder, vanilla, cardamom and salt. Heat over medium-high heat until boiling, making sure to stir frequently to prevent burning.
Once boiling, turn heat to low, cover the pan and allow to simmer for about 15-18 minutes. Turn heat off, leave the lid on the pan and let the porridge thicken for about 10 minutes.
Divide the porridge between two bowls. Top with raw cacao nibs, raw walnuts, extra honey and dried coconut chips. Enjoy!

Alison Wu
Alison Wu is a food, prop and wardrobe stylist, recipe developer and blogger with a passion for health. She lives in Portland, OR, with her husband, dog and cat.