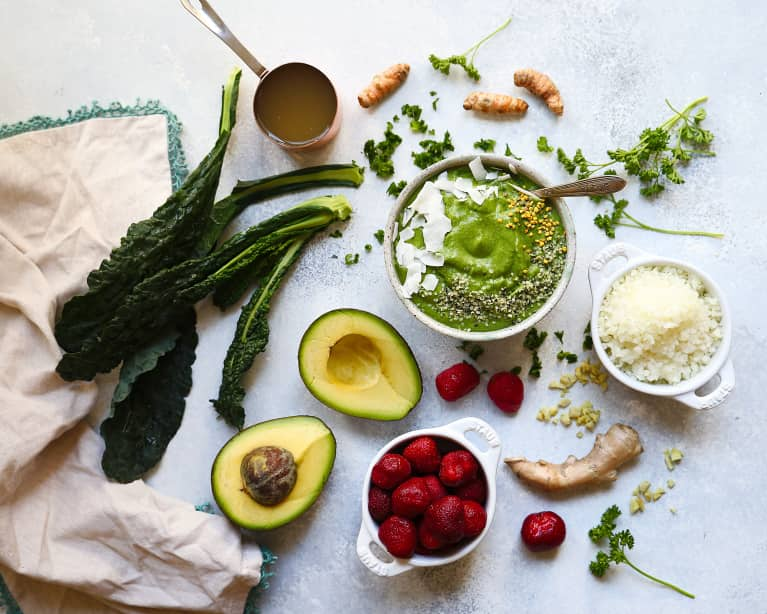 Many people turn to super-restrictive cleanses to hit the reset button after an indulgent meal, but traditional cleanses tend to fail when they make you feel miserable. Physical activity is also key to helping you hit the reset button, but many people feel too weak and hungry to work out on a cleanse. Is getting back on the healthy eating horse really worth feeling this wretched?
And forget meditating to get your spirit in alignment! It's hard to feel Zen when you've got hunger-induced crazy eyes and are too wiped to hit the gym. After white-knuckling it through that, it's all too easy to faceplant back into bad habits and start back at square one.
This year, try a kinder cleanse for those times you want to get back on track. It's all about working more nourishing ingredients into your liquid cleansing. This anti-cleanse gives you the flexibility to incorporate solid foods during certain meals. Rather than suffering through a liquid diet of high-sugar juices without any stabilizing protein, you can enjoy your veggies in a drinkable form all day and then incorporate a simple protein like grilled or baked wild salmon or organic chicken for dinner.
This is a great revamp on the cleanse you know and hate because it will leave you full, ready to work out, and energized from all of that plant power.
Do this abbreviated cleanse one day a week, and you're guaranteed to feel great into the new year: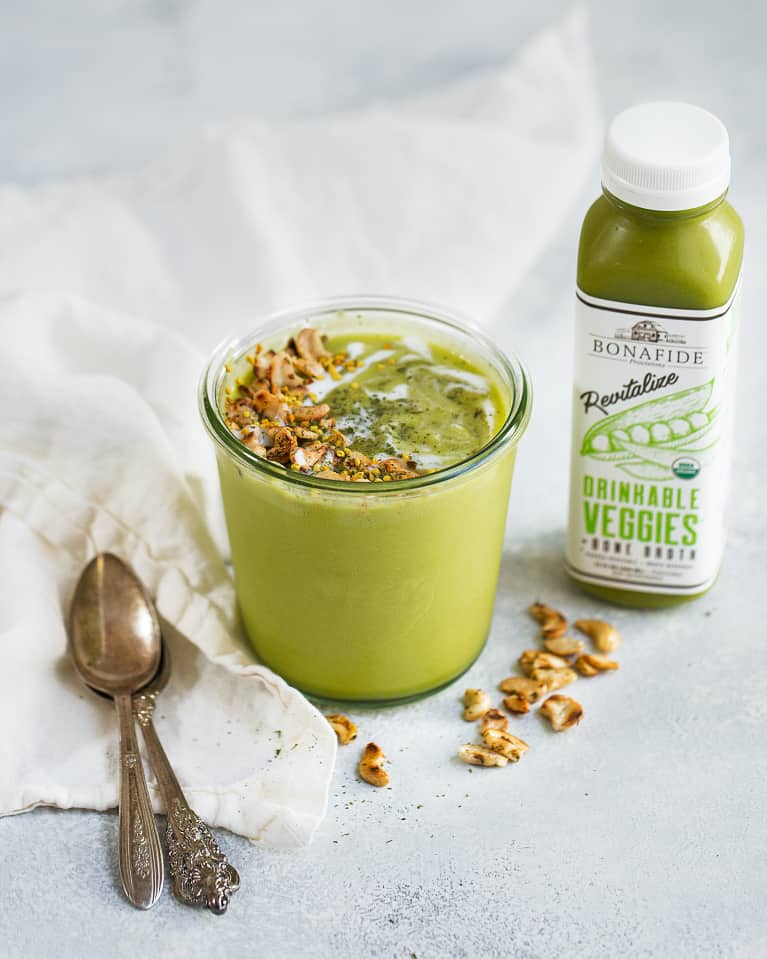 Start your day with the savory Revitalize Drinkable Veggies by Bonafide Provisions. Packed with protein and no added sugar, this savory blend of spring peas, spinach, asparagus, bone broth, lemon, and mint will fill you up without the sugar crash of a traditional sugar-filled smoothie. You can also sip a cleansing beverage like dandelion or green tea to gently detox and hydrate.
Drink a cup of lemon water and enjoy a detoxing, inflammation-reducing yoga flow to restore your mind and spirit and energize your body.
Enjoy a Drinkable Veggies from Bonafide Provisions to make it super simple to pack your day with plenty of good-for-you stuff to give your body the fuel it needs to get you back to feeling like your best self. We love the Thrive (roasted butternut squash, bone broth, fennel, onion, lemon, and sea salt), and Glow (roasted beets, tomatoes, cucumber, bone broth, basil, and red onion); the combo of roasted and raw farm-fresh veggies plus handcrafted, organic bone broth make it convenient and delicious to nourish your body. As the vegetables help to gently stimulate digestion and provide powerful vitamins, minerals, and antioxidants, the bone broth offers up a little extra protein and helps support a healthy gut.
Enjoy a veggie-rich dinner with a simple protein like grilled or baked wild salmon or roasted organic chicken. Ditch the starches and keep your protein prep simple. We recommend a simple marinade of Celtic sea salt, black pepper, olive oil, and lemon juice.
Still hungry? You can gently heat another drinkable veggie (we love the savory tomato and red pepper blend).
As you can see, there's lots of real food allowed on this plan. Leave that old cleanse behind and keep this delicious option in your back pocket for an anti-cleanse cleanse that actually works for people with a real life! Drinkable Veggies are available nationwide in Whole Foods Market and Sprouts Famers Market.