This High-Vibe Home In Berlin Has Plants That Reach The Ceiling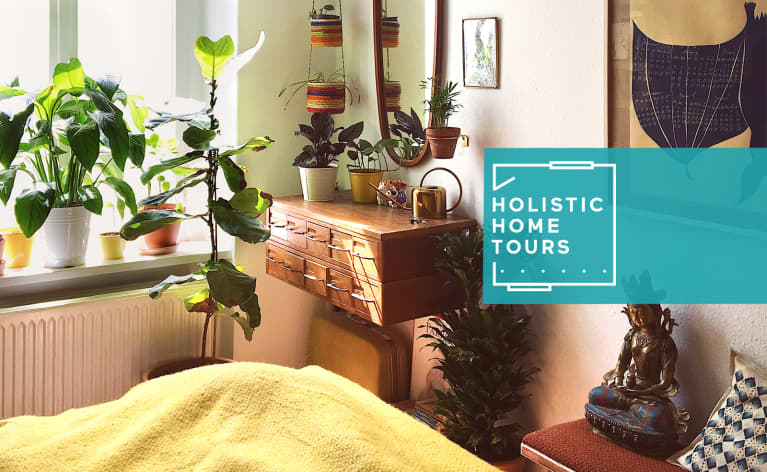 After living with roommates for years in cities around the world like Tokyo, Jaipur, and Copenhagen, Flora Amalie knew that her first solo flat in Berlin had to be a sanctuary all her own. The writer and photographer is constantly infusing the space with new personal touches that speak to where she is in life right now—while making sure it's always comfortable for couch-surfing friends when they come to visit too.
What are three words that describe your design philosophy at home?
DIY, comfort, maximalism.
What's your favorite interior design trend at the moment?
I love a lot of the color trends this season, like mustard or the combination of green and dusty pink. And I obviously love styling with plants. It's lovely that there's such a community among plant lovers now, and information about plant care has become so easily accessible. I also like wallpapers with big prints and velvet sofas, which seems to be pretty popular at the moment!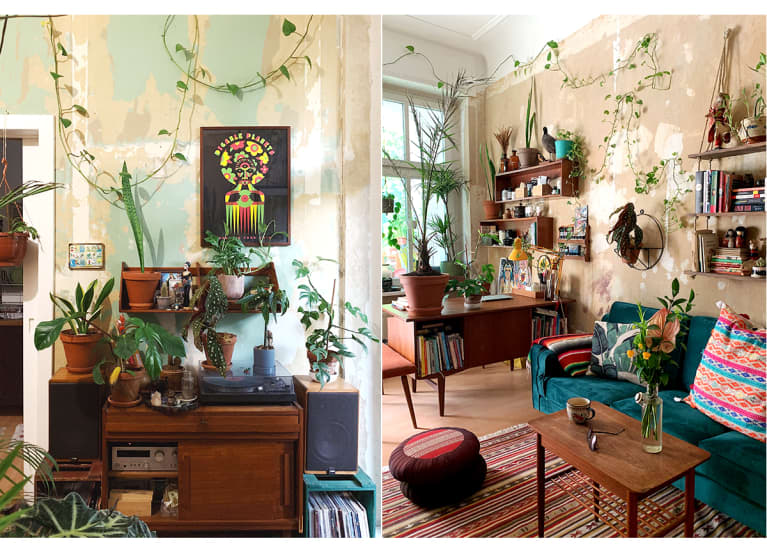 What's the oldest thing in your home? Newest?
I have a lot of my family's old furniture, and some of it dates back several generations. It's probably a side table. Or a bookcase. Or maybe the antique lucky cat I bought in Tokyo years ago? The newest addition is usually a plant—right now it's a Begonia Tamaya that I got for my birthday last week.
What noises can be heard in your home? What smells?
There's almost always music playing—usually loud reggaeton that I can dance around to. When I have my dog, you can hear the sound of his little claws clicking against the laminate floors as he follows me around everywhere. And as my apartment faces a busy street, you can unfortunately always hear cars.
I will usually light some incense a couple of times a week, or if I'm having bad luck, I'll do a sage or Palo Santo smudging, just to feel like I did something about it! And you can always smell coffee and toast: my staple diet.
I love all the creative ways that you display plants! Is it hard to keep up with the vines on the walls?
Not really! Those guys take care of themselves and I only interfere when they outgrow their spot. I use tiny pins to make the trail, and other than that, I just need to pick off the off yellow leaves once in a while. I am planning to have them cover the ceiling, though, so I'll have to start rerouting them soon!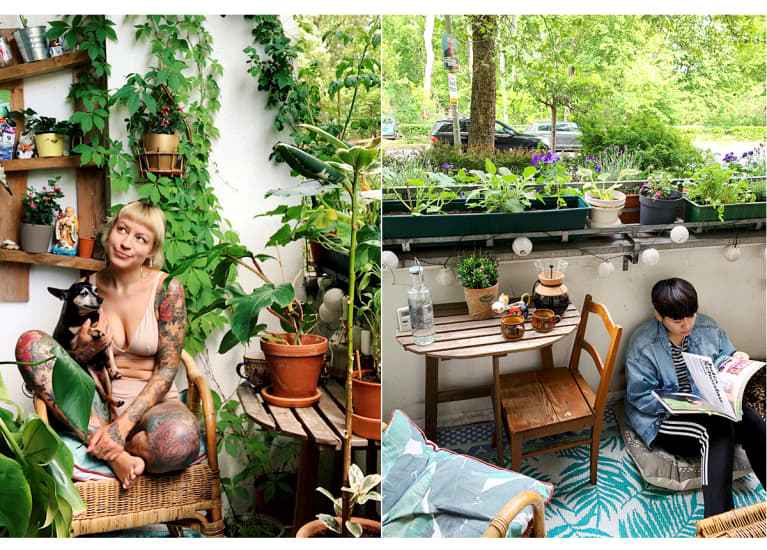 What's the most sentimental thing hanging on your walls, and what's the story behind it?
I am an extremely sentimental person, but with this apartment, I've tried to let go a little. For that reason, I didn't put up the same artwork I had in my previous home and instead started over. That being said, I think the most sentimental thing currently is a watercolor painting my mom did in the '80s that portrays a corner of our living room in the house I grew up in. It brings back a lot of positive memories.
Besides that, I have photo booth pictures that I've taken with my best friends in the time I've lived in Berlin, and they're up on my fridge where I see them every day.
How does your home promote your health and wellness?
When it comes to my physical health, I keep an open space in the living room for working out, and my yoga mat and free weights are always right there ready to use (but placed in a decorative basket, of course!). I find it hard to get motivated to work out these days, so I try to at least have as few physical obstacles as possible in my home. Same thing goes for nutrition: I make sure the kitchen is always ready to use, and I keep my juicer out on the counter so I don't have to dig around for it.
Having a space that's constantly evolving is a kind of therapy for me.
And most importantly, my mental health is actually the reason I moved into this apartment. I wasn't really happy living in a big shared flat with changing roommates. I needed a space just for me where I could feel safe and recharge, and that's what my apartment is to me: It's my sanctuary. And since I love constantly building and gardening and decorating, having a space that's constantly evolving is a kind of therapy for me.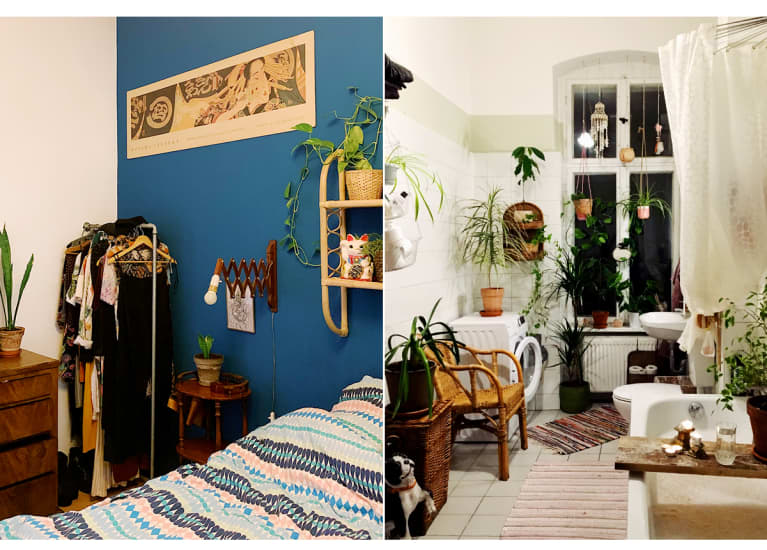 What's your favorite room in the house, and how do you use it?
In the winter, my favorite room is my living room. I use that for everything: eating, working, having friends over, doing yoga. But in the summer, my favorite room is actually my balcony! I spend all my time out there, and this year I'm using it to grow vegetables. I have a zucchini plant I'm pretty excited about! I also move a lot of my tropical plants out there in the summer since the apartment is north-facing and they don't get a lot of light the rest of the year.
I usually start my day on the balcony drinking coffee, and my dog loves it so much, he'll get up and wait for me to open the balcony door every morning!
What's the best compliment you've ever received on your space?
A lot of friends and visitors have told me that they feel at home in my apartment immediately. That's just about the highest compliment you can get.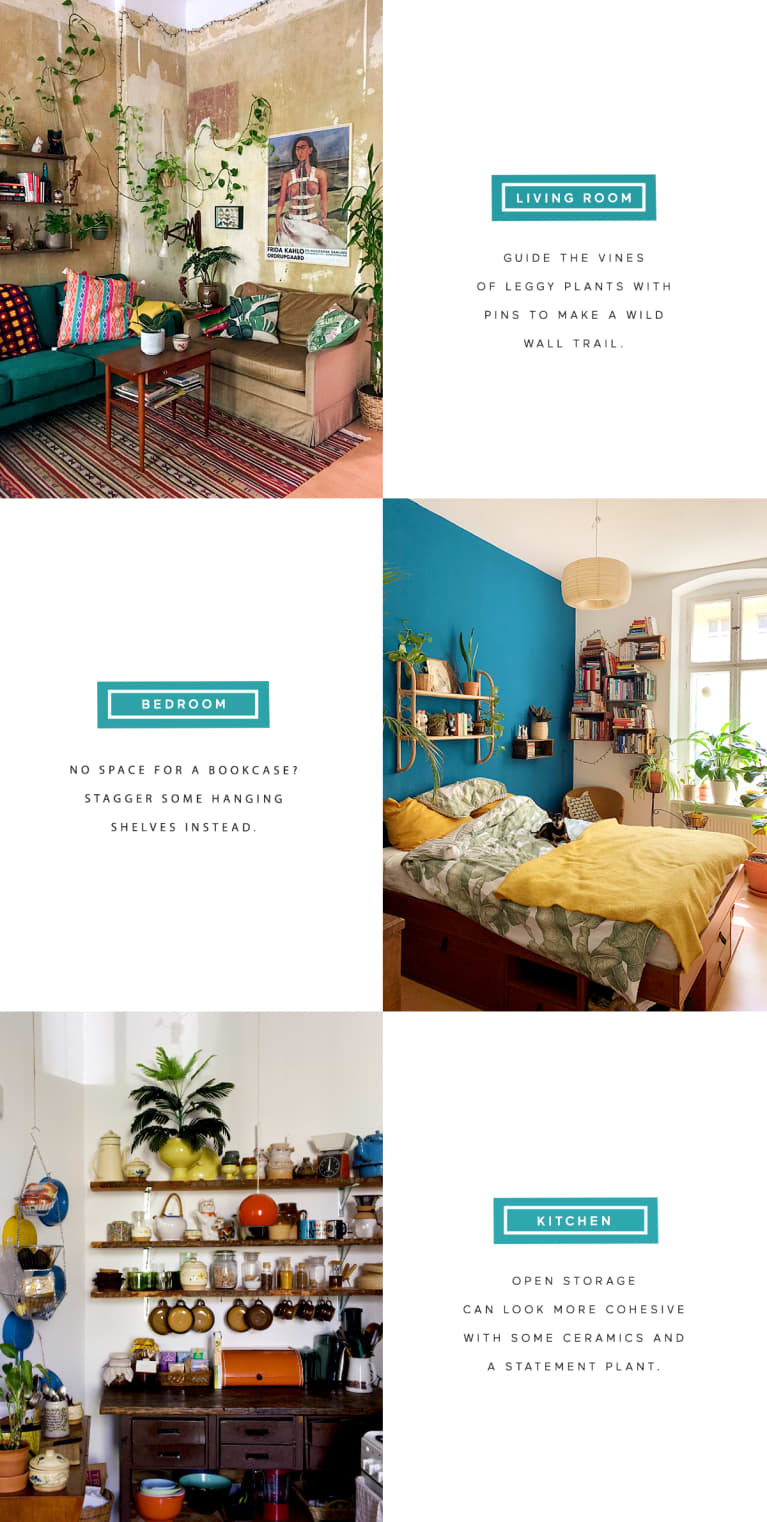 This interview has been edited and condensed.