Have A Roommate? Here's How To Design A Space That Feels Good For You Both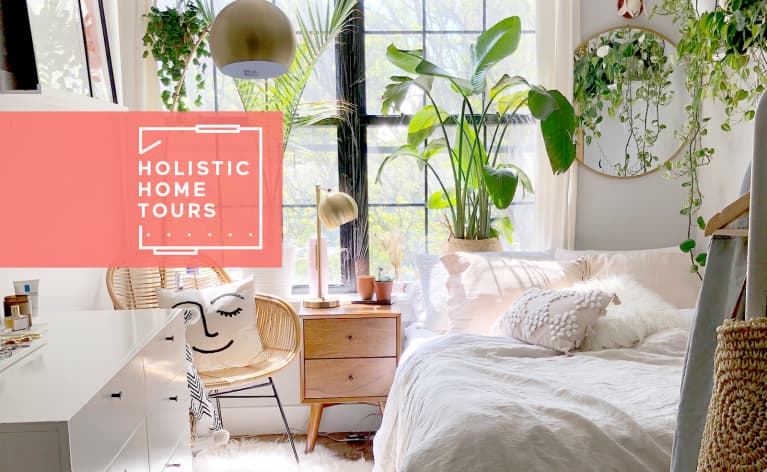 When you share an apartment with a roommate, your bedroom takes on a whole new meaning. It becomes a place of refuge—the one space that's all your own. So when Janea Brown moved into her shared Clinton Hill, Brooklyn, pad a year ago, she knew she had to infuse it with her favorite things: happy memories, neutral tones, and plenty of plants. Here, Brown walks us through her strategy for designing a shared home, decorating an ever-evolving bedroom on a budget, and creating an oasis from city life.
When did your interest in interior design start?
When it was finally time to ditch my hand-me-down furniture from college, I spent a lot of time on Pinterest and exploring my favorite NYC coffee shops to identify my personal style. Soon after, I noticed a common theme in the spaces that brought me the most joy; neutral colors and a lot of greenery. Additionally, my grandma is an interior designer and would always bring me along on her thrifting adventures growing up. That definitely taught me that anything is possible on any budget!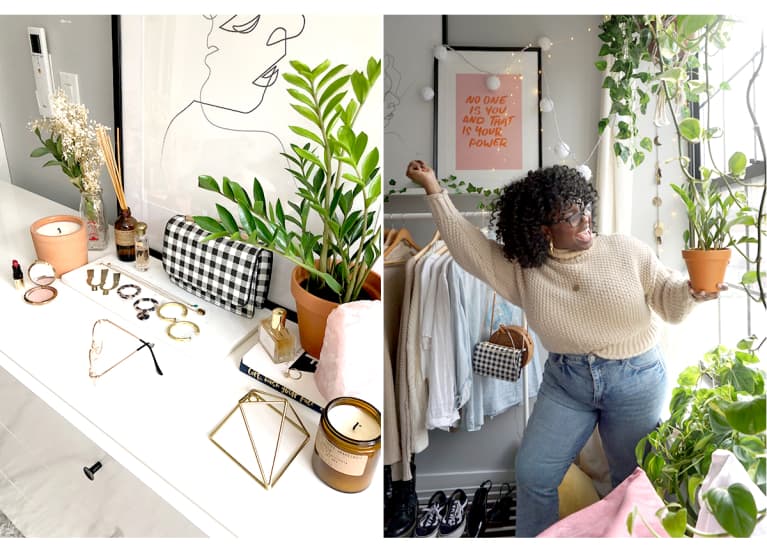 What are your top tips for working with a roommate to design a home that feels comfortable to both of you?
Communicate with one another and use mood boards! Seeing what each other's personal style is really helps. A shared Pinterest board is the easiest way to do that on a busy schedule.
How long did it take you to make your bedroom a place you really love to spend time in?
Unfortunately, I made the mistake of trying to get everything done quickly and ended up styling in ways that I didn't actually love. I definitely don't recommend doing that—for the sake of your sanity and bank account. It was not until three months after moving in that my space became a true oasis I loved coming home to.
Do you switch your bedroom décor up from time to time? Or keep it pretty consistent?
I try to keep it pretty consistent and focus on refreshing the throw pillows, throw blankets, and linens whenever I'm wanting a change. It's the most affordable way that I've managed to explore new styles.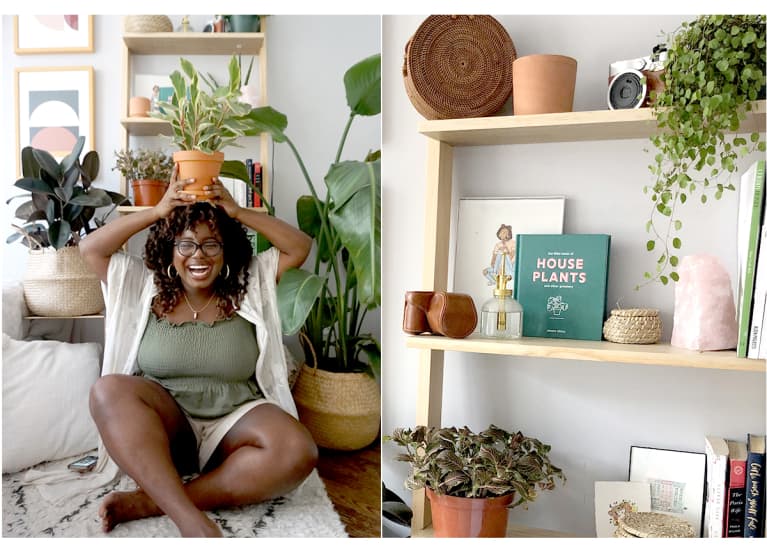 What noises can be heard in your space? What smells?
If it's not my favorite Spotify playlist or an episode of Schitt's Creek, you'll hear couples arguing on the street, the frat bros partying next door, or people running up and down the stairs all day long. Not the best sounds, but after four years in the city, I've gotten used to it. It's honestly odd when it's quiet around here.
Regarding smells, my roommate loves to cook and keeps the apartment smelling full of flavor. So if it's not a fresh-cooked meal, our space smells like the P.F. Candle Co. reed diffuser I purchased in Amber & Moss. It's quite earthy and warm.
What's the most sentimental thing hanging on your walls, and what's the story behind it?
My most sentimental item is not actually on my wall but on my dresser. It's a photograph that the 8-year-old I serve as nanny for gave me for Christmas. It's a picture of us in front of the Rockefeller tree in a cute frame that he painted himself! I absolutely love it because we had so much fun that day watching people fall down on the ice and looking at the holiday décor in the city.
How does your space promote your health and wellness?
Thankfully, my building has a gym in it. A feature that is rare in this city, but it has made skipping workouts more difficult because I don't have to endure the cold, heat, or another city rat to get moving. Aside from that, having so many plants has given me a weekly routine that is very therapeutic. Giving them my love, time, and energy has given me something to nurture and watch grow. That entire process is somehow good for the soul and a simple reminder that I, too, need nourishment if I want to seek growth in life.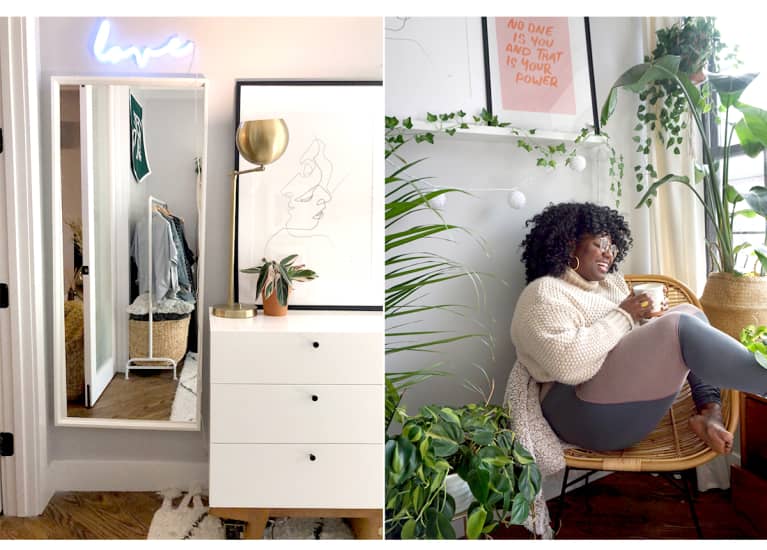 How does your space serve as a source of empowerment?
NYC can be quite exhausting the minute you leave your door until the moment you return, so I wanted to ensure that my home was a true oasis from reality. I grew up in North Carolina and moved to the city from a mountain town along the Appalachian Trail. So, nature is a vital piece of my inner peace, and letting the outside in through my décor was a necessity. I quickly learned that in order for me to survive here, I needed to make sure my home life was as calming as possible and a place that recharges me after a long day.
What's the best compliment you've ever received on your space?
Someone once said that my room reminded them of Venice, Los Angeles. I love that area—so that made me pretty happy!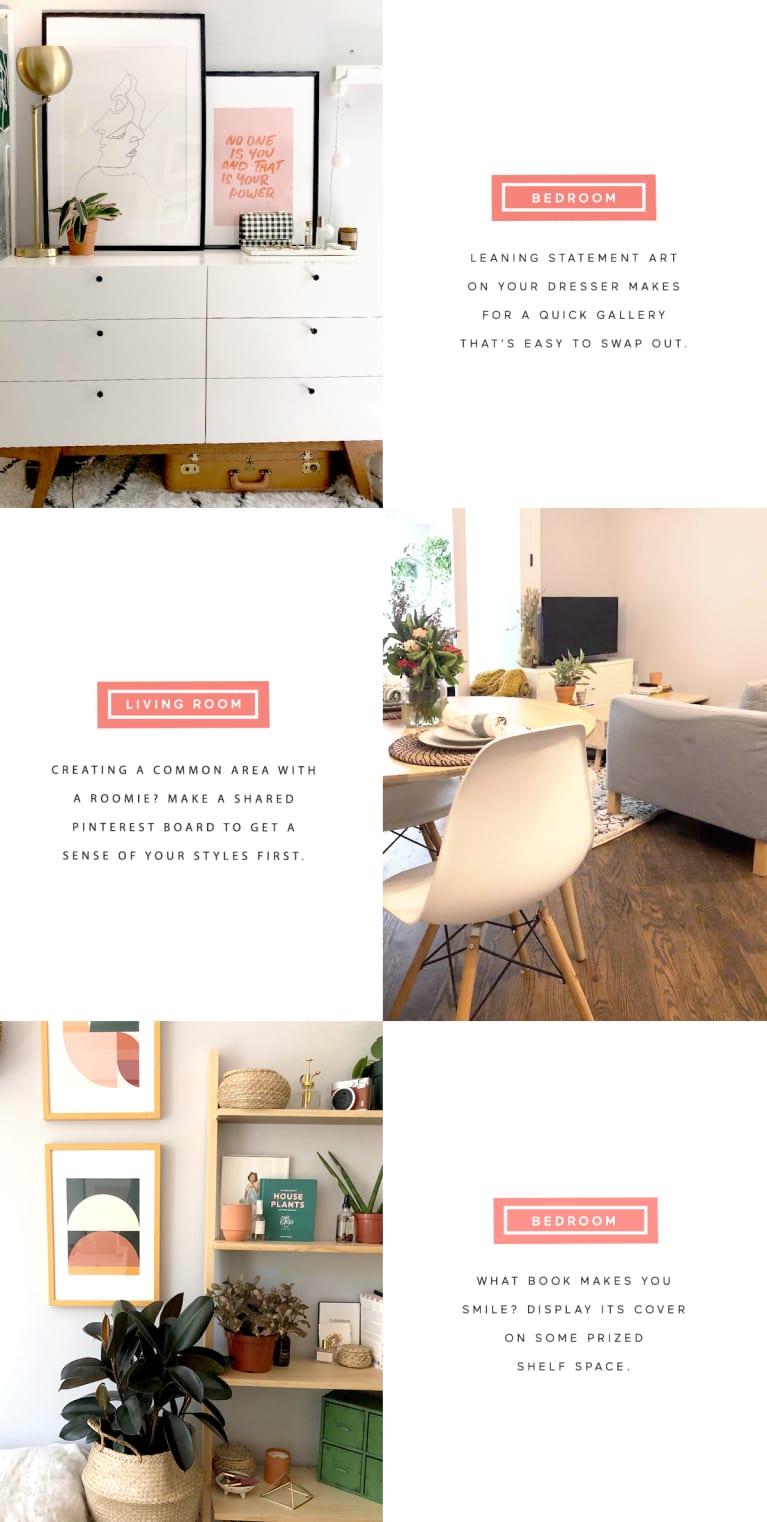 This interview has been edited and condensed.