paid content
 for

mbg Breakfast Club: These Are The Staples That Fuel Us Every Day
NASM Certified Personal Trainer
By Matt Scheetz, NASM-CPT
NASM Certified Personal Trainer
Matt Scheetz is a brand strategist at mindbodygreen and a NASM-certified personal trainer.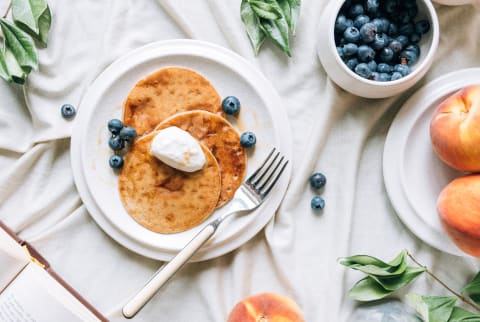 Image by NATAŠA MANDIĆ / Stocksy
October 16, 2020
Like many of you reading this, team mbg hasn't gathered IRL in months. Our office has always been our oasis—a destination to facilitate collaboration and social gatherings (what a novel concept, right?). So although those gatherings now take place on the interwebs, there's still one sacred tradition that keeps us united—our obsession with breakfast.
Come to find out, though, we're not alone in this. Our friends over at Purely Elizabeth share the same passion for all things first-meal (are you surprised?). So we joined forces, swapped recipes, argued over acceptable pancake toppings, and came up with a list of our favorites. We hope they inspire you as much as they inspired us. (Spoiler: The person who suggested putting gravy on pancakes was quickly dismissed and shall remain nameless).
Chloe Schneider, VP of Brand & Integrated Marketing at mindbodygreen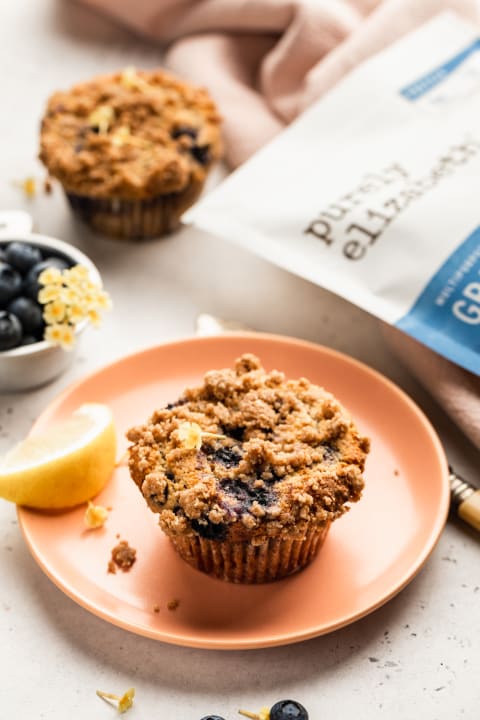 Image by Purely Elizabeth / Contributor
Many years ago—also known as this past January—I would have told you I woke up at 5:30 a.m. every day, got a workout in, and had plenty of time to make a smoothie, oatmeal, or eggs before getting myself into the office. Then at some point mid-April, I started to embrace "the sleep in." Morning movement is a priority, but with a later start, I found I had a lot less time for daily breakfast prep before I had to jump on my laptop and start the day.
I am not a breakfast-skipper, so I decided to spend a little time on a Sunday afternoon to prep breakfast for the whole week. To make it easy (it is Sunday, after all), I use Purely Elizabeth's delicious new Grain-Free Collagen Bread + Muffin Mix to whip up carrot and raisin, banana, or blueberry lemon muffins for the week ahead.
Christin Powers, Operations Project Manager at Purely Elizabeth
As a true Southern gal, nothing beats a stack of thick, fluffy waffles. I make sure to visit the local farm and grab strawberries picked that morning, or if the season is right, the local peaches will make your mouth water (did I mention I was Southern?). I like to slice up the fruit and add a generous helping on top of the waffles (with our new Pancake + Waffle mixes, my waffle game has leveled up considerably). For a touch of sweet, here's a southern secret: Combine a knob of butter (plant-based if you like!) and a dash of molasses for a rich + luscious drizzle atop your mountain of waffles (assuming yours also resembles a mountain).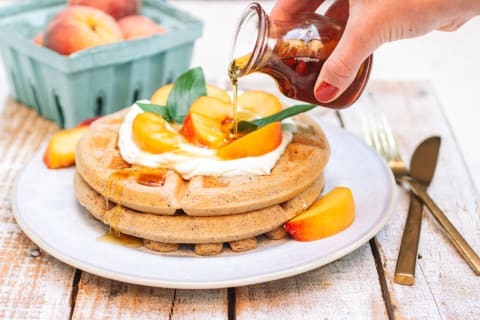 Image by Purely Elizabeth / Contributor
Emma Loewe, Senior Sustainability Editor at mindbodygreen
Try as I might, I can't find a breakfast that beats the almighty apples and peanut butter. It takes 30 seconds to put together, costs basically nothing, and with the fat and fruit combo, it always keeps me full until lunch. To keep things interesting, I switch between apple varieties and peanut butter brands (when I'm being good, it's natural PB with no added sugar). I also obsessively stock up on apples in the fall to eat once their season ends. They last a surprisingly long time!
Elizabeth Stein, Founder + CEO at Purely Elizabeth
My go-to breakfast these days is making waffles with our Grain-Free Collagen Pancake Mix. I keep my pantry stocked at all times, so it's easy to take out and heat for a quick meal before I bolt out the door. Some days I indulge my sweet tooth—and top them with nut butter and granola—while other days I'm in the mood for something more savory—and opt for some smashed avocado, a drizzle of olive oil, and a pinch of sea salt.
Image by Purely Elizabeth / Contributor
Jourdan Buchler, Social Media Strategist at mindbodygreen
Dessert for breakfast is literally never the wrong move. My breakfast crepe recipe is the result of years of (delicious) trial and error, and it currently looks like this: ¾ cup liquid egg whites, half scoop vanilla protein powder, a pinch of xanthan gum, and a dash of vanilla extract. I whisk it up and cook it in a pan like you would an omelet, and then top with Greek yogurt and Purely Elizabeth's Honey Almond Probiotic Granola. That salty-sweet combo speaks to me in a spiritual way, and this one is loaded with probiotics, so it supports a healthy immune and digestive system.
Caroline Johnson, R&D Culinary Manager at Purely Elizabeth
Growing up, I loved when my grandma made quiche. When I have a ton of eggs but I don't have time to make a traditional quiche, I make a big frittata that can last throughout the entire week. My favorite combo these days consists of broccoli, cheddar, and shallots. Broccoli gives the eggs such a wonderful flavor, and you can never go wrong with cheddar cheese. While that's cooking, I'll throw together some rosemary breakfast potatoes and top those with a drizzle of hot sauce.

Matt Scheetz, NASM-CPT
NASM Certified Personal Trainer
Matt Scheetz is a brand strategist at mindbodygreen. He's a NASM-certified personal trainer, so he's usually the person everyone comes to when they need a new workout routine. He's usually at the gym before the sun rises, which makes sense since his favorite hobby is eating things that make it necessary to be at the gym before the sun rises.