6 Things You Need To Know Today (May 22, 2018)

mbg Sustainability + Health Director
By Emma Loewe
mbg Sustainability + Health Director
Emma Loewe is the Senior Sustainability Editor at mindbodygreen and the author of "Return to Nature: The New Science of How Natural Landscapes Restore Us."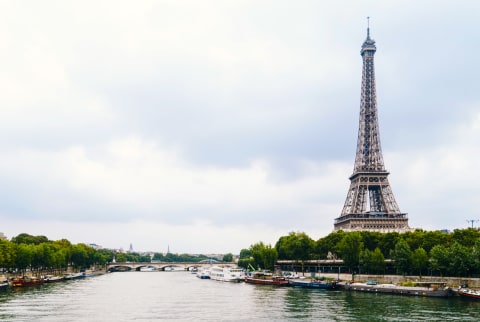 May 22, 2018
1. Is the future of public transit totally free?
Paris has long been a leading force when it comes to reimagining transportation. Now, the city has started to devise a plan to make public transit totally free for passengers. The new system could cost the city up to 6 billion euros, but experts say that the price might well be worth it in the long run when it comes to cleaner air and reduced carbon emissions. (City Lab)
2. This is the first airline to go strawless.
Alaska Airlines has teamed up with environmental nonprofit Lonely Whale to ban plastic straws on all flights, which could save up to 44 million straws from going to landfill per year. Let's hope this is just the start of a movement to green up our airlines. (USA Today)
3. Parents, here's what you should know about the fruits and vegetables you're giving your kids.
According to a new report from the EWG, there are a few things parents should keep in mind when it comes to pesticides in fruits and vegetables. First, kids eat more fruits and vegetables compared to their body weight than adults do, which increases their exposure to pesticides. And yes, when kids ingest pesticides, it is associated with long-term damage—so beware of particularly pesticide-laden produce, like strawberries, spinach, and as of this year, apples and pears. (EWG)
4. A new way to prevent migraines has arrived.
Aimovig was approved by the FDA on Thursday and will be the first medicine designed to prevent migraines. It comes in the form of a monthly injection that blocks the protein fragment that is known to contribute to the onset and severity of migraines. (NYT)
5. There's now a beer that breast cancer patients can drink.
Mamma Beer has created an alcohol-free beer that is made with vitamin B and potassium to help provide nutrients for cancer patients. Because chemotherapy can affect taste and appetite for many, it can also make food and beverages tasteless. Mamma Beer's alcohol-free alternative has a sweeter flavor to counter patients' changing taste buds. (Food Dive)
6. The royal newlyweds were making a point with their getaway car.
The car, a silver Jaguar E-Type Concept Zero that Enzo Ferrari himself called "the most beautiful car ever made," was converted to electric energy. This is just one of many outwardly progressive symbols from their special day. As if we could like them even more. (Fast Company)