Matcha Blueberry Crisp (Gluten-Free + Vegan)
This is a great example of how you can add more matcha (a powdered green tea) to your dishes — a teaspoon is sprinkled into the crisp topping of this berry-based dessert.
Gluten-free and vegan, Blueberry Crisp is a simple, tasty, and crowd-pleasing dessert, ideal for making on a cool autumn night.
Note: You can also use frozen organic blueberries previously thawed out as well as any other fresh fruit of your choice.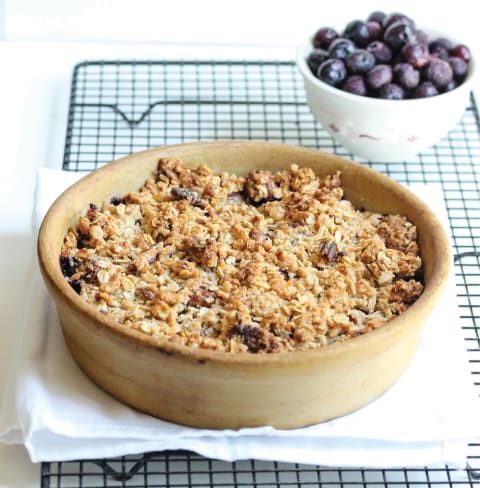 10 ounces fresh organic blueberries
2 teaspoons arrowroot powder
1 cup gluten-free rolled oats
½ cup pecan halves
½ cup almond meal
⅓ cup unsweetened shredded coconut
¼ teaspoon cinnamon
1 teaspoon vanilla extract
⅓ coconut oil, melted
⅓ cup maple syrup
1 teaspoon matcha powder
1. Preheat your oven to 350°F. In a round 9-inch pie dish, add the blueberries and arrowroot powder and mix thoroughly. Set aside.
2. In a large mixing bowl, mix the rest of the ingredients until you obtain a cohesive mixture. Spread this mixture evenly over the blueberries.
3. Bake for 25–30 minutes or until the top starts to brown. Turn the oven off and let the crisp cool in the oven for 30 minutes.
Serve warm or as desired.
Want more matcha? Start here: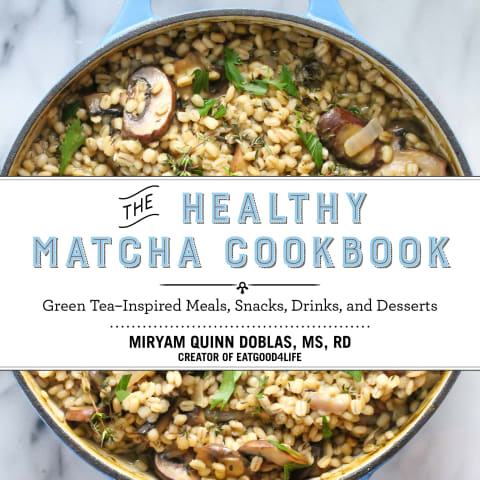 Miryam Quinn-Doblas
Miryam Quinn-Doblas, MS, RD, is a registered dietitian, a recipe developer, a photographer, and the creator of EatGood4Life.com. Her blog focuses on healthy foods made from scratch, as she is passionate about the importance of optimal nutrition. Born and raised in Spain, Miryam lives in New Jersey, where she is studying to become a physician's assistant.