mbg Health Contributor
By Gretchen Lidicker, M.S.
mbg Health Contributor
Gretchen Lidicker earned her master's degree in physiology with a focus on alternative medicine from Georgetown University. She is the author of "CBD Oil Everyday Secrets" and "Magnesium Everyday Secrets."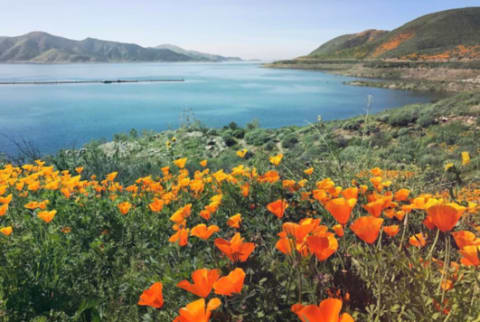 March 22, 2017
1. California is bursting with flowers.
After an unusually wet winter, Southern California is experiencing a "super bloom" of verbena, primrose, Arizona lupins, dandelion, and other desert flowers. Locals and tourists alike are flocking to the Anza-Borrego Desert State Park for panorama wildflower views. (Curbed)
2. The key to making it through gray and cold winters with a smile might be as simple as a good hot tub.
Iceland uses its natural resources to stay happy through the long winter. Most neighborhoods have outdoor pools that are heated by the country's natural geothermal system, and many flock to the pool weekly and catch up with people in their community. Warm water, the outdoors, and spending time with friends and neighbors could be the right combination for feeling happier (and maybe preventing seasonal affective disorder). (CNN)
3. There's a new reason to postpone motherhood.
Is there a perfect age to have kids? Probably not, but new research from Aarhus University does suggest that older moms tend to raise children with fewer behavioral problems and emotional difficulties. Researchers think this could be due to a more positive attitude and less scolding from mom. (Science Daily)
4. Honey Nut Cheerios' new initiative is causing some buzz.
This month, Honey Nut Cheerios gave away 1.5 billion wildflower seeds to help feed its beloved mascot, the bee. Though well-intentioned, this initiative is receiving some backlash because some of the flowers included are considered invasive species in certain states. So unless you're willing to do your research, best to hold off on planting for now. (Lifehacker)
5. Get ready for a record-breaking travel season.
Eager to get out of town this spring? You're not alone. The industry is anticipating 145 million fliers, a 4 percent rise from last year. (Washington Post)
6. Yes, you should exercise while pregnant.
With all the advice out there, at times it's hard to know what to do while you're pregnant. Do you exercise? Sit around? According to a new study published in JAMA, exercising is always a good idea. "Within reason, with adequate cautions, it's important for [everyone] to get over this fear," study author Alejandro Lucia said. (NPR)
7. When it comes to heartburn, diet and lifestyle changes can be more effective than a PPI.
In Western culture, popping a pill is often preferred over simple daily changes in lifestyle and diet, but the latter can be more effective at quelling symptoms and reversing the damage they've caused. This is especially true for heartburn—which can cause several long-term diseases like cancer. (NYT)