Love Cold Brew? You've Gotta Try This Creamy Vegan Ice Cream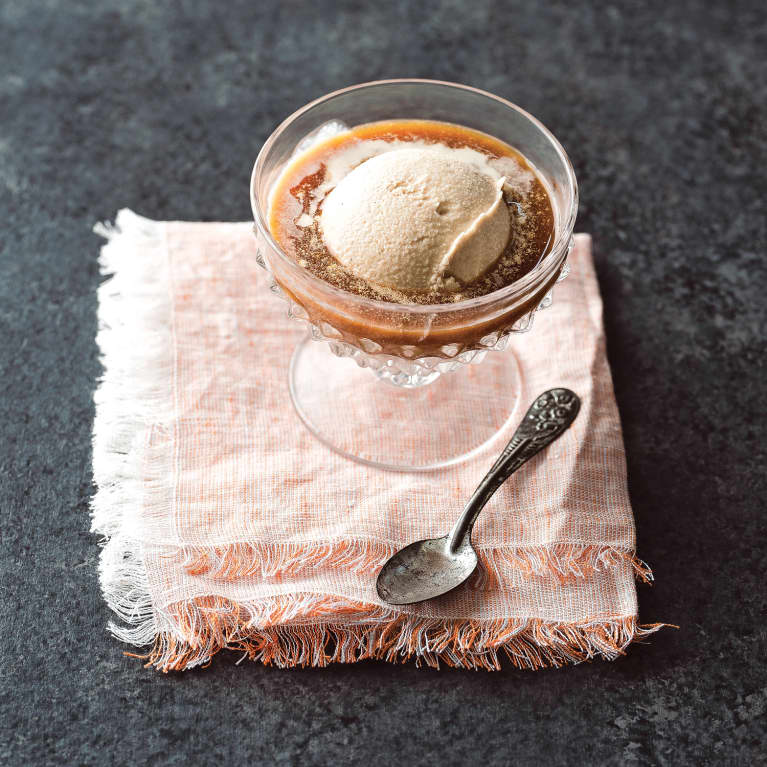 Our editors have independently chosen the products listed on this page. If you purchase something mentioned in this article, we may
earn a small commission
.
Many of us love a morning cup of coffee and especially a cold brew in the warmer months. Whether you're a cold brew fan or would be into trying it, this vegan ice cream recipe is for you. Deena Jalal, the founder of FoMu Ice Cream and author of the new cookbook Incredible Vegan Ice Cream, is all about developing delicious recipes that taste like the real thing but include ingredients you trust and know.
Her secret ingredient for thick, creamy ice cream is a coconut milk base. It makes the perfect foundation for the rich flavors and keeps the ice cream from getting too icy. Making ice cream is a bit of science, explained Jalal, and every liquid sweetener works differently, so if you find that maple syrup isn't yielding the best outcome, try a different one.
If you can't get enough of coffee, consider putting a scoop of this ice cream on top of your iced or hot coffee for even more flavor and texture, Jalal recommends. With things heating up, we can't think of a better way to cool off.
⅓ cup medium-ground coffee beans
2½ cups all-natural canned coconut milk
¼ cup maple syrup
¼ cup agave
1 tablespoon pure vanilla extract
Pinch of sea salt
In a bowl, combine the coffee grounds and coconut milk. Cover this mixture and place it in the refrigerator to steep overnight, at least 12 hours or more. Once it's steeped, use a fine-mesh strainer to remove the grounds from the coconut milk. If you find that your coconut milk has separated and there is a layer of cream on top, stir it and let the milk warm enough to homogenize before straining it. Discard the grounds.
Use a high-speed or immersion blender to mix the coconut milk coffee, maple syrup, agave, vanilla, and salt.
Add the mixture to your ice cream maker and churn it according to the manufacturer's instructions. Most machines take 10 to 15 minutes depending on the temperature of the mix, and when it's finished it should look like soft-serve. Once it's churned, transfer the ice cream to a large freezer-safe container, smooth the top, and cover it tightly. Freeze the finished ice cream for at least 5 to 6 hours, or until it is firm.
Store this ice cream in the freezer in a sealed container for up to 1 week.
And do you want to turn your passion for wellbeing into a fulfilling career? Become a Certified Health Coach! Learn more here.