paid content
 for

Live Without Compromise: How We're Refreshing Our Routine This Spring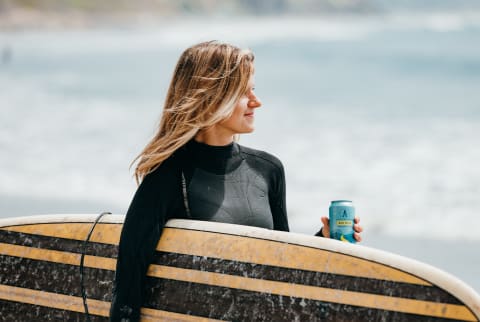 Image by Athletic Brewing Co. / mbg Contributor
May 10, 2021
If you're like us, 2021 has been a year of getting back on our feet and serious about our health. As springtime rolls around, we're aligning our goals with that of nature: Phase out the old, welcome in the new. We're switching up our wellness routines—but we're also not in the mood to compromise (that was so 2020). Can't we get healthier this spring without sacrificing all the fun and pleasures in life? As you'll see here, the answer is an emphatic yes!
Our spring intention: Drink healthier.
Spring and summer are the quintessential seasons for kicking back and soaking up the sun with people we love. More times than not, that also involves cracking open a cold beer (or two) to loosen up. As much as we love this ritual, sometimes a nice buzz takes more than the edge off. The late-night snacks and too-little-sleep that often come with drinking tend to compromise our health and wellness goals.
That's why this spring, we're boosting our wellness routine with one simple change: drinking healthier. This new intention was inspired by Athletic Brewing Co, a company that makes all-natural, nonalcoholic craft beers. With these brews, we can keep the ritual of an ice-cold bevvy but also enjoy the perks of a clear mind and healthier body.
But it's more than that. You know how half the fun of drinking a high-quality beer is conversing about the craft, fruity notes, and hops? (Even if we're just pretending to know what we're talking about.) You don't lose any of that with Athletic nonalcoholic beers. They're crafted with all the nuance of a regular beer, meaning you can still use words like "malt" and "sessionable."
Keep your routine interesting with variety.
But what could possibly beat a classic, hoppy IPA, you ask? Well, one that doesn't leave you with a headache the next day. The Athletic Run Wild IPA is brewed with a blend of five Northwest hops but has only 70 calories and is alcohol-free. It tastes like the real deal, and you don't have to keep track of how many you've had.
Of course, sometimes the mood hints at something a bit lighter than an IPA. Perfectly warm spring days call for epic picnics, and the Athletic Upside Dawn Golden Ale. This golden ale is equal parts refreshing, balanced, and light-bodied—ideal for sips between tossing the Frisbee. Crafted to remove gluten and winner of the 2020 Best of Craft Beer Awards—this nonalcoholic beer is the epitome of healthy drinking.
We know that refreshing your spring routine with less alcohol is a bold move. But it's made easier by the fact that Athletic Brewing Co has a wide variety of nonalcoholic beers for you to enjoy. Whatever your spring activity may be—an afternoon spent cleaning out the garage or an outdoor BBQ—they have a unique beer profile that'll hit just right.
A healthy ritual without compromise.
Perhaps we can read your mind here... "But doesn't a nonalcoholic beer mean less fun?" We understand the doubts. But so much of the joy we get from drinking is actually about ritual versus intoxication. It's about having something flavorful in hand to enjoy with sunlit conversation or excitedly packing the cooler for the start of the outdoor volleyball season. Nonalcoholic beers still fulfill the ritual component, and the fact that they're a bit healthier is something to enjoy even more.
Intuitively we know that skipping the alcohol is always a positive for our health—this spring, we're simply making a "thing" out of it. So whether we're going dry indefinitely, or for the day, swapping for a nonalcoholic beer is how we're up-leveling our wellness. And our minds feel clearer already. Finally, a new health routine without compromise—cheers to that!
Devon Barrow
Branded Content Editor
Devon Barrow is a Branded Content Editor at mindbodygreen. She received her degree from the University of Colorado. When she's away from her desk, Devon is teaching yoga, writing poetry, meditating, and traveling the world. She's based in Boulder, Colorado.
Devon's first book, Earth Women, is coming soon. To learn more, join the mailing list, and receive updates, head to www.devonbarrowwriting.com.