These 3 Protein-Packed Snacks Made With Legumes That Are Delicious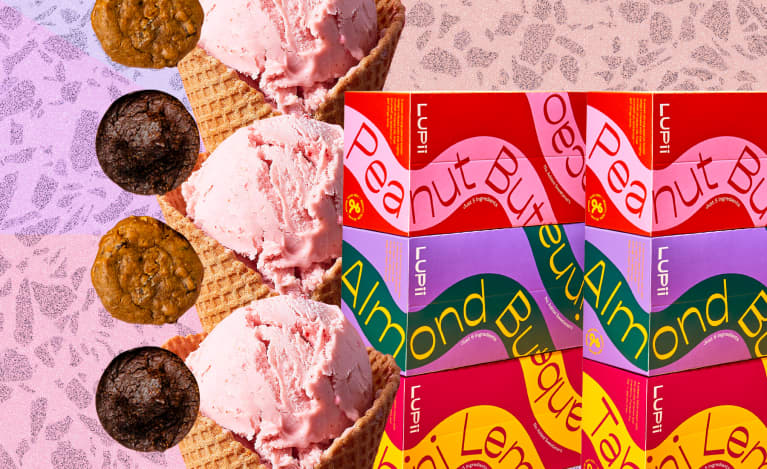 Legumes are one of the healthiest and most affordable nutrient sources we can incorporate into our diets. In fact, during a mindbodygreen podcast, Blue Zones founder Dan Buettner credited the "simple peasant foods" (think chickpeas, lentils, peas, beans, and peanuts) as the key to longevity.
But how can we utilize the ingredient beyond serving them as a side or tossing them into our salads? Well, thanks to these three brands, legume-based snacks just might become mainstream.
1.
Little Chickpea Ice Cream & Chickpea Butter
While nut-based dairy alternatives have allowed vegans and people with a lactose intolerance to continue enjoying ice cream, what about the people who fall into those categories and have a nut allergy? Well, the solution is here, and we can't get enough of it.
Portland-based brand Little Chickpea utilizes the humble chickpea to make "naturally dairy-, gluten-, soy-, nut-, and GMO-free" products, including chickpea "nut" butter and ice cream.
The idea was conceived by chef and restaurateur Micah Camden, out of "a personal need for self-care." After experiencing several heart attacks, Camden told mbg, "I wanted to still indulge in ice cream and peanut butter while at the same time taking better care of myself."
Just because they're better-for-you ingredients, though, doesn't mean these snacks compromise flavor. Combining classic bases, like coffee and strawberry, with "intense highlights, like cherry, matcha, and Szechuan peppercorns," Camden created a unique array of drool-worthy desserts without any dyes or synthetic flavors.
To create the roasted flavor of their chickpea butter, the legumes are dry-roasted and ground. Instead of blending the ingredients, they "conche them like chocolate to get a smooth consistency." This creates a serious distinction between hummus—in which the legume is boiled—and chickpea butter, which seriously resembles peanut butter.
Currently, the ice cream is only available in Little Chickpea's Portland scoop shop but eventually will be found at Whole Foods Markets and various New York pop-ups. The chickpea butter will be available in specialty grocery stores in April.
Founders Allie Dempster and Isabelle Steichen are bringing the mighty, but still lesser-known, lupini bean to the American market with Lupii. The protein bars are currently available in three flavors: Peanut Butter Cacao Nib, Almond Butter Cinnamon Raisin, and Tahini Lemon Cranberry.
They chose the lupini bean because "it is the legume with the highest concentration of plant-based protein, and it's packed with fiber and tons of minerals," they told us.
In fact, their Lupii bites—made of only five to six ingredients with no added sweeteners or preservatives—are packed with 9 to 10 grams of protein and 7 to 8 grams of fiber. That's one-third of your recommended daily fiber intake, which is great for your heart.
Though they currently source their non-GMO legumes from Europe, the duo hopes to one day bring the supply chain closer to home. Lupini beans are a sustainable ingredient that helps restore nitrogen to the soil, according to Lupii's founders. Growing them in America "would have inherent benefits to the soil health and biodiversity challenges we face in this country."
3.
Hungryroot Batters & Doughs
Hungryroot is a direct-to-consumer grocery store that delivers thoughtfully curated and high-quality foods to its customers. Though they carry some third-party brands, the company also has its own line of foods, some of which made our childhood dreams of eating raw batters and doughs possible. Hungryroot's egg-free, legume-based desserts are as nutritious as they are decadent.
Their black bean brownie batter utilizes black beans and unsweetened almond butter to create a fudgy, rich texture akin to the nostalgic boxed brownies we grew up eating.
The two legume-based doughs include oatmeal spice cookie dough, made of white kidney beans and almond chickpea cookie dough, made of—once again—chickpeas. Each of the vegan, gluten-free, and soy-free desserts are 100 calories per serving and can be eaten raw or baked.
Thanks to these creative and tasty new products, we might actually meet our goal, set by Buettner, to eat at least 120 beans every day.
Want to turn your passion for wellbeing into a fulfilling career? Become a Certified Health Coach! Learn more here.