Close Banner
Advertisement
This ad is displayed using third party content and we do not control its accessibility features.
LaVette Review: Is This Dating App Worth Trying?

By Jennifer Stavros
mbg Contributor
Jennifer Stavros is a freelance culture writer whose work has been featured in Playboy, Business Insider, Cosmopolitan, BBC Travel, and elsewhere.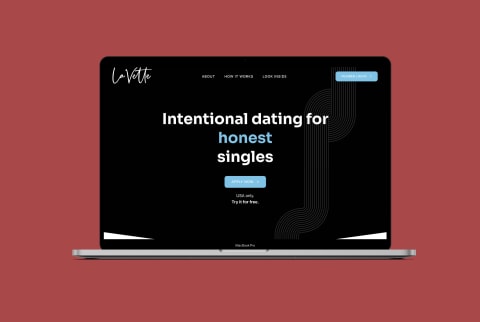 We carefully vet all products and services featured on mindbodygreen using our
commerce guidelines.
Our selections are never influenced by the commissions earned from our links.
After going through a divorce, New Zealand–based Mia Lux found herself quickly tired of dating apps. So, she worked with her life coach, Lauren Zander, to turn her frustration into a solution. Enter: Lavette, an invite-only video dating platform that soft-launched in 2022. An online dater myself, I put LaVette to the test, to see how it compares with other dating apps I've grown accustomed to.
While the app is only a partial product right now, Lux and Zander have plans to go to market fully after securing further seed funding. As it exists now, Lavette is invite-only and vetted. In my complete review of LaVette, you'll learn everything you need to know about how to sign up, what sets it apart from other dating apps, and how my experience on LaVette compared to other online dating sites.
What is LaVette?
Only available to folks in the United States, LaVette is a video-based dating app with users in their 30s, 40s, and 50s. It's meant for serious daters, and the company does not see the app being popular with people in their 20s. Since LaVette is invite-only, you'll need to download the app and ask to be invited. From there, there's a process to identify and select users who will be accepted into the platform.
While some dating apps, such as Raya, have notoriously low approval rates, LaVette does not plan to be so exclusive. "We are not aiming to have a low approval rate," says Stacey Marty, Chief Marketing Officer of LaVette. "We are looking for people who want to, or are willing to be vulnerable, who want to kind of go through this sort of uncomfortable social experiment with us."
Currently, the app boasts about 550 users in its soft-launch state. "We're not letting massive amounts of people on the platform, because people are going to self-select out," Marty explains.
Who is LaVette for?
The video-focused app is directed at serious, intentional daters who are tired of the "swiping culture" experience. LaVette has various events and dating tools meant to enhance personal growth for its users. You'll be successful on LaVette if you're equally committed to personal growth and improving your dating life. There's a wellness-positive tone to the app, which likely stems from co-founder Lux's history in the wellness industry.
Matchmaker Sameera Sullivan gave her thoughts about the platform and what sets it apart. "LaVette is unique because it is video-focused, which can help users get a better sense of their potential matches' personalities and mannerisms," she says. "Video content can also be a more engaging and dynamic way to showcase oneself, which can help people stand out in a crowded online dating landscape."
While Sullivan praised the app's capacity for connecting with matches, she did express a few concerns. "It's important to remember that people may not always be as authentic or truthful as they appear in their video content," she said. "Ultimately, whether or not LaVette is the right fit for someone will depend on their preferences and comfort level with this dating format.'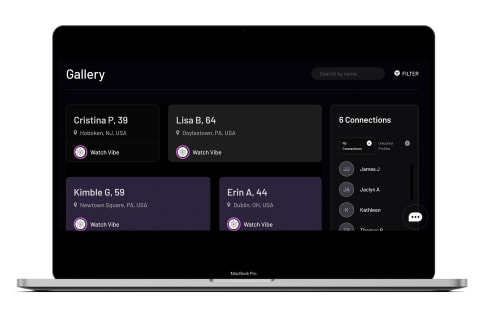 How the app works.
As soon as I downloaded the app, I realized LaVette is not like most online dating platforms. First, there isn't a straight pathway to finding matches. There are multiple ways to interact with LaVette community, including rooms in a "Social Club," with targeted topics visible upon entering; a "Community Connect" message board that changes topics every few days; or, of course, a "Gallery," where you will find profiles of other users to connect with. There's also a Calendar to keep track of events and dates, and a section for you to adjust your own profile.
The biggest standout: there is no swiping through pictures on LaVette. In fact, users won't even see a picture of the person when navigating profiles in the Gallery. Instead, you'll see user names, ages, and locations, with only a few written details. Profiles are heavily video-focused, rather than picture-based.
On each profile, there's a star icon called a "Vibe," which is where you'll view each user's short introduction video. You'll have to view each user's Vibe before connecting further.
When creating your own profile, you'll first be instructed to make your Vibe clip, a video of you saying three words you would describe yourself as. Keep in mind, this is the first thing other users will see. I found the filming process to be a bit clunky, and it took a few tries to get my video to work correctly. After you've created your initial Vibe video, you can make additional videos on four other topics: Love & Relationships, Career & Money, Life(style), and Family.
A user viewing profiles through their Gallery can find someone they want to connect with, watch their initial Vibe, and then unlock their profile to view the rest of the videos. From there, you can chat in the textbox, or schedule a time to have a video call if both parties agree.
After the scheduled video chat, it's up to both users to decide what happens next. You'll be given an update letting you know if the other user would like to continue connecting, would prefer to be just friends, or is not interested in connecting anymore. This step takes only a click of a button, which takes the guesswork out of dating and eliminates the need for a lengthy explanation.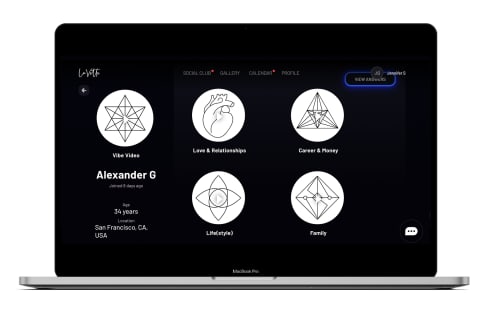 Initial pros & cons:
Authentic, heartfelt profiles
Compared to other apps, profiles on LaVette felt authentic and natural. It was nice to have something more centered on the actual person, versus their pictures. The interaction leans more toward a cerebral and serious dater. Personally, I think swiping is fun—but LaVette's format helps you get to know the real person, giving more depth to the dating experience.
The app aims to eliminate ghosting by giving users a way to tell their match where they stand after each video date. This is done by clicking a button, rather than overthinking what to say, or wondering how someone feels about you. I think this is a great tool to take out the guessing game, but I experienced some glitches in the messaging system which led to me unintentionally missing messages—this, of course, could be interpreted as ghosting.
Events are great when they happen, but aren't frequent enough
When I first learned about LaVette, the idea of events really stood out to me. I was excited for a different way to interact with other singles, rather than just through one-on-one matches. That said, I wish the events were more frequent. Unfortunately, the event I planned to attend was canceled at the last minute. This could be due to the app being new, and hopefully there will be more events in the future as the user base continues to expand. I'd love to see events done weekly.
App features and functions are a bit clunky
Unfortunately, the app itself could use some further work. For example, I was not able to coordinate a message with someone I was chatting with, simply because the messaging system was not working cohesively. I also had issues setting up my profile. The app is best viewed on a desktop or laptop, which will probably frustrate some people. Frustrating tech issues could certainly drive people away from the app, so hopefully these are straightened out as the platform grows.
Larger time investment could be off-putting
Some folks may enjoy the extra work it takes to set up their own profile, as it adds a layer of thoughtfulness and intention. However, others may find this to be a deterrent, since filming multiple videos is much more time-intensive than simply uploading a few pictures. Going through profiles also takes time, which gives me mixed feelings. Again, some people might like that this process weeds out less-serious daters, I found myself not checking the app as frequently as I did others, since I knew it was going to be a longer scroll.
The app is not available everywhere
One obvious con is that this app is only available to people in the United States, which (of course) takes it off the table for anyone who wants to date in another country.
Not enough users to interact with
Since the app is still new, there aren't that many users to interact with. The platform only has about 500 users in its current state. Keep in mind, that's across the entire United States—so the amount of users in specific areas is going to be even smaller.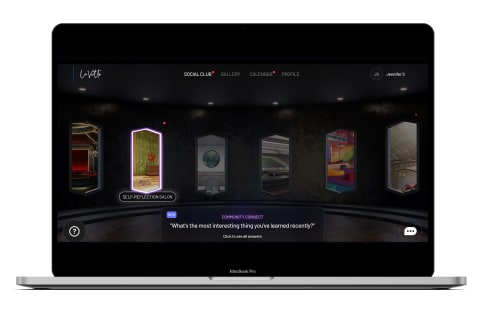 How much does LaVette cost?
In its early stages, LaVette is completely free. In other words: now's a great time to sign up. The free membership gives access to all features, including events and interactions with other users. The app/site will eventually go premium. The cost of the app is to be determined later, but, in full disclosure, it will be at a higher price range than Match or eHarmony.
Cancellation policy
The app is so small that it does not currently show a cancellation policy. I found it a bit odd that there wasn't even an FAQ on cancellation, but I imagine customer service would be able to assist with cancellation if desired.
Is LaVette worth it?
While LaVette shows a lot of promise and I'm a big fan of the premise, it's still so new that it's hard to know how it will pan out. If the app had launched a couple years ago, the video focus would likely have been a big selling point. Now, many people are tired of Zoom calls and video chatting, so a first date video call might not be everyone's cup of tea.
On the other hand, for folks like me who do actually enjoy the freedom to get to know someone first online, I really enjoy the concept of this app, not only as a dating tool but also one to interact socially. I've met people both on and off dating apps, and I'm always interested in new ways to go about the dating experience.
Since the app is free, there's truly no harm in adding it to your dating arsenal—especially if you're serious about meeting someone.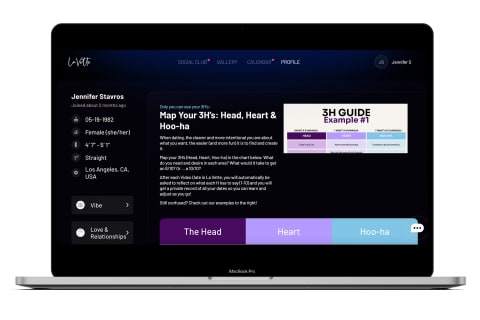 My experience dating on LaVette
My experience with LaVette was mixed. I set aside a one-month period to test out the platform, which allowed me to attend an event, too. Hosted by the app's co-founder and a few dating coaches, the app was a hybrid of a panel and speed dating. The topic focused around green flags in dating, and I was able to chat one-on-one and in groups with people over video chat. The interaction was a fun, interesting way to get to know people quickly. I ended up connecting with one user, but have had difficulty connecting further due to the app's glitchy messaging feature.
The apps' different portals have interesting content, with videos and documents people can interact with to understand themselves better and determine what they want out of dating and life. This can be helpful for folks wanting to hone in on what they want in a potential partner. The content is limited, though—so once you've viewed what's there, you're pretty much done for a bit. From what I've seen, content does not get updated very often. However, the Community Connect board gives another opportunity to chat with users, through questions that are posted each week, which anyone can respond to.
I found navigating profiles and the app's content interesting but time-consuming. Going through random names in the gallery wasn't the most thrilling experience for me, even with my customized filters narrowing things down a bit. The lack of pictures has its pros and cons. I found myself watching many videos for folks I would not otherwise have interacted with—which was great, but also a bit of a time investment.
While I haven't gone on a date with anyone through the app yet, I wouldn't rule this out as a place to potentially meet someone. Truthfully, LaVette was a breath of fresh air compared to the myriad of swipe-based applications, even with its initial clunkiness—which I'm hopeful will be worked out in future iterations.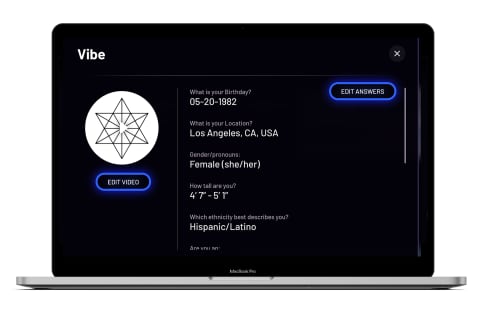 How LaVette compares to its competitors:
LaVette vs. Match & The League
From the get go, it's clear LaVette is designed for serious-minded daters. I'd compare it most closely to options such Match or The League, which both also have events as potential ways to interact with other serious-minded singles. For a premium experience, you can't beat the fact that LaVette is currently free. Again, I'd jump on this now while you can. The League is more expensive, at TK, while Match has options ranging from TK to TK.
LaVette vs. Hinge
For folks wanting a quicker route to interacting and connecting with matches, Hinge will be a better option. The popular swipe-based app is less curated than LaVette, but there is the option to enter what you are looking for, which helps users date more intentionally. While Hinge does lead with images, the platform has integrated video and voice prompts, too, adding a similar layer of authenticity.
LaVette vs. Tinder
I'd go as far as to call Tinder the exact opposite of LaVette. If you're eager for a quick interaction, and not necessarily looking for a deep connection, you may prefer something like Tinder, which requires significantly less time and effort.
The takeaway
LaVette helped shift my mindset on app dating—and I truly think it opens the door to a lot of great possibilities. That said, there are a few things that need to be worked out before it gets there. With more users and regular events, this app could make dating more fun and approachable. In its current state, you won't get the quick interactions or massive pool you have on other dating platforms, but it's still a great app for those who want a serious relationship. If you're willing to invest time into curating your profile and connecting with others, we highly recommend signing up while it's free.
Watch Next
Enjoy some of our favorite clips from classes
Watch Next
Enjoy some of our favorite clips from classes
What Is Meditation?
Mindfulness/Spirituality | Light Watkins
Box Breathing
Mindfulness/Spirituality | Gwen Dittmar
What Breathwork Can Address
Mindfulness/Spirituality | Gwen Dittmar
The 8 Limbs of Yoga - What is Asana?
Two Standing Postures to Open Up Tight Hips
How Plants Can Optimize Athletic Performance
What to Eat Before a Workout
How Ayurveda Helps Us Navigate Modern Life
Messages About Love & Relationships
Love & Relationships | Esther Perel
Love Languages
Love & Relationships | Esther Perel
Related Videos (10)
What Is Meditation?
Box Breathing
What Breathwork Can Address
The 8 Limbs of Yoga - What is Asana?
Two Standing Postures to Open Up Tight Hips
How Plants Can Optimize Athletic Performance
What to Eat Before a Workout
How Ayurveda Helps Us Navigate Modern Life
Messages About Love & Relationships
Love Languages
Advertisement
This ad is displayed using third party content and we do not control its accessibility features.
More On This Topic
more Relationships
Advertisement
This ad is displayed using third party content and we do not control its accessibility features.
Advertisement
This ad is displayed using third party content and we do not control its accessibility features.