paid content
 for

Krista Stryker's Must-Haves For Your Fittest Summer Yet + A Bonus 12-Minute Workout
Certified Personal Trainer
By Krista Stryker, NSCA-CPT
Certified Personal Trainer
Krista Stryker, NSCA-CPT is the author of The 12-Minute Athlete: Get Fitter, Faster, and Stronger Using HIIT and Your Bodyweight and a leading expert on HIIT and bodyweight fitness. She lives in Venice, California, and is a certified personal trainer through the National Strength and Conditioning Association.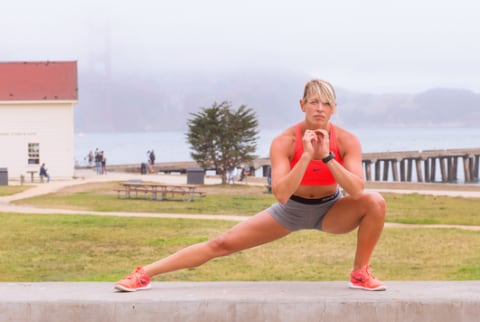 Photo by Leila Seppa Photography for mindbodygreen
June 15, 2016
Summer is full of fun, unexpected opportunities to be healthy and active. So, mindbodygreen has teamed up with ALOHA to make sure you're ready for every chance that comes your way. Here, creator of 12-Minute Athlete Krista Stryker shares her essentials for staying healthy on the go, all summer long.
Summer is the best time of year to enjoy the outdoors and get active.
Even better, the great weather means I can get my workouts done without ever having to set foot in a gym. Whether you hit a nearby park, the beach, or even just your own backyard, outdoor workouts are especially fun ways to break a sweat while getting some vitamin D.
To make sure I never miss out on any fun summer activities, here are five things I bring with me so I can work out anywhere:
Leila Seppa Photography for mindbodygreen
1. Jump rope
Jump ropes are one of my favorite workout tools. Although I do a lot of body-weight exercises, jump ropes allow me to add variety and increase my heart rate.
As a bonus, jump ropes are so small you can throw them in your bag and take them with you wherever you go.
2. ALOHA protein bars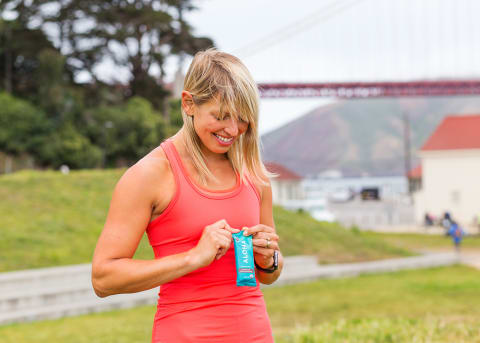 Leila Seppa Photography for mindbodygreen
I need to eat every few hours or I get hangry (I know you know what I mean!). As a lifelong vegetarian, it can be tough to get enough protein in my diet when I'm not cooking at home. That's why I make sure to pack ALOHA protein bars. I eat them as a post-workout meal—perfect for refueling my muscles immediate following a sweat session—or as a high-protein snack whenever I get hungry.
Unlike most protein bars, which are more like candy bars than a healthy food option, ALOHA bars are made with 18 grams of plant-based protein and real food ingredients like pea, hemp, and pumpkin seed protein, nuts, and dark chocolate.
And most importantly, they taste awesome.
3. Sunscreen
I'm a total sun worshiper, but that doesn't mean I want to put myself at risk for sunburn or skin cancer. I try not to lie in the sun for extended periods of time and carry sunscreen with me wherever I go.
I opt for at least 15 or 30 SPF and make sure the sunscreen is broad spectrum to keep both harmful UVA and UVB rays from damaging my skin.
4. Reusable water bottle
Since I'm always on the move during summer, I have to be extra careful about staying hydrated. That's why I never leave the house without a reusable water bottle to keep from getting thirsty.
Refilling my own water bottle is also a small way to help the environment rather than buying multiple plastic water bottles every single day.
5. Fruit
Whole pieces of fruit like bananas, apples, or oranges are great pre-workout snacks to keep my energy up during HIIT workouts as well as outdoor activities. I never leave the house without a piece of fruit.
A 12-Minute Workout You Can Do Outside This Summer
Take your workout outside this summer with a quick and effective HIIT workout.
This workout will only take you 12 minutes. All you'll need is an interval timer and a jump rope. To start, set your interval timer to 18 rounds of 10-second and 30-second intervals. Prepare to rest on the 10-second intervals and work really, really hard on the 30-second ones. Go through three rounds of the following exercises:
Single jumps with a jump rope (advanced option: double-unders)
High knees with a jump rope
Reptile push-ups
Side lunges
Burpee lateral jumps
Split leg v-ups
Exercise Descriptions
1. Single jumps with a jump rope

Leila Seppa Photography for mindbodygreen
Hold a jump rope with both hands and make sure the rope is behind you. Jump up as you swing the jump rope under you. Keep your arms close to you and your core tight as you continue to jump.
Advanced version: Try doing double-unders instead.
2. High knees with a jump rope
Hold a jump rope with both hands with rope behind you. Drive your right knee toward your chest and quickly lower to the ground as you swing the jump rope around at the same time. Follow with your left knee, then continue alternating knees, working as fast as you possibly can.
3. Reptile push-ups

Leila Seppa Photography for mindbodygreen
Start in a push-up position with your shoulders directly over your hands, and tighten your core. While lowering your chest to the floor, bring one knee toward your elbow on the same side of the body. Push yourself back up and repeat on the opposite side.
Beginner version: Put your hands on an elevated surface and do reptile push-ups from there.
4. Side lunges

Leila Seppa for mindbodygreen
Stand up straight with your legs wider than hip-width apart (the longer your legs, the wider your stance will need to be). Bend one knee as far as you can while keeping the other leg straight to the side, then raise back up and repeat on the opposite side.
5. Burpee lateral jumps

Leila Seppa for mindbodygreen
Stand up straight, then drop down and do a burpee, and instead of the jump up, jump as far as you can to one side. Immediately do another burpee, then jump back to the starting position.
6. Split leg v-ups

Leila Seppa for mindbodygreen
Lie on your back with your arms straight above your head. Pull your belly button toward the floor, and raise your right leg as you reach both arms toward your right foot. Lower back down, and repeat on the left side.
With the warmer weather and seemingly endless days, summer is the perfect time to get outside and stay active. Whether you're sweating it out with a HIIT workout, doing yoga at a park with friends, or exploring nature by foot, make sure you're always prepared for any activity that comes your way, refuel afterward to keep your body healthy and strong, and most of all, have fun!
What's the number one thing on my summer bucket list this year? Finally learning to surf!