paid content
 for

Watch This: Kombucha Is This Grilling Season's Secret Flavor-Boosting Ingredient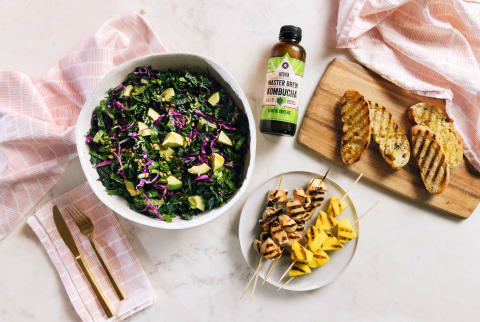 Image by Hannah Schwob / mbg Creative
August 1, 2019
Here at mbg, we're all about Food With Benefits—whether those benefits save you money or time or help heal your body. In our video series, we'll show you how to make delectable recipes, each with a unique benefit. Whether it's a dinner for four for under $10, these meals, snacks, and desserts will inspire you and make your mouth water! Up today: Three different ways to use kombucha at your next cookout!
When it's hot and sticky outside, nothing hits the spot like a cold, and bold, fizzy drink like kombucha. We've been sipping on it so much that we started wondering about other ways to use the invigorating drink.
Turns out, kombucha is as good for cooking as it is for drinking, and it works well in both sweet and savory applications. The summer grilling menu below is case in point: We used KeVita Master Brew Kombucha Exotic Greens throughout the meal, in three different ways: a quick marinade; a salad dressing so good you'll want to make a double batch; and a super-simple dessert that makes the bubbly liquid even more refreshing with a quick blast in the freezer.
As a marinade, kombucha acts as an acid that tenderizes while it flavors—you don't need much more than an hour for the flavors to take hold. In this version, we accent the ingredients already present in the bold Exotic Greens—starfruit, spinach, kale, and spirulina—with ginger, coconut aminos, and a touch of sriracha. It works well on all kinds of protein, from chicken to tofu. Here, we're using it with chicken breast grilled on skewers alongside pineapple.
Don't forget a summer salad featuring colorful leaves: kale, red cabbage, and baby spinach. Avocado and sunflower seeds complete the picture—as does a little extra kombucha vinaigrette, spooned on top. It features some of the same flavors that were added to the marinade, with lime and honey for extra zing.
For a sweet endnote, we made kombucha even more refreshing by turning it into granita, which is basically a grown-up version of Italian ice. Just pour your kombucha into a baking dish, pop in the freezer, and stir with a fork a few times before serving it up with a gooseberry garnish.
Kombucha-Marinated Skewers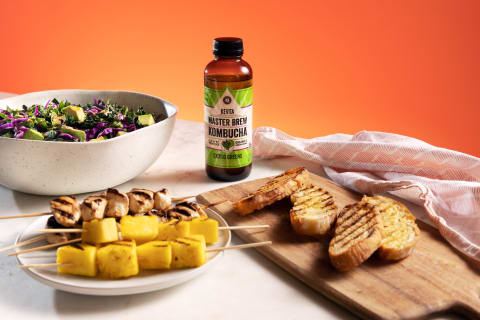 Image by Hannah Schwob / mbg Creative
This marinade works well with all kinds of protein, from steak to chicken to pork to plant-based options like tofu or tempeh. Here, we're marinating chicken breast to grill on skewers with pineapple for a sweet-savory mix.
1½ cups Exotic Greens KeVita Master Brew Kombucha
½ cup olive oil
½ cup coconut aminos (or you can sub soy sauce)
1 tablespoon sriracha (optional)
2 cloves garlic, grated
2 lbs. boneless skinless chicken breast or thighs, cut into 1½-inch pieces
½ a ripe pineapple, peeled, cored, and cut into wedges or large cubes (about 2½ cups cubed)
6 thick slices sourdough or other bread
olive oil for drizzling
Make the marinade: Combine kombucha, coconut aminos, oil, garlic, and sriracha in a large bowl, and whisk to combine. Add chicken, and toss to coat. (Alternately, place chicken in a zip-top bag and pour marinade inside. This will save space in your fridge.) Cover and refrigerate for 1 to 2 hours.
Prepare your grill for medium-high direct heat. When meat is done marinating, remove from fridge and thread onto water-soaked skewers. Thread pineapple onto separate skewers as well. Brush or drizzle bread with olive oil.
Grill skewers for 10 to 15 minutes, flipping occasionally, until cooked through and internal temperature has reached 165°F. Grill bread until toasty, about 5 minutes. Remove everything from the grill and allow to cool slightly.
Serve skewers with the salad and grilled bread. Alternately, remove chicken and pineapple from skewers, cube bread, and toss into the salad before serving.
Nutrition Facts per serving (makes 6 servings)
Total Carbohydrates: 47 g
Vitamin D: 0.15 mcg (1% DV)
Potassium: 537 mg (11% DV)
Super Greens Salad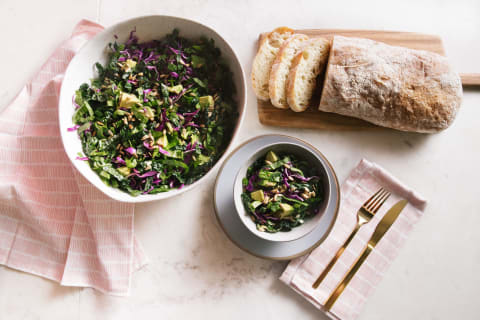 Image by Hannah Schwob / mbg Creative
For the dressing (makes about 1 cup):
¼ cup plus 2 tablespoons Exotic Greens KeVita Master Brew Kombucha
¼ cup olive oil
2 tablespoons coconut aminos
2 tablespoons fresh lime juice
2 tablespoons honey
1½-inch piece ginger, grated
1 small garlic clove, grated
generous pinch red pepper flakes
4 cups thinly sliced baby spinach leaves, loosely packed (about 1 bag or box)
4 cups thinly sliced kale, loosely packed (about 1 small bunch)
4 cups thinly sliced red cabbage, loosely packed (about ½ small cabbage)
1 avocado, peeled, pit removed, and diced
¼ cup sunflower seeds
Make the dressing: Combine all ingredients in a blender or food processor. Taste and adjust seasoning if needed. Set aside until you're ready to serve. Will keep in the fridge for 4 to 5 days, so can be made ahead.
Toss together the sliced spinach, kale, and cabbage in a large bowl. Toss with dressing just before serving, then top with avocado and sunflower seeds. Serve with grilled bread, skewers, and more dressing spooned on top.
Nutrition Facts per serving (makes 6 servings)
Total Carbohydrates: 16 g
Potassium: 498 mg (11% DV)
Kombucha Granita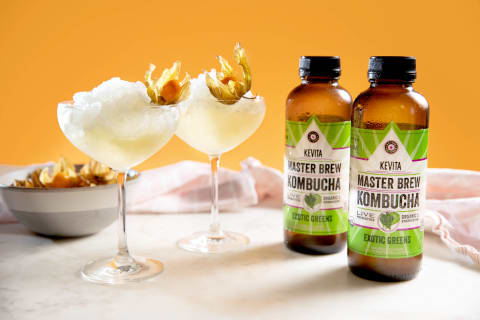 Image by Hannah Schwob / mbg Creative
This two-ingredient dessert is simple to make; all you really need is a freezer and a little time. If you want to prepare it ahead of time, you can do Step 1 the night before. Just remove the granita 30 to 45 minutes before you're ready to complete Step 2 to serve.
1½ bottles Exotic Greens KeVita Master Brew Kombucha
Optional: Seasonal garnish like gooseberry (used here) or starfruit
Pour kombucha in a 9-by-13-inch baking dish. Cover and place in freezer until just starting to set on the edges, about 30 minutes. Remove and stir with a fork. Repeat 2 to 3 times, until kombucha is mostly frozen and you're ready to serve. If any large ice chunks develop, just break them up gently with your fork.
Break up with a fork a final time and divide among ice cream bowls or glasses. (If it's really frozen solid, just let it melt slightly before breaking up with your fork again.) Option to garnish each with a slice of seasonal fruit like gooseberry or starfruit.
Nutrition Facts per serving (makes 6 servings)
The information in this recipe/video is the opinion of the author(s) and in no way reflects the policies or positions of KeVita. This is not intended to be a substitute for professional medical or nutrition advice.