Get Your Sneaky Veggies In With This Keto-Friendly Zucchini Bread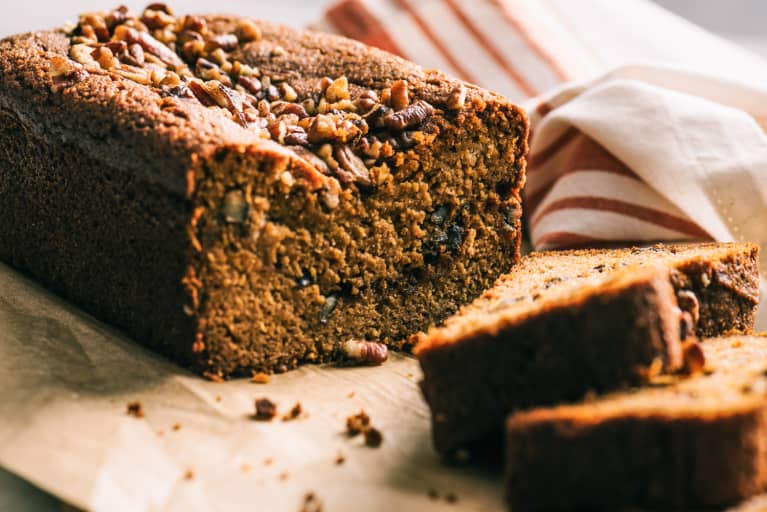 This twist on classic zucchini bread is loaded with flavor, and it's low enough in carbs to be considered keto-compliant. Of all the keto-friendly bread recipes out there, this one might the best. The sweet bread is loaded with flavor, sneaks in a bunch of greens, and walnuts provide healthy fats. It's terrific as a sweet snack, or have as a breakfast side. Enjoy!
Keto-Friendly Zucchini Bread 
Makes 1 loaf (about 12 servings)
2 cups almond flour
¼ cup coconut flour
3 tsp. baking powder
1 tsp. cinnamon
1 tsp. ginger
1 tsp. nutmeg
Pinch of salt
½ cup monk fruit sugar (granulated)
4 eggs (or 4 flax eggs, made with 1 Tbsp. flax meal + 2½ Tbsp. water))
½ cup coconut oil, melted
1½ cups zucchini, grated or spiralized
½ cup walnut pieces (optional)
Preheat oven to 350°F.
Line a loaf pan with parchment paper, and grease the sides with coconut oil (if you don't have parchment paper, you can use coconut oil throughout).
Grate the zucchini or use a food processor, then squeeze out the water by pressing the zucchini between a dishtowel.
Next, in a medium mixing bowl, combine the dry ingredients (almond flour, coconut flour, baking powder, cinnamon, ginger, nutmeg, salt, monk fruit). Then set aside.
Next, stir the wet ingredients—eggs and coconut oil—into the dry ingredients. Use flax eggs for a vegan keto option.
Then fold in the grated zucchini and walnuts (if desired).
Transfer the batter into a loaf pan and place it in the oven.
After about an hour, test to see if the bread is finished by inserting a toothpick. If the toothpick comes out clean, the loaf is done (if not, return to the oven for another 10 to 20 minutes).
Cool, slice, and enjoy!
Want to turn your passion for wellbeing into a fulfilling career? Become a Certified Health Coach! Learn more here.