If You're Worried About Craving Carbs On Keto, This Expert's Approach Changes Everything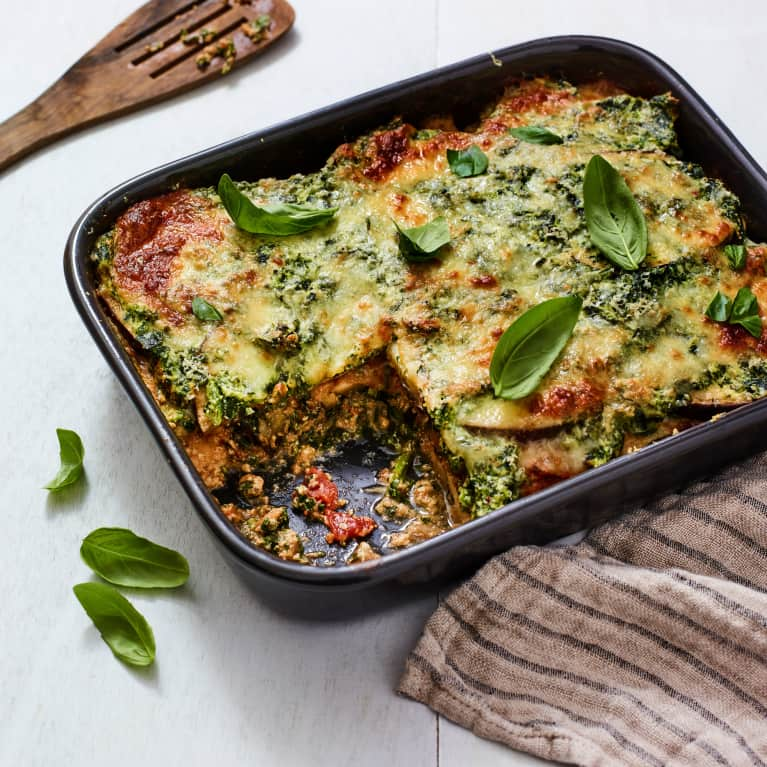 As a former world-class endurance athlete and one of the pioneering voices of the paleo movement, Mark Sisson's expertise lies in the overlapping worlds of fitness and nutrition, especially when it comes to weight management. He's the best-selling author of The Primal Blueprint and The Keto Reset Diet, and in this exclusive excerpt from his new book, The Keto Reset Diet Cookbook: 150 Low-Carb, High-Fat Ketogenic Recipes to Boost Weight Loss, Mark shares the incredibly delicious, tried-and-true recipes that help you adapt to the keto diet. If you're a carb lover, this cookbook's a must-have.
The wonderful lifelong benefits of keto are available to all of us, as we humans are genetically hard-wired to cope with prolonged periods of caloric and/or carbohydrate restriction. However, a lifetime of carbohydrate-dependent eating patterns has to be unwound carefully.
Fortunately, going keto is easier and less arduous than it sounds. Yes, you are going to say good-bye to many of your high-carb comfort foods and bring a greater level of awareness to your food choices at all times to stay in keto. However, you are almost never going to feel hungry (and especially not "hangry"—clever jargon of the low-carb community to convey that a bad mood goes hand in hand with hunger swings); you will enjoy delicious, diverse, and highly satisfying meals; and you will experience authentic fat reduction, which will keep you focused and motivated to stay on track.
If you find yourself struggling with energy lulls or carbohydrate cravings, you can usually make quick fixes to boost your progress. For example, increasing your intake of sodium, potassium, and magnesium to adjust for a reduction in inflammation and water retention in cells throughout the body can help break you out of recurring fatigue patterns.
The Keto Reset Diet takes a gradual approach because I hope this will become a lifestyle change rather than just another quick-fix diet. Once you realize the benefits of becoming fat- and keto-adapted, you'll see why it is worth taking the time to do correctly.
With the Keto Reset, you will begin your keto journey by becoming "fat-adapted," reprogramming your metabolism to burn fat for fuel and ditching processed grain, sugars, and refined vegetable oils in favor of nutrient-dense, high-fat, primal foods. From there, you'll fine-tune with intermittent fasting and transition into full ketogenic eating. You'll be able to enjoy delicious and diverse meals without ever feeling deprived or hungry.
Here's a peek at one of the recipes in The Keto Reset Diet Cookbook. This frittata has all the flavors of your favorite Greek salad. Olives and eggs might seem like an unusual combo, but they actually pair nicely. To save time, you can prepare the tzatziki the night before. Just give it a good stir before serving.
Greek Frittata with Tzatziki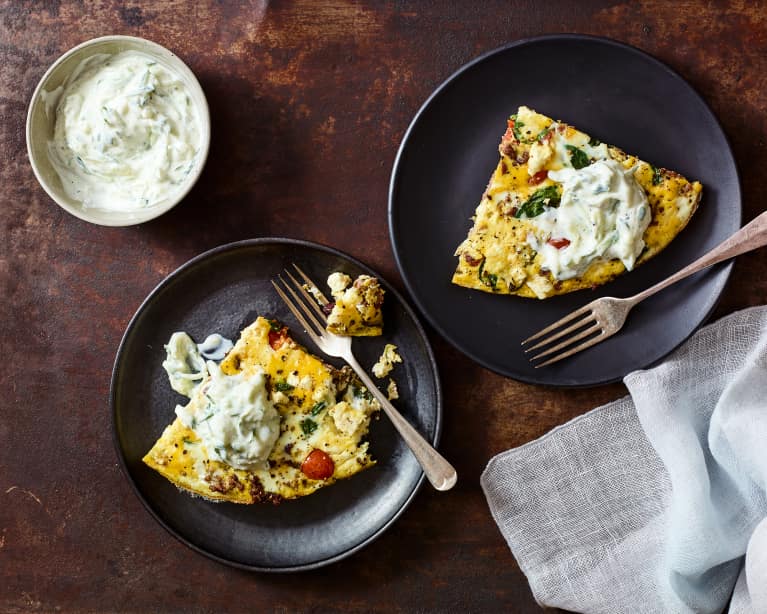 1 tablespoon bacon fat, lard, tallow, or fat of choice
8 ounces ground lamb
1 teaspoon Greek Seasoning Blend (recipe follows)
½ teaspoon sea salt
1 clove garlic, minced
6 large eggs
¼ teaspoon ground black pepper
½ cup diced zucchini
½ cup grape tomatoes, halved
1 cup baby spinach
¼ cup Kalamata olives, chopped
1 to 2 tablespoons water or broth (optional)
²⁄³ cup crumbled feta cheese
Tzatziki Sauce (recipe follows), for serving
Method
1. In a 10-inch skillet, warm the fat over medium-high heat. Crumble the ground lamb into the skillet. Cook, stirring occasionally and breaking up the meat with a spoon or meat chop- per, for 3 minutes. Stir in ½ teaspoon of the Greek seasoning, ¼ teaspoon of the salt, and the garlic and cook until the lamb is almost cooked through, 3 to 5 minutes.
2. While the meat is cooking, in a bowl, lightly beat the eggs. Whisk in the remaining ½ teaspoon Greek seasoning, ¼ teaspoon salt, and the pepper. Set aside.
3. If the skillet is dry, add some additional fat. Stir in the zucchini, tomatoes, and spinach and cook until zucchini becomes soft but not mushy, 3 to 4 minutes. Stir in the olives. If needed, use the water to deglaze the pan, scraping up any browned bits stuck to the bottom.
4. Reduce the heat to medium. Pour in the egg mixture. Stir in half the feta cheese. Allow the eggs to cook until the egg mixture is about halfway set, about 4 minutes. While they cook, use a silicone spatula to gently pull the eggs away from the sides of the pan. Do not scramble the eggs, but allow some of the raw egg mixture on top to pour into the open space you created with the spatula.
5. When the egg mixture is about halfway set, sprinkle the remaining feta cheese on top. Reduce the heat to medium-low and cover the skillet. Allow the frittata to cook undisturbed for 5 minutes.
6. Check the frittata. You will know it is done when it puffs up and the eggs no longer appear wet in the center. Remove the pan from the heat and allow it to sit for a few minutes. Run a sharp knife around the edge of the frittata.
7. Cut the frittata into wedges and use a spatula to carefully remove it from the pan. Serve warm with the tzatziki on the side.
Makes about a cup
Ingredients
½ English cucumber, striped (lightly peeled) and grated
Kosher salt
1 cup plain full-fat Greek yogurt, coconut milk yogurt, or almond milk yogurt
2 teaspoons fresh lemon juice
2 cloves garlic, pressed or finely minced
Ground black pepper
Method
Place the grated cucumber in a sieve set over a bowl. Sprinkle with ¼ teaspoon kosher salt, stir, and set aside for 10 minutes. Use a spatula or the back of a large spoon to press as much liquid as possible out of the grated cucumber. Stir and press again. Repeat until no more liquid is coming out. Transfer the cucumber to a small bowl and stir in the yogurt, lemon juice, garlic, and ¼ teaspoon pepper. Taste and adjust the salt and pepper. Place it in the refrigerator until ready to serve.
Note: This tzatziki recipe calls for only half a cucumber because a higher yogurt-to-vegetable ratio is nice for topping a frittata. Feel free to use more cucumber in yours if you prefer (adjust the salt accordingly).
The Keto Reset Diet Cookbook: 150 Low-Carb, High-Fat Ketogenic Recipes to Boost Weight Loss by Mark Sisson is available for purchase now.
1 tablespoon dried basil
1 tablespoon dried oregano
1 tablespoon garlic powder
2 teaspoons onion powder
2 teaspoons ground black pepper
1 teaspoon dried dill
1 teaspoon dried marjoram
½ teaspoon dried thyme
½ teaspoon ground cinnamon
½ teaspoon ground nutmeg