These 3 Crazy Decadent Breakfasts (Chocolate Souffle, What?) Are Actually Keto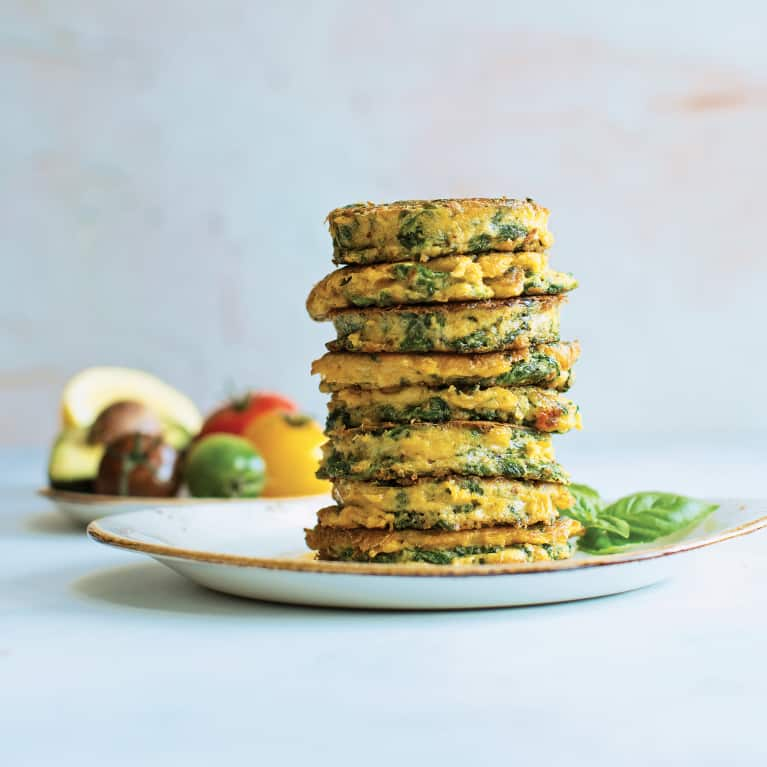 Our editors have independently chosen the products listed on this page. If you purchase something mentioned in this article, we may
earn a small commission
.
If you've been interested in trying the keto diet, wooed by its promises of mitochondrial optimization and mega fat-burning, you're not alone: The high-fat plan has become one of the most popular ways of eating in the wellness world. "Simply put, a ketogenic diet is very high in fat, moderate in protein, and very low in carbohydrates," explains Vincent Pedre, M.D. (for more on his deep dive into all things keto, check out this piece). "The idea behind keto is to keep your fat-accumulating hormone, insulin, low by keeping your blood sugar low. In doing so, you turn on fat-burning genes while suppressing the abdominal-fat-amassing machinery."
Sounds great, right? Unfortunately, many people still decline to try the diet, primarily because they're scared off by the "Well, what do I actually eat?" question. In her book, The Beginner's KetoDiet Cookbook, Martina Slajerova breaks down the basic premises of the diet while offering up actually cravable fare even for the most carb-heavy of meals: breakfast. From a pizza Dutch baby to a chocolate souffle pancake, these dishes are prime examples of the fact that keto isn't synonymous with flavorless or boring.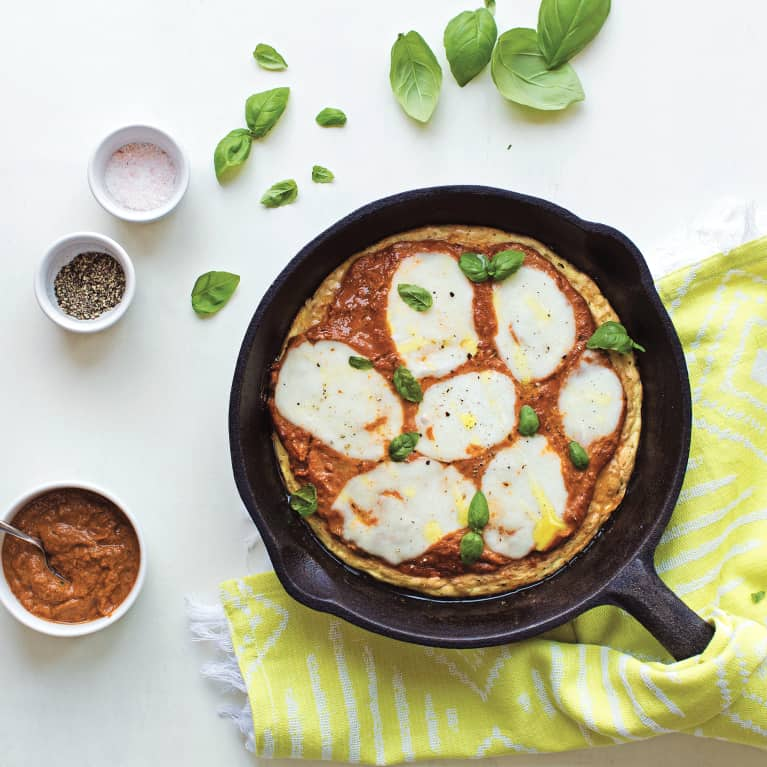 Never had a Dutch baby before? It tastes a lot better than it sounds: It's a light and fluffy cross between a pancake and soufflé, and it makes such a satisfying breakfast or brunch. In this low-carb, Margherita pizza–inspired version, I've replaced wheat flour with finely grated Parmesan cheese.
Serves 2
Ingredients
4 large eggs
¼ teaspoon cream of tartar
1 tablespoon ghee or duck fat
½ cup grated Parmesan cheese
1 teaspoon Italian seasoning
⅓ cup no-sugar-added marinara sauce
4 ounces fresh mozzarella, sliced
1 tablespoon chopped fresh basil
Salt and pepper to taste
Carefully separate the egg whites from the egg yolks. Reserve the egg yolks and set aside. Add the cream of tartar to the bowl with egg whites. Using an electric mixer, beat the egg-white mixture until stiff peaks form.
Preheat the broiler to high. Grease an 8-inch (20-cm) skillet with ghee and place over medium heat. Gently fold the reserved egg yolks, Parmesan, and Italian seasoning into the whipped egg whites. Pour into the hot pan. Cook for 1 minute, then place the pan under the broiler and cook for 5 minutes. Remove the pan from the oven, place it on a cooling rack, and top with the marinara sauce and mozzarella slices. Return the pan to the oven and broil for 5 to 8 minutes more, until the top is golden and the cheese is melted. Serve immediately, topped with fresh basil and seasoned with salt and pepper, or let cool and refrigerate for up to 3 days.
Chocolate Soufflé Pancake With Pumpkin Pie Swirl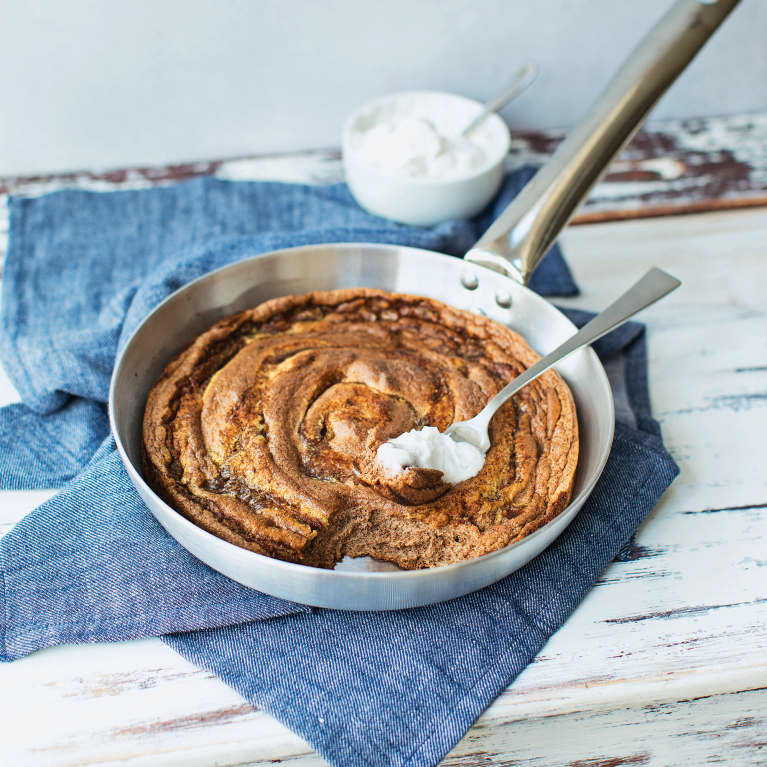 Treats like pancakes aren't usually allowed on a keto diet, right? Wrong! You can enjoy this indulgent chocolate soufflé pancake and still stay within your carb limit. And its presentation is so impressive: I've made several variations of these fluffy pancakes, and they're a big hit on social media.
Serves 2
Ingredients
4 large eggs
¼ teaspoon cream of tartar or apple cider vinegar
Pinch of sea salt
¼ cup powdered erythritol, divided
2 tablespoons cacao powder
2 tablespoons melted butter, ghee, or virgin coconut oil
½ teaspoon pumpkin pie spice
1 tablespoon ghee or virgin coconut oil
Preheat the oven to 400°F.
Separate the egg whites from the yolks. Mix the yolks with a fork. Add the cream of tartar and salt to the egg whites. Using an electric mixer, beat the egg whites on medium-low speed for about 2 minutes until the whites become foamy. Add 3 tablespoons of the erythritol. Keep beating until stiff peaks form.
Fold 3 egg yolks (keep one egg yolk in the bowl) into the mixture using a silicone spatula. Sift in the cacao powder and gently combine with the egg-white mixture without deflating them. To the bowl with the reserved egg yolk, add the melted butter, pumpkin pie spice mix, and the remaining 1 tablespoon erythritol.
Spread the pancake batter in a hot 8- to 9-inch (20- to 23-cm) skillet greased with the ghee. Use the rounded side of a teaspoon to draw a spiral-shaped swirl into the pancake, starting in the middle and ending at the edges. Then use the teaspoon to drizzle the prepared pumpkin pie filling into the swirl. Cook over low heat for about 5 minutes, until the bottom of the pancake starts to brown. Remove from the burner and place under the broiler for about 5 minutes or until the top is lightly browned. Serve immediately with a dollop of sour cream, whipped cream, or coconut cream.
Simplicity is the key to success when you're new to a healthy, low-carb diet. And these savory pancakes check all the boxes! Plus, they're high in micronutrients, low in carbs, and great for batch cooking. Don't limit them to breakfast: Add them to your lunchbox for a complete meal on the go.
Makes 12 pancakes
Ingredients
14.1 ounces frozen spinach, drained
8 large eggs
1 cup finely grated Parmesan
¼ cup chopped sun-dried tomatoes
2 tablespoons coconut flour
1 tablespoon dried Italian herbs
½ teaspoon sea salt
¼ teaspoon black pepper
2 tablespoons ghee or duck fat
Optional: sliced avocado, cooked bacon, and Sriracha sauce for serving
Defrost the spinach (in a microwave oven or in the fridge overnight). Squeeze out as much moisture as possible (you will end up with about half of the original weight). Crack the eggs into a large bowl and whisk to combine. Add the drained spinach, Parmesan, sun-dried tomatoes, coconut flour, Italian herbs, salt, and pepper. Mix until well-combined.
Heat a large skillet greased with the ghee over medium heat. Once the skillet is hot, use a ⅓-cup measure to make 3 to 4 pancakes at a time. Shape them into small pancakes in the pan using a spatula. Cook for 2 to 3 minutes, or until lightly browned and firm enough to flip onto the other side, and then cook for another 1 to 2 minutes. Repeat for the remaining pancakes. Serve warm, or let cool and store in an airtight container in the fridge for 4 to 5 days. Optionally, serve with avocado, cooked bacon, and Sriracha sauce.
Want to turn your passion for wellbeing into a fulfilling career? Become a Certified Health Coach! Learn more here.