mbg Sustainability + Health Director
By Emma Loewe
mbg Sustainability + Health Director
Emma Loewe is the Senior Sustainability Editor at mindbodygreen and the author of "Return to Nature: The New Science of How Natural Landscapes Restore Us."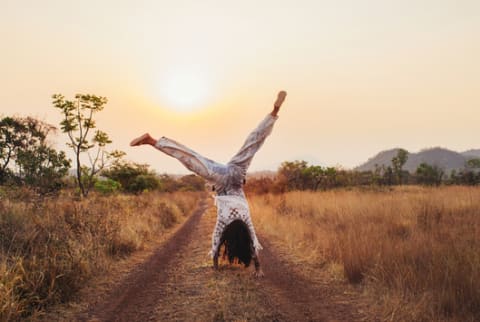 Photo by Julien L. Balmer
June 29, 2017
1. If you want to actually enjoy your workouts, get outside.
We've long known that being outside is good for our mental health, but a recent study on 40 men and women found that they had higher happiness levels after taking a long, strenuous hike outside than when they walked inside on a treadmill at a similar effort level or simply sat still. Yep, there's nothing like breathing in fresh air and being surrounded by greenery. (NYT)
2. Here's an interesting way to decide on your next phone.
Greenpeace, an environmental nonprofit, just ranked today's popular technology on its repairability. Their thinking is that products that are easier to repair are more environmentally sustainable, since they're less likely to end up in the landfill. The winners? Fairphone, an organization that created the first "ethical smartphone," Dell, HP, and LG. (Treehugger)
3. If you're a millennial, you might want to read up on stroke prevention.
If you think you're too young to have a stroke, you might want to think again. Research is showing that members of the 18- to 34-year-old crowd is suffering more strokes than usual. It's important to learn what type of factors—like the region in which you live—might put you at risk. (Scientific American)
4. Hospitals are implementing cognitive and physical tests for older doctors.
But is the practice fair? Some argue it's necessary to ensure older doctors are fit to care for patients, especially since many with mild onset dementia are not aware of their symptoms. Other doctors feel the tests are outright ageism. (WSJ)
5. A new minimalist fashion brand finally serves its plus-sized customer base.
Plus-sized women have very few options when it comes to clothing that fits, let alone having enough choices to cultivate their own style. Universal Standard (US), a minimalist brand a la Theory or Alexander Wang, is finally addressing their concerns. US also offers an exchange program that allows women to swap sizes of clothing within the first year of purchase due to changes in weight. Less worry, less waste. Brilliant. (Fast Company)