mbg Sustainability + Health Director
By Emma Loewe
mbg Sustainability + Health Director
Emma Loewe is the Senior Sustainability Editor at mindbodygreen and the author of "Return to Nature: The New Science of How Natural Landscapes Restore Us."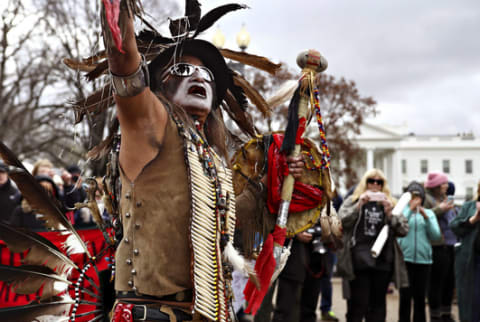 June 16, 2017
1. Standing Rock just claimed a major win.
Earlier this week, a federal judge ruled that those behind the Dakota Access Pipeline did not complete an adequate environmental risk assessment before beginning construction. They will now have to compile a report on the potential effects of an oil spill on fishing rights, hunting rights, or environmental justice issues, though construction of the pipeline will continue in the meantime. (The Atlantic)
2. Are drones the future of emergency care?
It's possible to use drones to deploy AEDs (automatic external defibrillators) more quickly than ambulances, which gives people who have heart attacks a better chance at surviving. Right now, about one in 10 people survive heart attacks, in part because care is held up due to transport. The next step? Training more people to use AEDs effectively and safely. (NPR)
3. When veggies sound sexy, we eat more of them.
Researchers at Stanford conducted an experiment at their cafeteria, serving vegetable dishes under different names to test their desirability. While the preparation was the same, veggies given healthy descriptions, like "nutritious green zucchini" were less attractive than those with indulgent names like "slow-roasted caramelized zucchini bites." Mmm, caramelized. (Popular Science)
4. Romantic descriptions of wine can make the drinker more emotional.
Researchers at the University of Adelaide sent subjects through three rounds of blind tastings, offering them wines with no description, wines with a basic description, and wines with elaborate, emotional descriptions. When the wines with elaborate descriptions met drinkers' expectations, they had more positive feelings about the wine and were willing to pay more. On the other hand, floridly described wines that didn't match up to expectations actually created such a negative association that tasters were willing to pay less than they would for the same wine with no description at all. (Popular Science)
5. The Organic Trade Association is taking big steps against fraud.
After news reports showed that some imported organic products were not, in fact, organic, the Organic Trade Association is doing everything in its power to protect against fraud going forward. "There is a strong desire on the part of the industry to stop the incidence of fraud in organic," said OTA director Laura Batcha. "The consumer expects that organic products are verified back to the farm. The industry takes that contract with the consumer very seriously." (FoodDive)
6. It's important to face your fears after an injury.
Ever felt nervous you'll hurt yourself walking onto the soccer field or into a boxing class? According to experts, that's totally normal. But don't let it keep you from being active, because studies show that could be even more detrimental to your health than an injury. (Science of Us)