mbg Sustainability + Health Director
By Emma Loewe
mbg Sustainability + Health Director
Emma Loewe is the Senior Sustainability Editor at mindbodygreen and the author of "Return to Nature: The New Science of How Natural Landscapes Restore Us."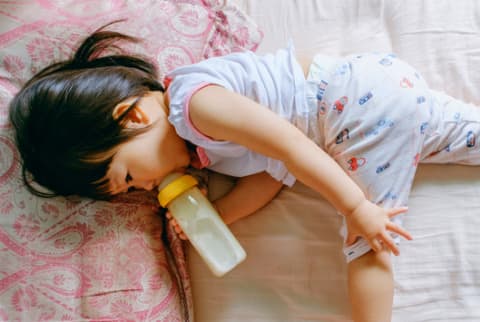 June 13, 2017
1. Will kids drinking almond milk wind up shorter than those drinking cow's milk?
A study of more than 5,000 children found that those who drank alternative milks (like almond and soy) were likely to be shorter than their cow's milk-drinking peers. How much shorter? Kids who drank 3 cups of nondairy milk a day were over a half-inch shorter than kids who drank the same amount of cow's milk. What's more, the greater the child's consumption of alternative milk, the shorter she or he was likely to be. And in case you were wondering, this study wasn't sponsored by dairy lobbyists. (American Journal of Clinical Nutrition)
2. You can thank your friends for your good health.
More and more research is showing that people who have strong family bonds, good friendships, and who are connected to their community live longer and healthier lives. And some businesses—like coffee shops in Toronto—are taking this seriously and choosing to turn on the social interaction by turning off the Wi-Fi. (NYT)
3. These three countries just made a major commitment to wind power.
Germany, Denmark, and Belgium just signed an agreement to support a five-fold increase in offshore wind capacity over the next decade. The hope is that more nations will sign on, leading to big wins for the environment in years to come. (TreeHugger)
4. A vegetarian diet reaps physical benefits.
The conventional wisdom surrounding weight loss is that if you want to lose weight, you should consider restricting your calories. But a small new study in the Journal of the American College of Nutrition found that simply cutting meat from the diet is twice as effective as following a low-calorie diet. (NY Magazine)
5. These shoes made of algae are straight from the future.
Believe it or not, algal blooms are disrupting ecosystems across the world. When too many algae grow in a body of water, they cut light supply and oxygen from sea life. Some algae even release toxins as they die off, creating an even more dangerous environment. An eco-minded manufacturer called Bloom has started harvesting problematic algal blooms to simultaneously reduce their impact and create sustainable, raw materials for companies like Vivobarefoot. This among the first of (we hope) many innovations that make good use of Earthly waste. (Fast Company)
6. Getting a drastic haircut after a major life change makes perfect psychological sense.
We've all heard of the break-over, or post-breakup makeover. Well, apparently the urge to change our appearance after the death of a loved one or some other loss is actually a healthy form of self-care. Emotional stress can be paralyzing because it diverts energy we'd normally use to do "life" into alleviating immediate pain. Investing in ourselves can be the jump-start we need to begin moving forward. (Quartz)