14 Things You Need To Know Today (June 13)

mbg Sustainability + Health Director
By Emma Loewe
mbg Sustainability + Health Director
Emma Loewe is the Senior Sustainability Editor at mindbodygreen and the author of "Return to Nature: The New Science of How Natural Landscapes Restore Us."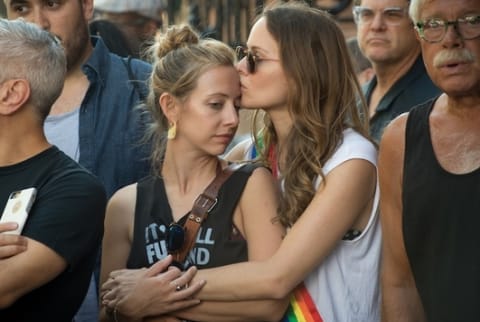 June 13, 2016
1. Yet another tragic mass shooting shook the U.S. this weekend.
At least 50 people were killed in Sunday's shooting in an Orlando gay nightclub—the deadliest mass shooting in the country's history. (NYT)
2. Meet the master tea taster whose tongue is insured for a million pounds.
Tetley master blender Sebastian Michaelis speaks a made-up tea language and takes four months to make a single tea bag. After studying philosophy in college, Michaelis followed an ad for the tea-tasting job, beating out 500 other hopefuls to get the gig. Sebastian tastes for zing, color, body, and sparkle. (Fast Company)
3. Science finds a way to make gluten-free bread actually taste good.
Leave it to two Italian scientists to discover a way to make good-quality gluten-free carbs. It turns out a protein in corn called zein can create an elastic texture that's integral to good bread—sans gluten. The technology for creating optimal bread from zein is still being developed, but the future is bright. Thanks, science! (Quartz)
4. Dr. Deepak Chopra has launched a new well-being platform called Jiyo.
Jiyo aims to address wellness holistically, using lifestyle modifications related to nutrition and exercise. The platform analyzes users' behavior to recommend habit changes that will improve their health. (BusinessWire)
5. Adidas is changing the game on sustainable clothing.
Adidas says its recently unveiled running shoe made of repurposed ocean plastic is just the beginning of its recycling renegade, and the brand plans to release more eco-friendly shoe and apparel options in the near future. (Adidas)
6. Philly could be the first U.S. city to pass a tax on both sugary and diet sodas.
It looks like the tax will become a reality next week, with both diet and regular sodas being charged an additional 1.5 cents per ounce. The inclusion of diet soda in the tax shatters any illusions that diet sodas are the "healthier" choice. (NPR)
7. Daisy Ridley gets refreshingly honest about her struggle with endometriosis.
Ridley is the latest celebrity—following Lena Dunham and Padma Lakshmi—to publicly address her battle with endometriosis (which began at age 15), an often painful chronic condition in which tissue that normally lines the inside of your uterus grows outside your uterus. In an Instagram post, she wrote, "I've tried everything: products, antibiotics, more products, more antibiotics, and all that did was left my body in a bit of a mess. Finally found out I have polycystic ovaries and that's why it's bad. I can safely say feeling so self-conscious has left my confidence in tatters."
8. The City of Angels is going green.
The Los Angeles government is considering a motion that would encourage lawmakers to move the city toward 100 percent renewable energy. L.A. has taken its fair share of sweeping green initiatives lately, such as replacing traditional streetlights with LED bulbs, introducing electric vehicles to police fleets, and installing car-charging stations throughout the city. (Think Progress)
9. A New Jersey ER is replacing opioids with alternative treatments for pain.
One of the country's busiest ERs, St. Joseph's Regional Medical Center, has started using opioids only as a last resort, trying to treat chronic pain like migraines, kidney stones, and sciatica with alternative methods including nonnarcotic infusions and injections, ultrasound nerve blocks, laughing gas, energy healing, and even harp therapy. (NYT)
10. Chloe Coscarelli is in a legal battle with her business partner.
Vegan chef Coscarelli, of by CHLOE. fame, is suing her restaurant group ESquared, claiming she was physically threatened by CEO Jimmy Haber after she barred the group from opening non-vegan restaurants in her name. (New York Post)
11. America's transition to renewable energy could turn gas stations into relics of the past.
There was a 25 percent drop in the number of gas stations in America between 1994 and 2013, and the decline shows no sign of slowing. Certain states are beginning to retrofit these stations with electric charging stations in an effort to adapt to the changing times. (Slate)
12. Health care and tech are coming together for teledermatology.
More and more health-conscious folks are sending pictures of their skin into dermatologists for review. Since dermatology is such a visual field, the trend makes sense and is expected to continue. (The Washington Post)
13. Zayn Malik's latest announcement calls attention to his struggle with anxiety.
The singer canceled a UK concert on Saturday saying, "Unfortunately, my anxiety that has haunted me throughout the last few months around live performances has gotten the better of me... With the magnitude of the event, I have suffered the worst anxiety of my career... I hope those who suffer anxiety will understand, and I hope those who don't can empathize with my situation," he wrote. (ABC News)
14. Apple is producing tons of renewable energy, and it plans to start selling some of it.
The tech giant has opened an energy subsidiary in Delaware, Apple Energy LLC, to help sell its leftover renewable energy directly to consumers. That's one green apple. (EcoWatch)