paid content
 for

How I Detoxify My Life Every Day (Hint: It Doesn't Include A Cleanse)
By Jordan Younger
mbg Contributor
Jordan Younger is an LA-based blogger behind the wellness and lifestyle blog The Balanced Blonde.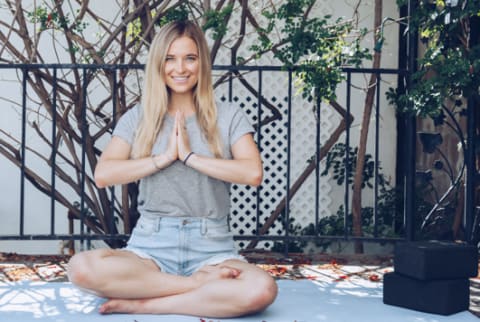 Photo by All Images © Tamara Muth-King
May 12, 2017
Everyone who knows me (and reads my blog) knows that I'm all about living a clean life: From the way I eat, to the way I launder my clothing and linens; the cleaning solutions I use, to the restorative yoga sanctuary I've created in my bedroom, and the way I feed my kitty, Hudson. The reason I do it, is because when I focus on quality ingredients and non-toxic products, everything around me is cleaner and more alive. You could say I am addicted to a fresh and natural lifestyle.
The thing is, back in the day I used to think the only way to be "clean" was through food. I'd do juice cleanses and raw vegan diets, and I could never understand why half the time I still felt like total crap. I've learned that being truly clean and healthy means living a balanced life—and not putting so much focus and energy onto just what I put into my mouth!
I really don't have "food rules" anymore; I just power my body with natural ingredients and real food from the earth. I have also slowed down quite a bit over the last year, and I find that when I am well rested, mindful, and fueled with nourishing, whole foods, I am so much more inclined to keep my space clean, organized, and minimal.
Right now I'm really excited about non-toxic cleaning supplies from The Laundress, and beautiful products to make that possible. Here are my daily staples and the products I use to keep my whole routine fresh and clean:
My Yoga Practice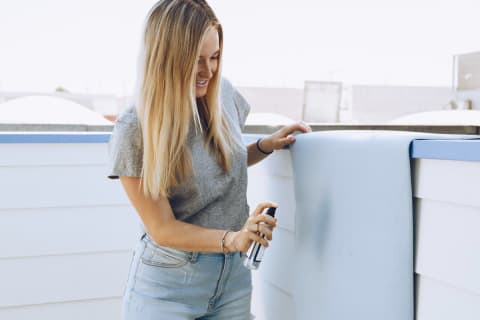 Everyone knows that when you practice yoga on the daily, your mat needs a freshen-up every once in a while. I'm into sweaty, hot vinyasa, and let me tell you—this chick sweats hard. The Laundress Sport Spray is my go-to for keeping my mat nice, fresh and clean. It's allergen-free, so there are no stuffy noses during downward-facing dog. You wouldn't believe how good this stuff smells. I've even had people at the yoga studio ask me what I use, because the smell radiates freshness from the inside out. I am so into it. Of course my yoga mat is eco-friendly, too!
For my yoga clothes, I use The Laundress Sport Detergent. I have actually started hand washing my yoga clothes after my sweaty flow classes because I've found that washing them right away instead of waiting to do a whole load of laundry preserves the clothes for so much longer. I also find hand washing them to be super therapeutic. Then I hang them up in my window to soak up the sun and dry naturally. I clean the space around my floor (in my bedroom yoga sanctuary—my new favorite place on Earth) with The Laundress Surface Cleaner, which also smells amazing and keeps everything nice and fresh.
My Cat's Playground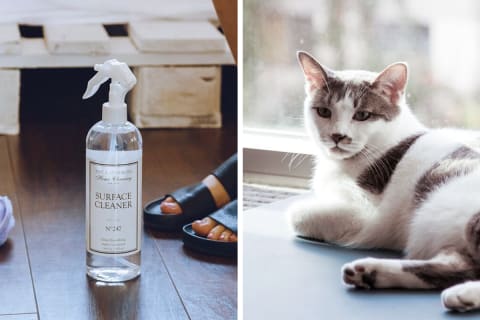 My cat Hudson is my full-blown child. He probably lives the most non-toxic cat life of any cat that I know. And believe it or not, he is as picky as I am! Hudson won't play with his toys or eat his food (no matter how hungry he is) if the floor around it isn't squeaky-clean. He is an absolute crack up. People who come over say he is the cleanest cat they've ever met. He also sheds a lot, so I use The Laundress Horse Hair Broom to sweep up his white locks pretty much every single day. I use the Surface Cleaner to clean the floor and plastic toys, and the Home Spray to keep everything smelling nice and fresh—even by the litter box. Okay, especially by the litter box! Since all of The Laundress products are biodegrable and plant-based, I feel safe using them around Hudson.
My Meal Prep
No one wants to meal prep on a dirty countertop. I would say of all things in my house that I'm diligent about cleaning everyday, it would be my kitchen countertops. I chop veggies, make yummy fat-balls (ghee, almond butter, coconut oil, chia seeds—heaven), and all sorts of smoothies and coffee drinks every day. And yes, I'm prone to spilling everywhere. I always have been. The Laundress Scented Vinegar is my favorite thing to drizzle onto a sponge and clean the countertops with. It's 100% natural so it's safe to use around food. It smells just like you'd imagine it to, and I am a huge fan. It makes me want to spend more time in my kitchen meal prepping, which is always a plus! You can also check out The Laundress' How-To page to learn how to green clean your kitchen from the inside out.
Of course the Dish Detergent, with natural cleaning enzymes, and Hand Soap are both go-tos as well. I am pretty fanatical about washing my dishes immediately after I use them, so I always love having a good dish soap on hand.
My Daily Rituals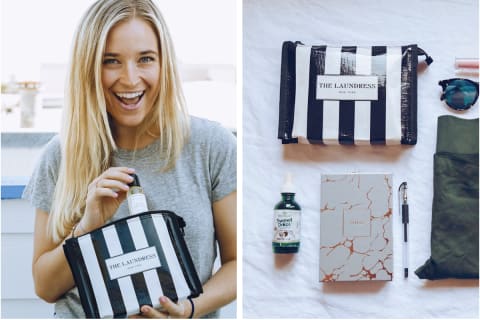 My life is very on-the-go. As much as I have slowed down over the last year, I still spend a lot of time driving around town, teaching yoga, going to events, seeing friends, and all that jazz. When I am out and about, I use my On the Spot Kit from The Laundress—especially since, like I mentioned, I spill everything. So their purse-sized spot and stain treatments are a godsend!
I also travel a ton, so I love bringing their Travel Pack with me—like on my recent trip to NYC where I got to spend a whole day at the fab mindbodygreen offices!
My Sleeping Sanctuary
There is probably nothing I love more than my beloved sleeping sanctuary. Other than, of course, Hudson. I spend a lot of time and energy keeping my feng shui on point, which means frequently rearranging my room and cleansing my space to keep it minimal and fresh. I get inspired when my space is de-cluttered, open, and bright, so I am always trying to keep it that way!
I use The Laundress Signature Detergent on my sheets and linens, their Fabric Fresh to keep my bedding and room smelling relaxing and clean, and of course my organic mattress, sheets and pillows. My mattress right now is from Essentia and I couldn't possibly recommend it more!
Every night I turn on my ocean waves music, meditate at the foot of my bed, and soak in all of the zen, clean vibes of the space. It's the most amazing way to close out the day, and I am usually joined by Huddy bear.
If you're wondering how to green your life from the inside out, check out The Laundress' website where you can shop these products and more at 25% off for a limited time! Their site is full of wonderful how-tos and tips for making the switch from your regular lifestyle to the green, detoxified, clean life!
Jordan Younger
Jordan Younger is the creator of wellness & lifestyle brand The Balanced Blonde which includes her top-read blog, Forbes acclaimed podcast, thriving social media community, high vibe digital store, & soul-inspiring retreats and events. She hosts the podcast SOUL ON FIRE, which dives into everything from plant medicine and nutrition to channeling angels & aliens. Jordan is a mother, author, intuitive, recipe developer, and the creator of The Balanced Blonde digital store, filled with plant-based programs, awakening courses & spiritual merch. She lives in Los Angeles with her husband, her son Atticus & her cat Hudson.