Pro Rock Climber Jimmy Chin Once Lived Out Of His Car. Tonight He Won An Oscar
Contributing Health & Nutrition Editor
By Stephanie Eckelkamp
Contributing Health & Nutrition Editor
Stephanie Eckelkamp is a writer and editor who has been working for leading health publications for the past 10 years. She received her B.S. in journalism from Syracuse University with a minor in nutrition.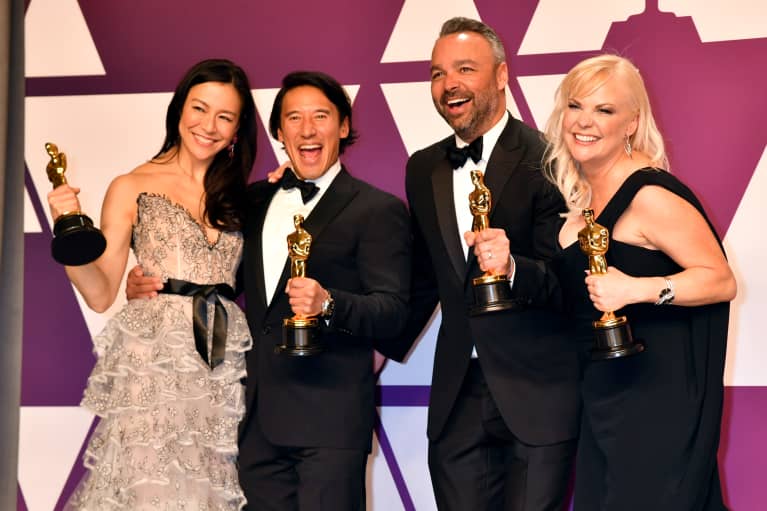 February 25, 2019 — 4:20 AM
A couple of decades ago, professional climber Jimmy Chin probably didn't think he'd be standing on a stage accepting the best documentary Academy Award for his film Free Solo. Back then, he was a self-proclaimed "climbing bum" living out of his Subaru, wandering state parks and scaling whatever peaks he could. It wasn't until one of his mentors, Brady Robinson, passed him a camera on an expedition that he realized he had a knack for photography and framing.
But tonight, this adrenaline junky took home Oscar gold. His winning film, which he co-directed with his wife Elizabeth Chai Vasarhelyi, follows fellow rock climber Alex Honnold on his successful quest to become the first person to scale Yosemite's 3,000-foot vertical rock formation El Capitan without any safety gear or ropes whatsoever—a visually stunning and sweat-inducing work of cinematographic magic. (Just last June, two experienced climbers, Jason Wells and Tim Klein, fell to their deaths while climbing El Capitan with ropes.)
To say the climb at the center of this documentary—and even the filming of it—was risky, is a vast understatement (Chin and the team of veteran climbers reportedly spent more than a month rigging and shooting on El Capitan), and it likely wouldn't have been possible without Chin's own penchant for thrill-seeking and personal brushes with death while climbing.
When Chin was a guest on the mindbodygreen podcast in October 2017, he told mbg founder and co-CEO Jason Wachob about his near-death experience during a class 4 avalanche: "I don't think people ever survive class 4 avalanches, or very rarely," said Chin. "I went 2,000 feet going about 80 mph down the mountain…and I just knew I was going to die. There wasn't any doubt."
But this experience, along with a few others extreme weather events (like one that forced him to power through days of climbing on a third of an energy bar), shaped him, providing a unique perspective that we can only imagine played a role in the creation of his breathtaking documentaries. "In the world I live in, your mortality is almost ever-present, and I think it's important to look at it and examine it," Chin said, "because upon reflection of your mortality, it can really inform decisions around life."
To hear more about Chin's adventures (and misadventures), listen to episode 25 of the mindbodygreen podcast.