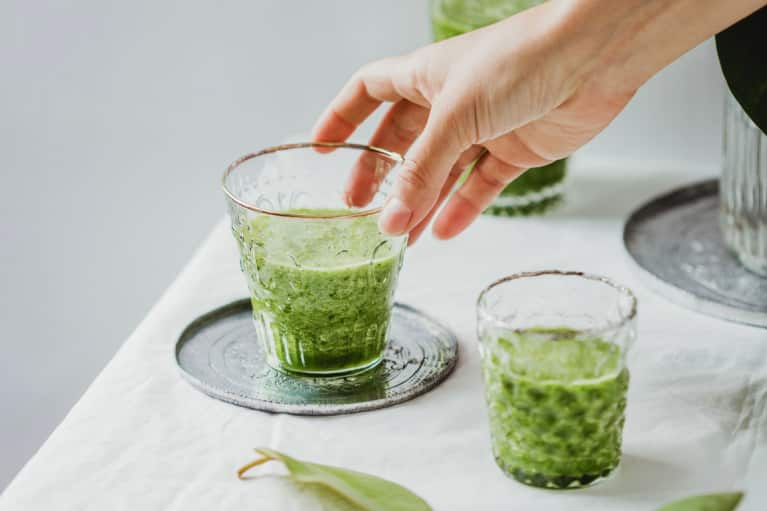 What's it like to start your day if you're mbg's food director, a yogi, or a food blogger/TV producer who wakes up at 3 a.m.? In this new series sponsored by
Quaker® Old Fashioned Oats
, nutrition and wellness enthusiasts let you in on their tried-and-true morning routines and all the habits that set them up for a feel-good day. Up today: nontoxic skin care expert
Jessa Blades
.
Mornings have become my favorite time of the day and a real opportunity to prioritize my wellness habits—even if I know the rest of the day is going to be super or possibly overwhelming. As a natural beauty and wellness enthusiast who teaches people self-care tools and helps them nourish their skin, I need to practice what I preach.
I am also the perfect guinea pig for learning how to establish healthy and easy rituals as my life is very busy: I live in the city, I travel all the time, and I run my own business. So I have a lot of experience trying to make self-care as easy as possible. It is a mission actually; I even started the hashtag #selfcareiseverywhere. The point is that self-care doesn't have to be precious or that taking care of ourselves needs to be hard, but rather we can find moments of it everywhere around us.
I usually wake up right around 7. (I really prioritize the power of sleep, and my goal is seven to nine hours of sleep each night.) I like to wake naturally and without an alarm. I set a backup just in case, but I love the feeling of telling my body the night before what time to wake up—and waking up at that time. It helps me to feel in sync with my own natural rhythm.
Before I get out of bed, I take my temperature as a part of the way I track my cycle and fertility. It takes real discipline to not turn to my phone immediately, but I'm pretty adamant about giving myself some time to wake up without technology.
I boil water to make a grounding drink, sip on it slowly, and head back over to my bed to meditate.
I'll light a bit of incense and sit up with a straight-ish back. I'm really easy on myself when it comes to this practice. I will happily sit there for two to 20 minutes and breathe, depending on what I have time for. On some days, just sitting for five minutes feels like a huge accomplishment, and that is just what I need to feel like myself.
I'll head outside to the park for a moment to move my body. I love a brisk walk or run in Fort Greene Park in Brooklyn. I'll walk up and down the stairs and listen to a good podcast. If I have time, I like to bring a bit of slowness and nature into my morning by sitting on the grass or leaning up against a tree.
I've never made the same smoothie twice, but you can be sure they're all packed with plant-based ingredients.
Eating in the morning is a huge priority for me, as I like to have a bit of caffeine and prefer not to have caffeine on an empty stomach. It's also a great way to prepare myself for the day. I love a smoothie in the morning—it's an easy way to make something delicious that will help me start my day, using ingredients from my freezer and pantry. I keep frozen kale, green bananas, or blueberries on hand and then combine with kefir, sunflower seeds, pumpkin seeds, mushroom powders (I like a combination blend of dried shiitake and lion's mane), a hemp and flaxseed blend, and maybe a date or some almond butter. I've never made the same smoothie twice, but you can be sure they're all packed with plant-based ingredients. I also love topping my smoothie with something beautiful like rose or bright orange calendula petals.
While I'm sipping my smoothie, I'll splash some water on my face and spritz with a bit of toner.
Next, I'll do five to 10 minutes of facial reflexology. The tools I use are so beautiful and feel so good to hold in my hand. Once I'm done with the rolling, I like to massage some oil into my skin.
I get dressed, and before I sit down at my computer I'll usually intuitively pick a book from my bookshelf and read a page or two for some surprising inspiration for the day. Maybe about Jungian dream theory or some herbal wisdom. After that bit of study, I'll make myself a coffee-type beverage. I like to do half coffee, half dandelion blend in my coffee, to cut the caffeine a bit. I love drinking out of a ceramic mug my mother made while I sit at my computer and start up my day, feeling nourished in so many ways.