A Turmeric Tonic For Digestion & More Of Jasmine Hemsley's Top Ayurvedic Health Secrets

mbg Sustainability + Health Director
By Emma Loewe
mbg Sustainability + Health Director
Emma Loewe is the Senior Sustainability Editor at mindbodygreen and the author of "Return to Nature: The New Science of How Natural Landscapes Restore Us."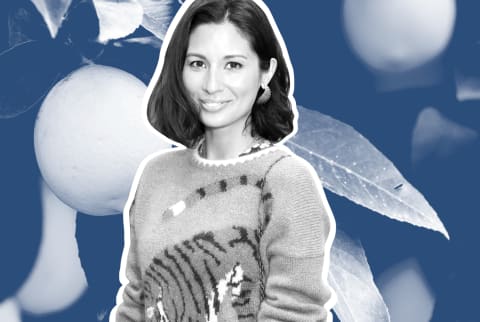 November 1, 2018
So many wellness "trends" these days actually trace back to ayurveda—an ancient approach to medicine first introduced in India. Everything from oil pulling, fermented foods, and tongue scraping stems from this 5,000-year-old healing system that seeks to achieve balance in the body.
To celebrate the release of her book stateside, Hemsley is taking over mbg's Instagram stories today and sharing how she calls on ayurveda to stay vibrant and beat those sniffles that tend to come on during autumn.
Hemsley is a huge proponent of skipping over salads in favor of soups, stews, and broths with plenty of spice. This time of year, she loves to use cloves in her spiced apples in the morning, coriander seeds in porridge, and mustard seeds in just about anything else. She kicks off those warm meals by drinking a combination of ginger, turmeric, cayenne, and lemon to boost digestive fire, or agni, before eating.
Outside the kitchen, she'll also partake in ayurvedic rituals like abhyanga, a warm oil massage that helps clear her mind of chatter, and shirodhara, which involves gently pouring warm oil infused with herbs over the forehead. When combined, these mind-body practices leave Hemsley feeling grounded, balanced, and energetic.
Want to turn your passion for wellbeing into a fulfilling career? Become a Certified Health Coach! Learn more here.