The Psychology Behind 'The Cycflix' Will Make You Rethink Your Indoor Cycling Workout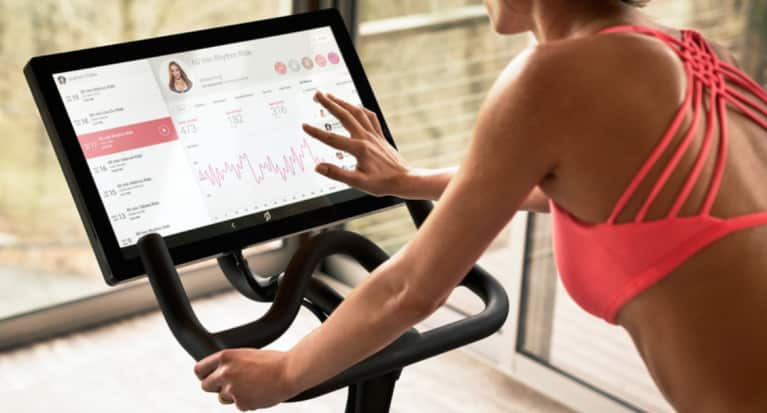 Our editors have independently chosen the products listed on this page. If you purchase something mentioned in this article, we may
earn a small commission
.
It's 2017, and fitness is all about community. But as infrared-heated yoga classes replace happy hour, and every brunch is followed by a light hike, one piece of exercise equipment is being used in the home now more than ever: the stationary bike.
In late July, engineering student Ronan Byrne announced an intriguing albeit strange invention: the "Cycflix," or a stationary bike that powers your Netflix binges. It's in early stages and not yet for sale, but the idea is that for as long as you're biking, you can watch Netflix—but if you give up halfway through, that's it. No Netflix for you.
The Cycflix is a fun concept, and it's not the only innovative at-home stationary bike that's been getting attention lately. Peloton bikes are designed to give you an at-home workout that makes you feel like you're in a spin class in New York City as an actual instructor watches you pedal and encourages you from the class, even if you're in another corner of the country, huffing and puffing away in your basement.
While there's no question that indoor cycling classes like Flywheel and SoulCycle are still popular, people are finding ways to fit stationary bike workouts seamlessly into their schedules—and using creative tactics to help them get better, faster, and stronger.
Using the strategy of pairing.
Before you laugh off The Cycflix, happiness and habits expert Gretchen Rubin, whose book Better Than Before is all about habit formation, says Byrne is most definitely on to something. "One powerful strategy [for keeping habits] is the 'strategy of pairing,' which is when you pair two activities together—one that you need or want to do is paired with one that you don't particularly want to do," she explains. "This bike is terrific for the strategy of pairing. I can watch my favorite TV show while I'm on the bike. No bike, no TV show. When I was in college, I paired showering with going to the gym. No trip to the gym, no shower. Pairing really keeps a habit strong."
Even better, if you're not someone who has a positive association with exercise, this could do the trick. "There may be some carryover in the future," says Elizabeth Lombardo, Ph.D., author of Better Than Perfect: 7 Strategies to Crush Your Inner Critic and Create a Life You Love. "If you start to associate watching your favorite binge-worthy shows while you bike, you might continue doing it, even if you don't need the bike in order to watch."
While standing desks have gone mainstream as a way to avoid so much sitting, moving desks are another story. Treadmill desks do exist, but they're expensive—and in a world where we're working to fit our exercise routines seamlessly into our lives, the exercise desk seems like the next logical step. But according to the Center for Healing Neurology founder Ilene Ruhoy, M.D., PhD, that concept might be a little excessive.
"Treadmill and bike desks, in my opinion, are a lofty goal but not based in reality," she says. "Most desk work requires non-movement—typing, writing, even talking on the phone (as one can run out of air trying to complete a sentence!). Moving is great for coming up with ideas and envisioning goals but actually enacting them can take stillness."
Will indoor cycling workouts move fully out of the studio and into the home? That remains to be seen. The best kind of exercise is the kind that gets you outside in nature, but this bike may make your current bingeing schedule healthier.
Are you up on the latest fitness trends? If not, here's what everyone's buzzing about this summer.